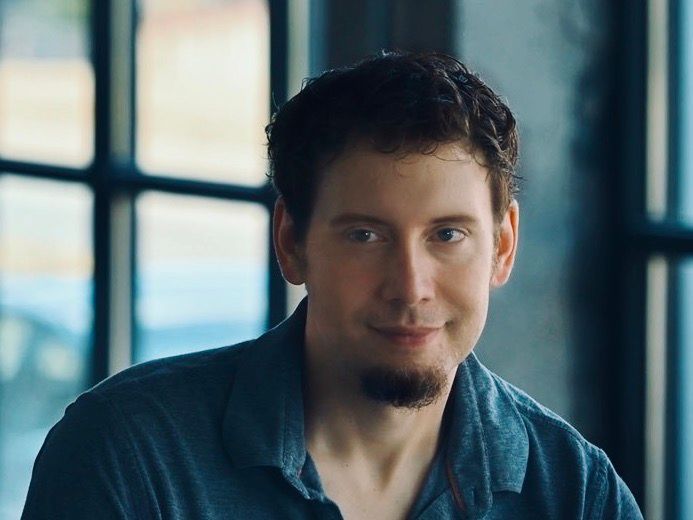 I walked into White Raven Audio in January of 2016 at a very vulnerable time in my career as an artist. I was burnt out, certain I sucked and pretty sure it was time to quit. But I had these ideas… these "out-of-the box," multi-genre songs that wouldn't stop germinating in my head. One of these songs was a reggae tune that I had shared with "Unity the Band" bassist Tim Perkins. He urged me to talk with his producer friend at White Raven Audio who was recording original reggae tunes with his band. I already knew "said producer friend" Aaron Zinsmeister by reputation- his incredible talent behind the Symphony on the Rocks, his gifts performing with the band Vic Ferarri. He was a whole lot younger and way cooler than I was. We were a completely unlikely pair. I figured Aaron would have no interest whatsoever in my music, thinking my fledgling songs would be trivial and just BAD compared to those he was accustomed to working with. But when I met him, he gave me exactly the opposite response. I still think my songs may have been trivial and bad, but Aaron did not dismiss them at all, and was in fact super positive and very willing to work with them, and with me- 
Sooooooo fast forward 4 1/2 years, and my ensuing collaboration with Aaron has been exponentially beyond anything I imagined: 29 songs with multiple finalist and semi-finalist placements in international songwriting contests, including being awarded "Outstanding Achievement in Songwriting" by the Great American Song Contest for "Supernatural," a bunch of awesome music videos (thank you producer Jocelyne Berumen!), a really intense and crazy 11 song concept album and the inspiration of Symphonic Electronica. I can't say enough about Aaron's explosive talent in inventive production and sound creation. I would liken his songwriting process to brain-twisting, awe-inspiring sonic and rhythmic stoichiometry. Haha- what in the heck does that even mean? Trust me- just know he's brilliant. We work well together because we are both relentless perfectionists, super demanding of ourselves and both willing to experiment musically, to take chances, to be anything but boring. During these four years our friendship has also grown, laced with trust, honesty and f-bombs. A LOT of f-bombs :). Music is hard! And unlikely friendships are the best!
Aaron works from his studio White Raven Audio with a variety of artists at many stages in their songwriting and recording careers. With his artists he fosters, coaches and creates a fantastic and florid bouquet of songs in a variety of genre and style. To learn more about Aaron, read on: 
1. What is the current focus of your work in the creative community? 
My focus for the last few years has been on working with songwriters and performers to grow and develop their ideas as they record.  So many of the decisions that make a memorable and evocative recording are made during the initial songwriting and instrumental composition phases. I come to these projects as an outsider without having heard the material before, so I'm prepared to offer a fresh take on what's working and what new possibilities exist to take a project even further. That involves proposing changes to song form, lyric ideas, and performance coaching- ways to get from where they are to where they want to be.  Artists often have questions on this; namely, why don't my songs sound like the music that I listen to?  There are a variety of answers to this question and I do my best in guiding them on the path to getting closer to their goals.  This also spills over into the actual recording and post-production work, of course, but sometimes it's difficult to know what part of the process produces what effect.  Often, it's earlier than people realize.  I also add keyboard instrumentation or even the full music track to many songs that come through my studio, sometimes with the help of some talented session players from the area. 
2. What is your inspiration behind your creativity in music? Is it more topical or emotional? Do you identify more as a composer, producer, sound engineer or performer? Is the inspiration similar or different between the roles and the music you make in each? 
I find inspiration in construction and excellence in that construction. I don't tend to place a lot of faith in momentary inspiration and instead look to repeatable and dependable procedures to offer consistency and reproducibility in whatever role I'm playing. If I'm writing, I tend to sketch out large form ideas first and then build substructure in layers, utilizing symmetric meters appropriate to the genre. I find that there will typically be interesting, unplanned moments of connection interspersed within all of that intentionality- so much the better- but I find that my best work comes from careful revision and iterating on my decision loop until I've found the combination of pieces that communicate what I'm looking for. I identify as a producer probably the most, with composer being a close second. I enjoy writing from scratch, particularly when I can indulge some of my own aesthetic values, but I find great satisfaction taking a piece of material that is ok on its own and working and refining the edges until it is something that really showcases what the original was trying to achieve. Regardless of my role, I find myself to be focused on these aspects of construction and refinement. 
3. What is your background/education that has equipped you with the collection of skills you bring to your role as a producer?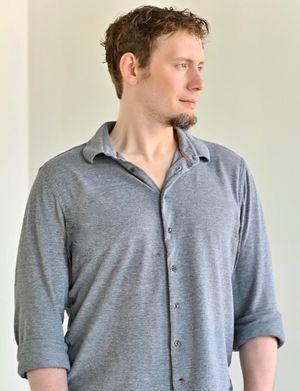 I've been somewhat grudgingly pulled along into music during various points in my life.  From my parents' strong-arming me into taking piano lessons when I was 12 to being convinced by a friend to make a call that led to a 15-year stint in live music, I've needed some prodding to continue down the path from time to time.  Often though, that came in the form of discovering another layer in the relationship between music and technology 
I wasn't really very invested in music until, during the summer after 6th grade, I attended a summer school program called "Synthesizer Band" at UW-Eau Claire-Barron County.  I was transformed by the idea of using electronic keyboards in conjunction with computers to craft music.  After my family moved to southern Wisconsin, I insisted that we find a piano instructor who would teach synthesizer technique and electronic music creation.  This was a tall order, but we found a man by the name of Dave Yerke who made a deal with me: "Continue to study the classical material and you can use my synth rig when you like."  He was instrumental in providing me the tools to explore my young love of all things music technology.  This was really when I began to seek out every opportunity to practice and learn about music creation.  I wrote a rudimentary Christmas musical and created a "solo album" of compositions and covers solely on this synthesizer rig.  It was when I entered high school and began playing in an obligatory basement band or two that I got a chance to record an album at a local studio in Madison, now gone, called Sleepless Nights.  I was now 16 and still unsure of where I wanted to go with my life.  Music was all-consuming, but you couldn't do that for a career, could you?  It was in that studio that I discovered a vocation that I didn't know existed - producer and recording engineer.  I would spend as much time down there as I could afford that summer, spending some nights outside in my van so that I could come in early and mess around with the gear for a little while before our session for the day was set to start. 
I enrolled at UW-Oshkosh to learn the ways of recording and spent many nights in the studio there trying to figure out this most integrated of fusions between, while still playing in an original band or two.  It was a month away from my senior recital when a friend of mine stopped by and told me that local cover group Vic Ferrari was advertising for a keyboard position on posters in a variety of locations.  He insisted that this was a great opportunity and that I needed to call the number and try out for it.  I had never played in a cover band before and wasn't very sure about this, but he was a bit persistent about it. I eventually made the call and spent the next 15 years playing live in most every corner of Wisconsin and Iowa. During this tenure, I discovered that learning to play the music that someone else crafted was a lot like the music construction process I loved in reverse. While the music being performed was rarely to my taste, the process of accurately piecing together the formula of a piece of music put together by the best producers and artists of the 70s and 80s gave me a solid foundation in songwriting and production technique in addition to what I had learned at school. 
In addition, a few years into my stint, I was approached by bandleader Mike Bailey with his idea to create a symphonically-accompanied stage show for the band to perform with the question "Can you handle doing the arrangements?"  I'd soon discover the similarities (and definitely differences) between all of the electronic orchestration I had previously done and the creation of music for live orchestral players. This project, Symphony on the Rocks, was the bright light of my tenure with the band; not only did I create the arrangements for the show, I also produced and recorded two full-length CDs of the project. I had the opportunity to work with a number of great instrumentalists that played in this show and became very familiar with large project management. 
During this time, I was always working on recording in the background.  I finally, 8.5 years ago, had the courage or insanity to try to make a go of a business and started White Raven Audio, my recording and music production studio.  In the years I had been in the band, I had been exposed to many small business owners and, after seeing how many people actually did this on a daily basis, I felt that this was a goal in reach.  Business is not my strong suit and it's certainly been challenging at times, but it's been quite an education.  I have worked with a wide variety of artists and genres over the years;  in fact, that very variety is what's kept me engaged with the work the most over this time. 
4. Can you share 1-3 milestones that you consider turning points in your music career? 
The most important milestones for me were my choice to go to music school, the Symphony on the Rocks project, and the opening of White Raven Audio.  I went into the specifics of those previously. 
5. What are three qualities that you possess that you feel have been instrumental to your success as a creative? 
First, I have always had a pretty good memory.  That allows me to be able to keep track of the crazy amount of info one needs at one's command to have any success as a wearer-of-many-hats.  Second, I have a reasonable ability to shift focus and balance between the big picture of a project and the details.  It's easy to get caught up in either of those places with any process and having flexibility there allows me to more easily cover all of my bases when working solo.  Third, I have a well of internal motivation to draw on that usually refills pretty quickly.  I usually am able to go to bed frustrated and wake up determined to push on, which is pretty important in any creative industry. 
6. All of us experience obstacles in our paths- can you share a few of those you have overcome? What did you do to overcome those? Have you ever felt like quitting music? 
I have traditionally had questionable interpersonal skills. Growing up, I was pretty bad at  relating with groups of people and only slightly better one-on-one. This has been an obstacle to just about everything I've done, but was especially hard starting off in an industry so built on relationships and connection. Working in the live music industry and then the studio business has greatly improved these aspects of myself, but I doubt they will ever be a strong suit. I've also struggled to express my opinions and tastes publicly, most often out of concern that they wouldn't be well received. That one I'm still working on.  Have I felt like quitting music?  All the time. For some reason, I keep getting pulled back into it. I guess there's always another interesting puzzle to solve; there's always another mystery to figure out. 
7. Do you feel empowered by producing and songwriting or do you prefer to use it to empower others? Or a little of both? Any stories or examples? 
I'm not sure I find songwriting empowering as much as I find it interesting. I do tend to try to use what skills I have to empower and enable those I work with to create things they didn't previously think were possible.  One of my favorite things is when I or someone I'm working with finally "cracks the code" to a particular thing. Maybe someone has been looking for a way to get a particular sound.  Maybe someone wants their song to be impactful, but doesn't understand the mechanics of dynamics or transitions.  Maybe I'm discovering new examples of how the progression of symmetries is the heart of the division between music genres. Enabling people to swing for the fences is the thing that keeps me coming back for more. 
8. COVID and its impact on gatherings and events has further devastated the struggling music industry. How has it impacted your business and role? What accommodations have you made in your studio to be able to safely stay open? 
I can't complain about COVID as much as many in the music industry. I was shut down for a couple of months, but I've managed to make some "COVID-conscious" modifications at the studio and have been open since the beginning of May. I wear masks and encourage those who come to do the same until recording begins. I have been leveraging online tools more to work on projects that require customer feedback over the internet, so as to keep people in the control room to a minimum.  My space is luckily set up with multiple entrances, so I can have clients come in a separate entrance and never have to interact face-to-face inside.  And of course, trying to sterilize common surfaces afterwards.  Gotta keep those headphones clean.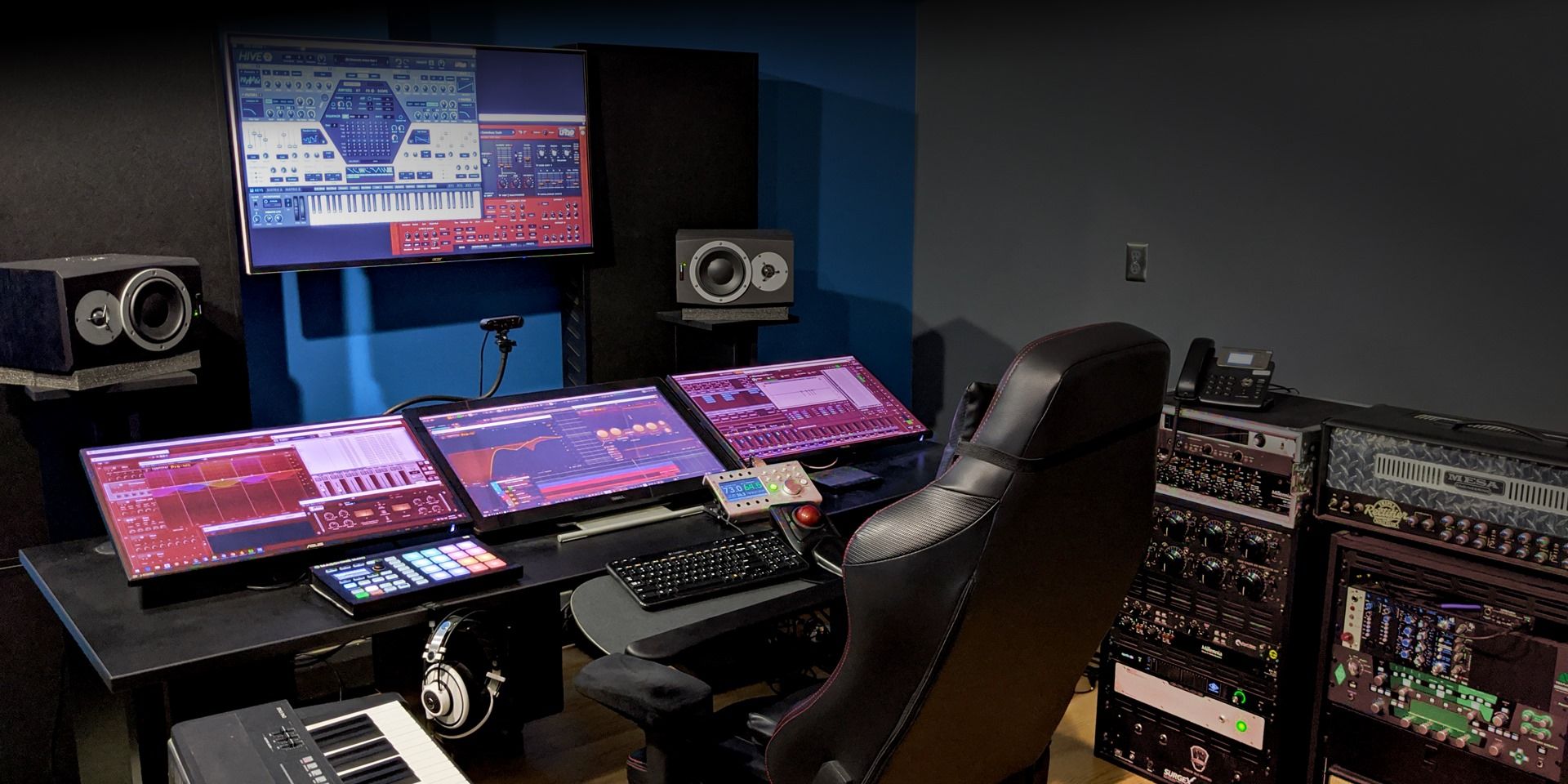 9. Each recording studio has a personality of its own. Just as there are many genre of music, there are many approaches to recording.  What are the hallmarks of your role as a producer? What do you feel are White Raven's strengths? What type of artist benefits from your approach? 
White Raven is a studio for people who prefer to work with intentionality and maximize the quality of their performances.  So much of a high quality recording starts with curated performances.  Whipping through a song in one take and seeing what happens has little interest to me.  I want to help people see the limit of what's possible, given where they are at musically.   Most people want to listen to themselves perform and feel the way they do when they listen to their musical idols.  I use a variety of production techniques to help people put their best musical face forward and am willing to spend as much or as little time as it takes to coach them closer to that performance goal.  If someone comes away from a recording sounding better than they imagined they could, I've succeeded.  I also invest a lot of myself into many of the projects I am a part of, usually by performing keyboard work or arranging sample instrumentation.  I am attracted to large soundscapes and always enjoy helping people to achieve that type of sound.  As far as who benefits?  In my opinion, everyone I would think, but particularly artists who are trying to reach for more technical, precise music would benefit the most.  Even loose, ambient compositions can benefit from a little care and attention to detail though.  Many types of music that seem simple and spontaneous have more planning and structure than people first realize. 
10. You have worked on a huge variety of projects! Can you share a few that are particularly interesting or unusual? 
I've worked on music in almost all genres - rap, r&b, country, rock, metal, pop, symphonic/classical, and even a bit of jazz.  At the risk of leaving out some really interesting projects, I'll try to name a small number.  Decivilize's self-titled album(metal) was my first full-length album where I did the keyboard arranging for while not being in the band.  It was a months long process tracking and putting that whole project together and it really was a blast working with the guys from that group.  Unity the Band's Sunset Seven was a project where I really got to start stretching my wings as a songwriter.  I co-wrote most of the songs and played keyboard on the album.  Working on Jared Randall's pop catalog was an interesting challenge - while they weren't the first songs I had written lyrics for, they were the first ones where I had to write all or most of the lyrics for pop style material.  Finally, working on the Intuition project with Rändi Fay was my opportunity to let loose and write music that felt close to my heart.  I was able to compose music with the fewest restrictions on genre and really write things that were as close to my personal aesthetic taste in music as I've had the opportunity to work on. 
11. Can you name a few individuals or mentors that you find inspirational and empowering in the arts? Current and past, acquaintances or public persona are all fair game! Who else shares the light? 
People who impacted me personally:  I mentioned Dave Yerke in a previous question - he was essential in my formative years in giving me both instruction and a space/equipment to begin to learn my craft.  My high school band director Mike Tentis, for always letting us band kids duck out of study halls and spend our time in the band room exploring music.  Mark Whitcomb, an engineer that recorded me at Sleepless Nights in Madison who has his own successful studio, for encouraging me to get into the business(though maybe I should be more upset with him.)  My recording professor at Oshkosh Wally Messner for letting me hang onto a key to the studio to come in so often and work on what I wanted. 
12. What is on the horizon for you? Any upcoming projects or adventures? 
Well, COVID has made this an interesting time to be sure.  Right now, my adventures mostly involve the day-to-day.  Who can say what the future holds, though?  I'm always eager to see what things will look like in a year's time - my most interesting projects always have come from places I was least expecting. 
13. Do you have any closing "words of inspiration" for us during this pandemic or anything else you would like to share with our readers? 
While COVID times have really battered many musicians' spirits, there has never been a better time to create. People who are working from home and who are isolated need quality creative works to uplift them and give them a place to escape to.  There has also never been a time when the tools to get started all on your own are more accessible.  You don't necessarily need a studio, an expensive instrument or years of training either.  If you've been putting off writing the thing you've always wanted or performing that piece that you thought was too difficult, now is the best time to dig in.  Because at some point, you will get too busy to make these things happen.  Do it while you have the chance. 
Bonus Questions: 
Fiction or non-fiction? It depends where I'm at in life. Lately, it's been non-fiction - artificial intelligence is a fascinating field. However, for fiction, Patrick Rothfuss' Kingkiller Chronicles and Liu Cixin's Three Body Problem trilogy have been interesting reads. 
Morning or night?:Traditionally night. However, in the two years since I've been out of the live music circuit (or perhaps just because I'm getting older), I've found myself moving more in the morning direction. Perhaps in another decade I'll be one of those 5am people. 
Do you listen to music in my freetime?  From when I started my studio until recently, no. I've needed most of my free time to get away from music. Lately, I've found some joy in listening again, mostly to instrumental fusion from, for example, Owane, Sithu Aye, Arch Echo, Plini, The Omnific and Intervals. 
Do you have a bad habit? Self-deprecation. A daily dose keeps the laziness away after all. 
If you could turn back time, what skill would  you add to your arsenal? I would have learned more about sales and marketing earlier in life. Not that I would have been any good at it then either, but it would have made life less confusing. 
How do you chill? I like to learn more about what makes the universe tick (physics and other sciences). I also like gaming, video or otherwise. Solving a problem that's meant to be solved is a great boost to the ego and can be cathartic after a day of not-solving. 
Food that gross you out: sour cream, brussel sprouts, cream cheese (unless it's really well hidden), ranch dressing.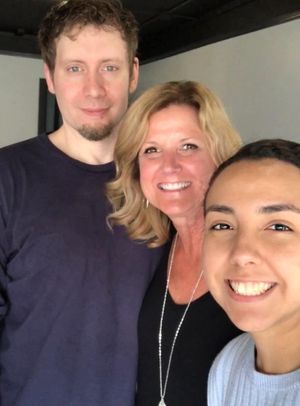 Connect with Aaron:
Email: aaron@whiteravenaudio.com
Website: https://whiteravenaudio.com
Facebook : https://facebook.com/WhiteRavenAudio
Photo taken during a planning session for "Intuition" promo with videographer and music video producer Jocelyne Berumen of Cyclops Girl Productions. The professional shots of Aaron are Jocelyne's work as well.