Biography
Full Bio: 
Recently named by the WISCONSIN AREA MUSIC INDUSTRY (WAMI) as one of the female musicians who have "paved the way" in Wisconsin (March 2022), recording artist and songwriter Rändi Fay is unafraid to defy the expectations of genre in her songwriting and performing. Her catalogue of songs range from acoustic lullabies to jazz standards to fully orchestrated cinematic ballads, drawing on the intimacy of nostalgic artists from the past, the rich tonalities of jazz, the passion of classical orchestrations and the sonic intensity of electronica.  Her lyrics ring with sensitivity and imagery, described as "poetry set to music." Presented in her warm vocals, her songs connect and inspire.   
Rändi is a graduate of Boston College (BS Biology) and the University of Minnesota College of Veterinary Medicine. She practiced veterinary medicine for 13 years until a series of hand injuries forced early retirement. After that, she shifted her focus, putting her heart into her music, learning both "on the job" working with some of the best musicians and performers in Wisconsin and pursuing a Master's Certificate in Songwriting through the Berklee College of Music's online program (2017) and certification in teaching the BAST method of vocal instruction (2018).  
Rändi's first CD was released in 2010 ("Close To My Heart"). In the following decade she released five more full length CD's, an EP and several singles. Rändi is currently working with Grammy nominated Nashville producer Shane Adams on a grouping of releases scheduled for 2022-23 that will reflect a return to her jazz roots with an introspective approach. 
Rändi's achievements include: 
Finalist GREAT AMERICAN SONG CONTEST/LYRICS: "Innocent"   -March, 2022 
Finalist GREAT AMERICAN SONG CONTEST/CHRISTMAS MUSIC: "Joy Whispered" -March, 2020 
Music Video "Lone Wolf" received international attention and viewing via film festivals (2019-2022) 
"Top Five Winner" with "Outstanding Achievement in Songwriting" GREAT AMERICAN SONG CONTEST/ADULT CONTEMPORARY: "Supernatural" (with Aaron Zinsmeister) -March, 2019 
"Best Music Video" WILDWOOD FILM FESTIVAL: "Supernatural" (director Jocelyne Berumen) -March, 2019 
Finalist UK SONGWRITING CONTEST: "Joy Whispered" -2019 & "Moonlight" (with Aaron Zinsmeister) -2018 

"Take Six," first song co-written with Mick Maloney, Winner of the 2013 National Collegiate Music Society Award, Berklee College of Music

"Jazz Artist of the Year" nominations six times (2015-2021) by the WISCONSIN AREA MUSIC INDUSTRY. 
Outside of music, Rändi is passionate about her family and her pets, travel, skiing, hiking, reading and baking. Causes dear to her include Leukemia Awareness and Support, Mental Wellness, Prevention of Domestic Violence and Abuse, and Animal Welfare.   
Rändi's independent music label is Emerald Heart Productions, LLC (est. 2008) and her publishing company is Emerald Heart Music & Lyrics (est. 2014).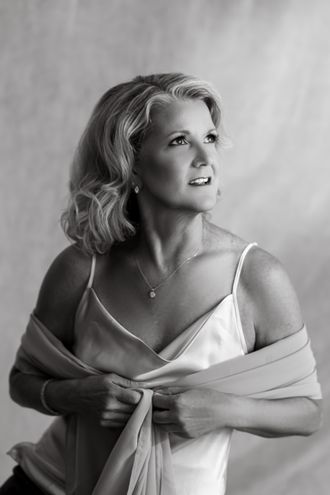 CDs:  
Morning Snow (November 2022)
Singles:  
Lost In You (January 2023)
Rhythmystica
Music is universal, loved literally ALL over the world, crossing oceans and cultures. Case in point- let me introduce you to one of my besties, Dmitry Zaytsev, Moscow musician, arranger, composer and songwriter. I met Dimi in an intensive collaborative songwriting seminar about seven years ago, and we hit it off right away! Our first co-write was with a Swedish writer, and we wrote a hauntingly beautiful modern-day folk tune called "The Birch Tree." It was so cool writing with these incredibly perceptive and thoughtful European men , creating a song with them from their ancestral lore of winter and birch trees and nightingales near the arctic circle. I guess Wisconsin isn't THAT far from south either… we shared a love of dark nights, intense emotions, seasonal contrast and passionate music! 
Dimi is a gentleman, a brilliant scholar and an old soul. Born in Moscow in 1975, he was educated at the Russian Musical Academy as a bass-guitarist and jazz composer. In 2002, he won first prize at the festival "Music of the New Generation, XXI Century" in the category "Jazz Composer."  Around that time, Dimi's interests turned to pop, rock, disco, funk and latin music. His multi genre expertise is endless! In 2006, Dimi formed his solo project Rhythmystica (Ритмистика) were he started his career as a composer, arranger, singer, bass player, guitar player and sound producer. Yes- he does all of that! And recently, I entered, providing English lyrics to his tasty compositions. Dimi and I have co-written and released several songs under the band name "Rhythmystica" including upcoming "Innocent."
Frozen Violets is one of a series of Brit-Pop songs co-written with Moscow Artist Dmitry Zaytsev, creating for the popular collaborative studio band "Rhythmystica."
"One should probably like Rändi Fay simply because she is one of the nicest human beings ever, but if you take a few moments to listen, a number of things become apparent: 1) her voice is worthy of her "vocalist of the year" nominations and she sings both standards and her own material in a manner that brings a unique and very listenable quality to every song; 2) she is a gifted and talented lyricist-songwriter whose compositions are both engaging and entertaining; and 3) she is a true pro who prepares, chooses her musicians and her material in service of the performance and her audience. Her life, education and career have positioned her to both entertain and offer valuable insights listeners in settings ranging from intimate venues to corporate events." 
-George Halas, Producer, Musical-Theatrical at CAUSE:SUCCESS, INC.