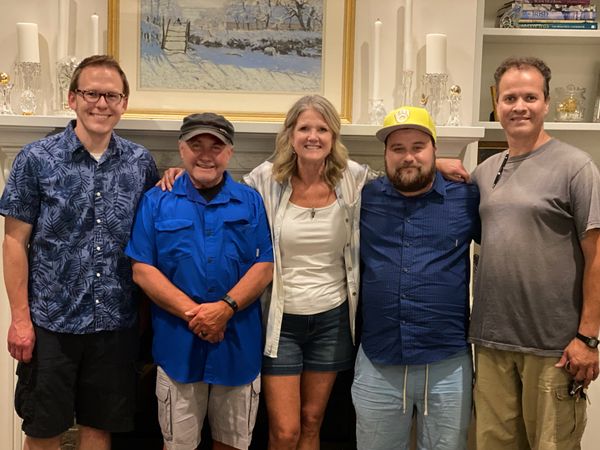 One night, and one night only!! A true "Limited Edition!" 
THIS BAND IS AMAZING. I have been fortunate to work with SO many amazing people in my career.  Any success I might have is hugely attributable to working only with people who are AMAZING. Life is too short to do otherwise. It's a fantastic philosophy! 
Newcomers to "Limited Edition" are saxophonist/flutist Chris Felts (blue shirt far left) and killer guitar player Kelvin Kaspar (yellow hat). Both are highly sought after studio musicians who played on many of my recordings from White Raven Audio (2016-2020), as well as being AMAZING live. Their bios are a mile long and you may recognize them from other shows! In addition, I am excited to make music again with my rhythm section including long time friend and co-writer, crazy good bassist Mick Maloney (royal blue shirt), and uber-multi-talented drummer James LaFevre (brown shirt), the gooiest glue who holds our entire groove together! 
Please join us at the Green Bay Botanical Garden on July 7, 6-8 pm. Tickets are available via the link below! Reminder: this is a super limited edition because we are playing only once this summer! 
Other news: 
♥ I have a photo shoot this week for promo for "Morning Snow!" Ahhhhh!! 
♥ I am so grateful to"Morning Snow"producer Shane Adams who meticulously combs through all of our tracks, finding the shimmer in the sludge!  haha- 
♥ We are bringing in some wonderful collaborators from my past for the project, with Woody Mankowski recording remotely with my previous producer Hans Christian (Studio 330) on three of the songs! 
♥ Limited Edition will be premiering "Lost in You" LIVE at the GBBG show! 
♥ Chris Felts played the killer sax solo on "Krunchin' the Kernal" and was a part of the horn team on "Love Is." 
♥ Kelvin Kaspar played the beautiful guitar work on "Sleep, Baby, Sleep" and kicked into high gear on "Winter Wind." 
♥ Have a terrific and safe holiday! Hug and smile and sing and laugh! Live well- 
xx- 
Rändi ♥ 🎶