In the News
"

March is Women's History Month. We're celebrating the rest of the month by highlighting some of the many female musicians who paved the way here in Wisconsin. Rändi Fay Music " - WAMI (The Wisconsin Area Much Industry) 3.10.22
"

Rändi Fay especially feels comfortable pouring out "The Winner Takes It All" that has all the shadings of Donna in voice and character." - Warren Gerds, Critic at Large 9.30.2021
Interview, Frankly Green Bay: 11.12.20, 11.19.20
Critical Response to "Intuition"
"Snapshot thoughts – the album creates a mystical otherworld, is abundant sensuality, has word pictures blended with mindscapes, is deceptive in being deep think with sensuality, is diary-like, a bit beyond and in a different league."
"This is a little bit of a twofold, roundabout story, but it shows how your muse can be insistent and work her way through your own barricades..."
3.20.20 UnHinged Magazine "Corona Virus Quarantined E-Mail Interview w/ UnHinged"
2.29.20 That Buzzing Sound shares an album stream of "Intuition"
"Her poetic vocals fill up your senses as you listen to the album, and transport you into a playful, symphonic universe that you never want to leave. Musically, Rändi has brought us a textured album full of beautiful lyricism and indulgent rhythms. Her voice alone brings something fresh to the music industry, and this album is going to soar her to new heights!"
2.27.20: Door County Advocate "WAMI Awards: Door County music acts Heyward, Thy Dirty Deuce, Fay receive nominations..."
2.27.20: Green Bay Press Gazette "Green Bay acts among WAMI Award nominees..."  
2.27.20: Milwaukee Record: Wisconsin Area Music Industry announces its nominees for 2020
Rändi Fay, Jazz Artist of the Year;
Aaron Zinsmeister, Studio Engineer/Producer of the Year
2.26.20: Stitched Sound featured "Intuition" 
2.20.20: Anne Carlini & The Exclusive Magazine review of "Intuition" CD
"...From this award winning, dynamic pair not only has a dramatic new genre of music emerged - one that blends the best of their creativity into a symphonic electronica - but a full-length, 11-track opus of an album too... breathtaking... opulently dark... delicate... achingly driven...uniquely told from the heart...."
 "Her collaboration with musician/producer Aaron Zinsmeister on this project has given birth to a style of music that not many of us have ever experienced before. This album is definitely an audio journey worth taking, and repeating..."
"...[Firefly] has a fresh, exuberant rush of boisterous, retro 80's layering mixed into a swelling pulse reminiscent of swirling K-pop, all while still maintaining a unique dance-floor identity. Don't let that immediately upbeat nature fool you into thinking this endeavor is only about fun however. Beneath that danceable, rhythmic frenzy lies a sobering lyrical commentary that attempts to discover what's real... "
2.15.20: The Green Bay Press Gazette: Door County, Green Bay singer's adult pop concept album explores 'symphonic electronica'
"The songs continue to feature Fay's sometimes ethereal, sometimes-torchy voice that gained attention for her in the regional jazz scene. What's changed is the setting for the voice."
2.10.20: The Oshkosh Northwestern: Love in the Dairy State: 11 songs from Wisconsin artists to sing to your sweetheart, or yourself
"Green Bay's Rändi Fay is making waves in her music career. Her recent single "Lone Wolf" is the ideal song for anyone whose partner is shrouded in mystery..."
"...the track is nothing short of magical. 'Firefly' is an energetic, fast-paced song with an important message... Sonically, the track takes elements from pop, electric, and theater/soundtrack genres, and fits just as easily as a dance song as it does in the climax scene to a musical. Fay has proven herself to be a master songwriter time and time again, and this new single is no exception..."
"The musical storytelling of Hamilton was the inspiration for the synth-opera love story "Intuition" I am releasing this month. As I experienced "It's Quiet Uptown" live, I felt even more conviction to be authentic, truthful, and as harsh or gentle as needed in my writing about the universal experience of connection and love..."
"Rather than fixating on keeping up with trends and appearances, Fay instead encourages us to focus our energy on discovering ourselves and allowing our own unique inner light to shine brightly."
"'Firefly' is that glimmer of hope and encouragement at the end of society's judgmental tunnel. Ignore what others think and jump on that self-love train!"
2.4.20: "Intuition" is "Today's Video Share" on Women of Substance 
Green Bay veterinarian-turned-synth-pop-queen Rändi Fay is no stranger to hard work – her long list of accomplishments proves that – and even as she gears up to release her latest labor of love, an album titled Intuition, she's not slowing down-
 "Green Bay's most enchanting songstress, Rändi Fay, has released her stunning new music video, 'Intuition.'"
 "Rändi Fay releases latest single "Intuition" from upcoming album of the same name."
"This song says to 'Release your intuition' and honestly that's what you need to do when you check this track out. It is extremely catchy and packs a pop-filled electronic punch that will have this song stuck in your head for days."
"Intuition' reminds listeners that it's well worth the risk to let go and give in to our desire in order to experience true love and intimacy with someone else. The music video is a sensational visual accompaniment that features a team of elegant dancers and an intriguing male lead that mirror the fantasy-like ambience of the track."
"At first glance, as a new release "Intuition" has a vibe like the first initial tendril-ing of the freshness of forthcoming spring as we still sit prone in the doldrums of yet another January winter. The track carries a lightly bright, upright sparkle of waving up-and-down synthesizer grooves that buoy the steady pep of Fay's vocal in a layer of sunny, well-crafted electronica pop veneer."  
#1194 December 21, 2020 Evergreen
#1185: December 6, 2020  Joy Whispered
#1174: November 13, 2020 "Music with a Conscience" Rise in Love
#1160: October 14, 2020 "Music with a Conscience" Uncaged
#1156: October 5, 2020 "Music with a Conscience" Firefly
#1061: March 2, 2020  Firefly
#1054, February 14, 2020 Freely Given
#1047:  February 5, 2020 Intuition 
#1031:  December 20, 2019 Evergreen 
#1025: December 9, 2019 Grown-Up Christmas List
#1020: December 1, 2019  Joy Whispered 
#1007: November 4, 2019 Lone Wolf
#1006: November 1, 2019 "Music with a Conscience" Love Is 
#1000: October 18, 2019 "Celebration Extravaganza" Evergreen 
#890: December 4, 2018 Evergreen
#889: December 3, 2018 Joy Whispered
#845: September 3, 2018 Supernatural
#834: August 10, 2018 Freely Given 
#789: May 7, 2018 "Celebrating  Motherhood" Slumber My Darling  
#752: February 14, 2018  Freely Given 
#749: February 9, 2018 Moonlight
#725: December 21, 2017 featuring Winter Wind
#720: December 15, 2017 Evergreen
#710: December 4, 2017 feat Angels We Have Heard on High
#694: November 8, 2017 Moonlight
#688: October 23, 2017 Freely Given
#684: October 16, 2017 Pheromone
#675: September 29, 2017 featuring Haunting My Dreams
#655: September 9, 2017 "Best of the Best" "Love Is" 
#595 March 22, 2017 Love Is"
#528 Nov. 28, 2016 Little Babe
#500 Oct. 19, 2016 500th episode celebration!
#478 September 19, 2016
He Said
#434 July 19, 2016 featuring Love Is 
#423 July 4, 2016 "Honoring America" featuring "God Bless America" 
#379 May 2, 2016 "Celebrate Motherhood," Sleep Baby Sleep
#121 May 7, 2015  "Celebrate Motherhood," Baby Mine
#66: February 19, 2015 "Celebrate Love" Falling, the #10 song in the Top Twenty Indie Songs for Sept. 2014 in WOSRadio rotation. 
#13: December 8, 2014 "Celebrate Holidays,"  Mary, Did You Know? 
 Subscribe to the series:
Critical response to "Grown-Up Christmas List"
"At first glance of the title, listeners might expect a typically timely Christmas song, complete with cliché jingle bell-laden trimmings. But what they'll actually experience is something more straightforward, and most importantly, from the heart."
 "The Twelve Cocktails of Christmas Featuring Musical Enchantress, Rändi Fay"
Despite the song having an edge that leans on the side of saccharine, Fay never steps over the line into the realm of corny and contrived here. Rather, the track's sentiment of wishes for peace, love and harmony wear as well on her vocals as a familiar fall sweater. And in a world that can be quite scary in today's day and age, that's the kind of comfort we should never take for granted.
Rändi Fay has brought us her innovative version of the holiday classic... The song seems to have been revived again with the symphonic electronica treatment. The vocals soar in an embracing way providing a warmth to the track that is cozier than the yule log in the fireplace."
"Grown-Up Christmas List" is Fay's own glistening version of the Christmas classic that has been a staple on holiday playlists for decades. Adding her "symphonic electronica" spin to the track, an ethereal and magical style that she has developed alongside her producer and co-writer Aaron Zinsmeister, she takes her turn in delivering a message that will continue to resonate at the root of the human spirit for generations to come.
"a breathtaking mix of electric orchestral music and lyrics that I'm sure everyone can relate to. Rändi has always put kindness at the heart of her work and this song is no different. It's an incredible use of the power of music"
11.25.19 Stitched Sound premieres "Grown-Up Christmas List"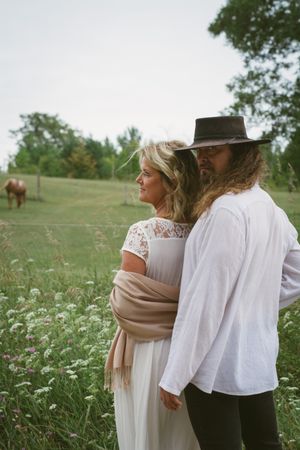 Critical response to "Lone Wolf"
1.4.20 "Lone Wolf" is named an Official Coronet Selection of the Queen Palm International Film Festival for their Second Quarter - 2020 Season
"Intuition is kind of a "throw-back" project with a super-contemporary sound. It is a concept album – no one writes those anymore! Society demands singles, but we took a chance and crafted eleven songs, loosely weaving them around a contemporary love story, digging honestly and passionately into a spectrum of emotion...."
"Lone Wolf" is a stunning example of the ethereal musical style Fay has developed along with her co-writer and producer Aaron Zinsmeister that they have coined "symphonic electronica." Calling to mind images of swirling autumn leaves, the song is a haunting exploration of the development of trust in romantic relationships and the insecurities we might face when letting someone into our hearts."
11.16.19 Infectious Magazine shares "THE FIRST TIME I RECORDED A MUSIC VIDEO"
11.15.19 Aphrodite Film Awards honored "Lone Wolf" as a selected entry.
11.9.19 "Rändi Fay Talks About Her New Single 'Lone Wolf'" with Wendy Shepherd of Entertainment Vine 
11.5.19 "Interview: Randi Fay discusses her upcoming album, Intuition" -Music Existence
11.3.19 "Lone Wolf" was chosen as a finalist in the Independent Shorts Awards for "Best Cinematography" and "Best Music Video."
11.3.19 Festigious Los Angeles selected "Lone Wolf" as a semi-finalist for "Best Music Video."
10.30.19 "Rändi Fay Shares 12 Songs to Cozy Up With This Fall" Music Notes Global
"As a whole, the presentation [of Lone Wolf] represents the many nuanced phases of love – from infatuation to security, to uncertainty, to distance, and back again, all occurring within a seemingly never-ending cycle. Even with its release still on the horizon, I'm already looking forward to how the album [Intuition] will further express these thematic leanings."
10.18.19 "Evergreen" was chosen as one of seven songs for the milestone 1000th episode of the Women of Substance Music Podcast- listen on Spotify or Apple/iTunes.
10.15.19 "Lone Wolf" music video selected for viewing at the Aphrodite Film Festival
10.3.19 "Rändi Fay releases latest single "Lone Wolf" from upcoming album!" Stitched Sound
10.2.19 INTERVIEW: "Green Bay's Musical Enchantress Rändi Fay"  Vent's Magazine
"The lead single from her upcoming album Intuition, "Lone Wolf" is symphonic and haunting, conjuring the electricity of new romance while tackling the fear of vulnerability and the challenge of building trust as the relationship shifts from infatuation to love."