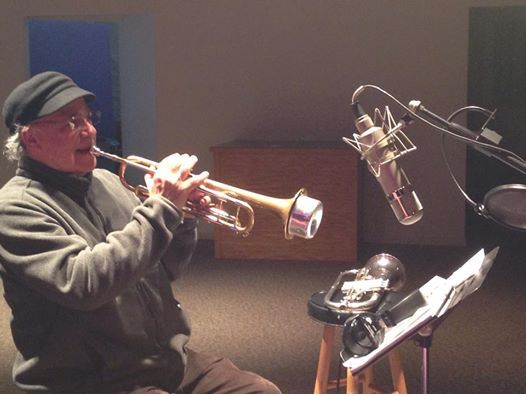 I absolutely love Bob Levy. I am envious of those who have had a longer association with him than I have. He infuses the idea of "possibility" into those around him, and as a composer, performer, conductor, teacher and collaborator, that is an INCREDIBLE gift to share. 
The jazz scene is notoriously a rough scene to fit into. I have never been a learned jazzer, and there are many in the genre who won't let me forget that… So I can tell you first hand how absolutely refreshing it is to meet someone like Bob who treats others' music like a gift. There is no doubt that he can be demanding in his roles. And he should be!! Be prepared, be present, work your music with your heart and soul. But the fact that he listens to new and emerging artists and musicians with a fresh ear, and gives them respect that sows the seed of "possibility" in their self-belief, makes Bob a man in a million. 
Bob has a resume that is way too long for me to share here, and his story is just as "can-do" as his approach to music. Here is a brief excerpt from his bio- 
"In the classical world, as a trumpet soloist, with brass quintets, as a conductor, composer and recording artist, Bob has been a leading proponent for American music… this led to premiering new works, getting performers to link up with numerous composers and committing his life to gaining awareness of American composer Alec Wilder (1908-1980). In addition, Bob had a near 40-year teaching career as a college professor (Lawrence University), created an award-winning summer music festival, was a jazz artist and a big band leader, all bringing him into contact with students and musicians as he led a parallel life as an educator and performer, traveling worldwide with some of this country's foremost musicians…"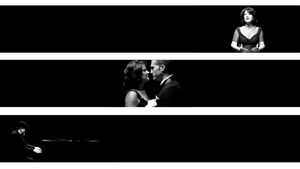 In 2014, I was SUPER fortunate to have Bob on my recording team for my CD "Falling." In honor of Valentine's Day, click on this link to hear Bob adding his signature warmth to my nostalgic love song, "FALLING."
To learn more about Bob first hand, read on:
Interview: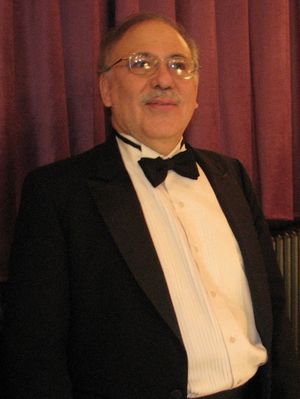 1. What is the inspiration behind your music? Do you identify more as a performer, a composer or a teacher? 
All my activities as performer, composer, conductor, and teacher are woven together and intertwined and I continually study and learn from each. 
2. Have you earned your expertise more from formal training or have you learned more from experience? 
Definitely have learned more from experience. 
3. What are three qualities that you possess that have been instrumental to your success? 
Qualities I think I possess that have made me successful include: 
being passionate and enthusiastic about music, maintaining a positive energy while striving to do my very best, and this impulsive desire to keep learning and searching out new ideas! That keeps you forever YOUNG! 
4. What have been the greatest barriers to you achieving the work you want to create? What do you do to overcome those? Do you ever feel like quitting? 
Greatest barriers: Not enough hours in a day! Try as I might to create the 30 hour day, I just fill it!.  Maybe 30-35 years ago I considered giving up the trumpet because I just felt too spread and unable to keep at practicing. That lasted about a week as I sorely missed playing and haven't turned back since.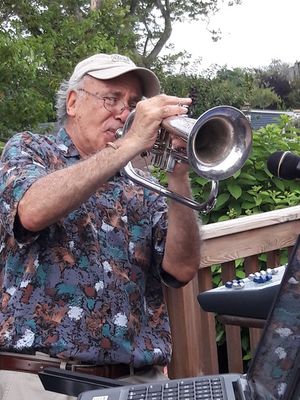 5. I have known you most for your connection to jazz. What is it about jazz that has drawn you into that genre? Do you ever play classical music? Or any other favorite genre? 
It's a funny thing about name recognition. It simply has depended on where I was and what I was currently doing. If I'd been a guest conducting a classical ensemble they were shocked to learn I knew anything about jazz and the reverse was true when playing with a jazz group. They had no clue how I could be a serious classical conductor. Our society simply puts "labels" on you and people have trouble slotting you in more than one place. It's been the story of my life. I enjoy it all 
But….Jazz has always been at the forefront of my interests since high school. I even led an 18 piece big jazz band my senior year!  One of my first childhood memories was hearing one of the Military bands from Washington DC. They came to my hometown and when three trumpet players came stage front and played LeRoy Anderson's "Bugler's Holiday"—that was it for me, and then later appearing on a NY city television show, the Chubby Jackson Show where I performed a solo. It felt pretty cool! Fast forward some fifty years and I was a trumpet soloist with the Harvard Summer Pops band at Boston's Hatch Shell performing Anderson's "Trumpeter's Lullaby" with the composer's widow in attendance. She wrote me a beautiful letter afterwards complimenting my rendition. 
6. After so much variety, what is the current focus of your creative work?  
Current projects:  I just completed liner notes for an all Chris Gekker recording to be released on CD shortly, "Trumpet Music of Robert Levy."  Included are several of my compositions: three duos, four solo pieces, a recently completed trio, and the jazz ballad mentioned earlier. 
The major project I am involved in right now is the documentary film ALEC WILDER: I'LL BE AROUND. I started interviewing more than 60 friends and associates of Wilder's some dozen years ago and have outstanding footage from singer Tony Bennett, writer Studs Terkel, jazz pianist Marian McPartland and many others. I included them in a 20 minute pilot/sampler video I produced about 7 years ago. 
Endless hours have been spent since August with a grant writing team soliciting grant applications to major granting foundations. If I can get some substantial support there I hope to employ as assistant as a researcher. 
I have two ongoing, active fund raising appeals at: 
7. Ooooo tell us more about your connection with Alec Wilder and about the Alec Wilder project- 
Alec and I met in the mid 1960's in Ithaca after some correspondence with one another. He became a mentor, lifelong friend, and inspiration. He was a lonely man in many ways full of doubts about his abilities, living a life w/out confidence, having grown up with many fears and lifelong demons haunting him. While he had many friends he lived alone or in hotels or visiting friends, living out of three suitcases ready to travel immediately. He was brilliant, loving books and writers and even wrote a few wonderful books himself. But his greatest reward in life came from composing music and writing crossword puzzles for a friend. 
Much of his chamber music (among hundreds) he never heard performed, but he was content moving on to writing the next piece. His music was rejected by critics and not taken seriously enough, often because he used jazz elements in his chamber music. Yet, he kept on writing, mainly for friends and I was thrilled the last seven years of his life to introduce him to a whole new younger generation who would love his music and him. And then, of course he immediately began writing pieces just for them! 
Sinatra and Bennett were his heroes for their commitment to the great classic American popular songs—three which Wilder became best known for: I'LL BE AROUND, WHILE WE'RE YOUNG and IT'S SO PEACEFUL IN THE COUNTRY—all recorded extensively by hundreds of vocalists and jazz players, from Billie Holiday, Sarah Vaughan, Lena Horne, Rosemary Clooney to Chaka Khan and Tierney Sutton. 
His chamber music was recorded by members of the NY Philharmonic and Juilliard faculty but they were the ones who made the contact for it to happen. He never spoke out on his own behalf or sought recognition and never ever even submitted his music for publication. What little occurred came about because of his friends and supporters. That was the Alec Wilder I knew and respected! 
8. COVID has impacted the live experience of the arts. How has it impacted you as a performer and teacher? Have you gotten your vaccine yet? 
COVID has kept me from going to student's homes to teach and all lessons have become Virtual teaching. There has been no "live" music to play because all the venues are either closed down or unable to have but small gatherings of people. I wear a mask everywhere and have yet to be able to arrange for a vaccine.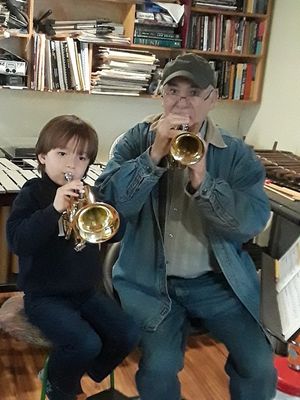 9. Can you name a few other individuals or mentors that are inspirational to you? 
Other inspirations: the multi faceted Pulitzer prize winning composer/conductor Gunther Schuller, also an ardent Wilder support. He singlehandedly took over publishing Alec's chamber music close to the end of Wilder's life. I had the wonderful opportunity to work closely with Gunther on a number of occasions as he was a guest conductor, lecturer, and became a mentor to me. I experienced the wonderful opportunity of typing three chapters for his 700 page autobiography while living in his home for many weeks. We dined a few times together and I heard unbelievable stories about his life, some quite personal too. 
I would be remiss without citing the influence of Glenn Brown, who steered me to Ithaca College, and my professors there: composer Warren Benson and saxophonist Donald Sinta- both of whom shared so much and literally "turned me on" to so many things in music and the arts! 
Musically speaking, Miles Davis has been a huge influence and I've always admired his yearn to grow and explore. My other heroes have been Charles Mingus and Thelonious Monk. Classically, I've come to love Chopin and Debussy, and of course the great master: BACH 
Finally, my daughter, Randi Levy, teaches middle school music in Germantown, Maryland and is also a wonderful singer and song writer. 
10. Do you have any closing "words of inspiration" for us during this pandemic or anything else you would like to share with our readers? 
CLOSING WORDS????? Never give up on your hopes and dreams. If you see obstacles in your way SEE THEM AS ONLY TEMPORARY and stay strong, believing "YES I CAN!!!" 
And…… lastly----always try new things in music and the arts ---if jazz is your thing explore opera, ballet, art museums, and great books! 
Just for fun: 
Do you like to sing? 
yes, I like to sing but only when people have been heavily drinking or if I've had a few! 
Do you prefer fiction of non-fiction?  Favorite book? 
LOVE MYSTERIES AND BIOGRAPHIES 
Do you have a bad habit? Do share!! 
Bad Habit: messy office, too much clutter and saved papers, letters. I have five four drawer file cabinets and probably 75 large boxes in a storage place in town. It's overwhelming! 
What did your 16-year-old self see yourself doing at this point? Is there a "close second' career you would do today if not for music? 
At age 16 I had little idea about the future other than a desire to play my horn. Wasn't academically inclined at all. Never had a good trumpet teacher until half way through my senior year of high school. Got a full band scholarship to Valley Forge Military Academy where the band was terrific and then transferred to Ithaca where all the magic happened! Second career----possibly a writer as I love words and have written probably about 20 notebooks full of poems. 
What are three qualities you seek in a friend? How about three qualities that are "game enders?" 
Three qualities I'd seek in a friend: sincerity, loyalty, honesty, and a fourth—compassion. Game enders???  Dishonesty, egotistic know-it-alls, extremely bossy people. 
What is your favorite way to chill and restore? 
Walk the beach and boardwalk!!! 
Are there any foods you simply can't eat?  (not health-wise but they just gross you out-)
To learn and hear more from Bob: 
A few spirited autobiographical paragraphs from Bob: 
Originally from Freeport, NY, I was one of five kids all pushed by my Mom to play an instrument and be in the band. That way we would be less likely to be hanging around street corners smoking cigarettes with the wrong type of teens. I'm the only one "who jumped off the deep end of the pool" and made music my life! But what a journey it's been! 
I earned degrees from Ithaca College and University of North Texas and completed course work for a doctorate at University of Iowa but never finished there.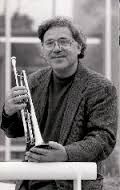 I have balanced a 40-year college/university teaching career with professional activity and engagement and numerous recording projects -more than 60 on a dozen labels as classical trumpeter, with brass quintets, as conductor of wind bands, with jazz groups, and composing. 
I never could decide on one thing and got myself going in a multitude of directions. It used to bother me, say 30 years ago. I thought if I'd only chosen ONE thing, I might have become really, really good at it. It took awhile to see that the various musical directions greatly in influenced my musical totality. 
I was with Lawrence University beginning the fall of 1979. For over 25 years I conducted more than one hundred concerts and gave a solo trumpet recital nearly annually. In town, I started and led the 18 member "Big Band Reunion" for 21 years. The band produced two CD recordings and was prominently featured at the Fox Jazz Fest, Trout Art Museum Jazz Series, Fox Cities Stadium and throughout Wisconsin, often for charitable events and fund raisers- more than six hundred performances! Jazz greats including trumpeter Clark Terry, trombonist Bill Watrous, singer Marlena Shaw all were featured guests with the band along with local vocalist Janet Planet and pianist John Harmon.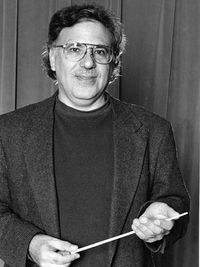 Along the way my journey has taken me to China, Portugal, Canada, Australia twice, and three summers spent in Haiti. For 40 summers I was a guest faculty member at the Red Lodge, Montana Music Festival and also taught at both Interlochen and Tanglewood along with a dozen or so other summer music festivals and camps. 
For ten years I was a trumpet artist/clinician for the Getzen Brass Instrument Company and toured and performed extensively throughout the country, often with internationally known marimbist Gordon Stout while performing as the Wilder Duo in honor of American composer Alec Wilder. A double CD is available of all "live" performances we gave. 
Since moving eastward 5 ½ years ago to Long Beach, NY I still teach young students privately, continue playing my horn with local artists, and spend most of my time composing.