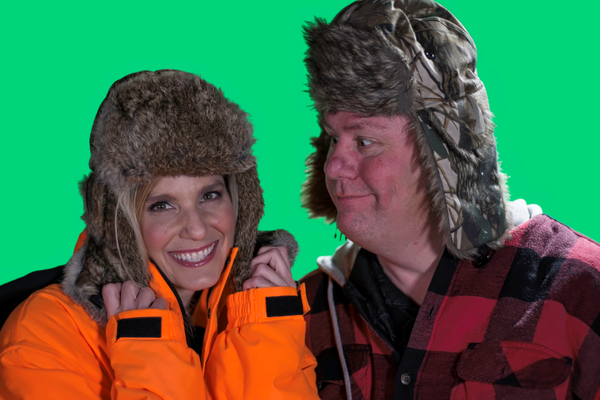 Wayyyyy back when I was in college, I loved reading Glamour magazine. I guess I should've read more thoroughly the fashion and healthy eating tips- I still need a lot of help there! But my attention was much more focused on one of my favorite features: "I Knew I Made It When…" Successful women would highlight the moment in their careers when they finally felt they had "made it!" Well, for this singer in Northeastern Wisconsin, I would have to say that one of those moments for me was being invited in 2012 by Darren Johnson to be in his "Salute to Veterans" Daddy D show. What an honor that was, and what a trip to be involved in what is touted as "Wisconsin's premier Dinner & Variety Show!" I was head-over-heels ecstatic to be included! 
Spontaneous, hysterical, musically limitless Darren Johnson and his equally talented and sparkling wife Shelly have been the headliners for Daddy D since Darren created it back in 2006. They bring in a variety of local talent to produce shows that are reminiscent of the "good old days," with down-home, family friendly entertainment full of belly laughs, soaring music and warm memories. On top of that, they have co-created the combo "American Honey" that has toured across the country playing many of our favorite tunes. Prior to COVID, they were arguably one of the hardest working couples in the Wisconsin entertainment scene. To find out more about what powers this dynamic duo :), read on!
Interview:
1. What is the current focus of your work in the creative community? 
Darren: Right now we are just looking for opportunities to be creative and perform.  We've put together a Drive-Up Dinner Show at the Riverside Ballroom and it really seems to be going over well.  The weather, schedules and demand need to align so it is a bunch to worry about before we actually set a date for a show.  We won't bring the performance indoors at this particular time. 
2. What is your inspiration behind your enthusiasm for your music and your shows? Do you identify more as music theater performers, cover artists, show producers? Is the inspiration similar or different between the roles? 
Darren: I think over the past 20 years of writing and performing the constant has been music reviews. Don't get me wrong it was an amazing undertaking productions like "A Funny Thing Happened on the Way to the Forum," "A Christmas Carol" and writing my own musical "White Tales" but I have learned to stay in my lane.  I stick with what I know best and the formula just seems to work. 
3. What is your background that has prepared you for your current work? How does your formal education fit in with your experience? 
Shelly: My love for music started with having two very involved and supportive parents.  My first experience was Annie Oakley ("Annie Get Your Gun") and I was hooked after that.  I spent weekends singing in church, wedding and sporting events. I was originally going to be an English teacher but my love of music and the Music Department at St. Norbert College changed all that. My education provided me with the foundation that I continue to use in my professional career. 
4. Can you share 1-3 milestones that you consider turning points in your musical careers? 
Shelly: The Ashwaubenon High School musical and The St. Norbert Swinging Knights were definite milestones.  More recently, Daddy D's has performed for corporate clients throughout the Midwest.  Darren and I entertained for two months throughout the Rio Grande Valley, South Padre Island and things are looking hopeful for a stint in Branson MO. 
5. What are three qualities that you two possess that have been instrumental to your success? Do your strengths compliment each other or do they ever clash? 
Shelly: The only clash that we have is that I like to take my time and be prepared and Darren jumps head over heals into a situation.  We balance each other out.  We both enjoy making a difference in the community and seeing what joy music brings people. 
6. All of us experience obstacles in our paths- can you share a few of those you have overcome? What did you do to overcome those? Have you ever felt like quitting? 
Darren: There have definitely been some setbacks but the good outweighs any of the bad.  Entertainment is luxury for many folks and when times are tight it can be one of the first things to go.  All it takes is a kind word, phone call or a decent review to put the wind back in a persons sails.  If I did this to get rich I would have quit a long time ago. 
7. Do you feel empowered by your performing or do you prefer to use it to empower others? Or a little of both? Any stories or examples? 
Shelly: I don't always feel as confident as I'd like to but seeing how music effects people gives me courage. 
8. Before COVID, you were two of the hardest working and creative entertainers in our area. Now COVID has devastated live music productions. How has this impacted you? What are you doing to stay active in the music community? What is coming up for Daddy D? 
Darren: COVID has made things really difficult for everyone out there.  I think in total we have cancelled about 50 gigs or shows.  We've definitely had to live within our means and buckle down financially.  Creative types always seem to find a way though.  We started the "Drive-Up Dinner Shows"* at the Riverside Ballroom where folks are socially distanced, outdoors or even enjoying a show from their own vehicle.  It is not the income we had before the pandemic but it helps a ton. 
*editors note: next drive-up dinner show is Wednesday August 19! Call (920) 544-4244 or visit Daddy D's website below for info and tix!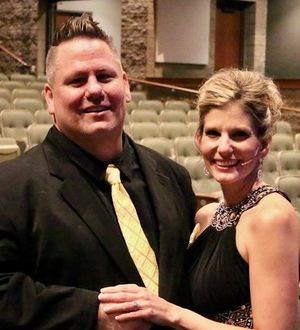 9. A question for Darren- single guy to a family of six- wow! Can you give us three words to describe your new normal? 
Nothing But Love! 
10. A question for Shelly- does Darren wake up hilarious? What are three words to describe a day with Darren?    
Shelly: He likes to tease me relentlessly.  We have an agreement that no teasing takes place before 11:11 because morning is not my favorite time. 
Three Words - Kindness, laughter and snuggles.  I know, puke right? 
11. What are your favorite shows you have performed in? You have performed so many- You are both so versatile! Swing, pop, opera, novelty? Where are you most at home? 
Darren:  Guys & Dolls (Nicely Johnson) was a ton of fun, sang back up for the band Poison at the Brown County Arena and every Christmas Show with Daddy D's is a tie.  Shelly and I have a trio with Cody Borley called American Honey.  We play out most of the stuff we listen to at home. 
12. Can you name a few individuals or mentors that you find inspirational and empowering in the arts? Current and past, acquaintances or public persona are all fair game! Who else shares the light? 
Darren & Shelly: We both have so many we thought we would compile a short list.  We know we surely have left a few out and we apologize in advance.  Dudley Birder, Marshall Moss, Michael Rosewall, Barney Johnson, Dave Fitzpatrick, Dennis Buehler, Mary Eisenrich, Dave Pufall, Jeff Staffaroni, Parker Drew, Peggy Anderson, Stu Smith, Doug Dachelet, Terry & Barb Hinnendael, Phil Boileau,  Dr. John Parlow, Kent & Emily Paulsen, Chris Salerno, my cousin Jeana Menzemer and all the talented individuals who have blessed us with their talents including you Rändi Fay. 
14. Do you have any closing words of inspiration for us during this pandemic or anything else you would like to share with our readers? 
Darren & Shelly: When the smoke clears and it's ok to spend time with each other closely, let's not forget how it felt to be apart.  It may not be a vaccine but the music/art does heal.  When we can... Act bigger, Sing louder, hug longer and tip like there is no tomorrow! 
Bonus questions, just for fun:
Who cooks? Who cleans? We share the cooking and the cleaning. 
What is a dream vacation for you? Shelly says anywhere warm with live music.  We've been a ton of places. 
Are there any foods you simply cant eat?  (not health-wise but they just gross you out-) Shelly - Blue Cheese 
Is there a show you could see again and again?  Shelly- Les Miserables Darren- Did they make Rudy into a musical yet? 
If you could turn back time, what skill would you add to your arsenal? Or what skill are you working on? Shelly - Baking, I am a terrible baker. 
Do you listen to music in your free time? Whos on your playlist? Shelly- 70's or pop fitness, country or Christian contemporary. Darren- Right now I am listening to... Billy Strings, Colter Wall, Chris Stapleton, Chicago and whatever else pops up. 
Social links- website etc- where we can find you? 
Daddyds.com or daddydproductions.com 
DARREN JOHNSON created Daddy D Productions in 2006. Daddy D's is Wisconsin's premier Dinner & Variety Show and consistently receives rave reviews. Mr. Johnson has performed with groups or solo at Six Flags Great America, Bush Gardens FL, The Weidner Center WI, Medinah IL, Sailfish Point FL, Sun City Fl and other amazing stages throughout the Midwest. and the Rio Grande Valley in Texas. His most proud moment was singing for the Military's Medal of Honor recipients and their families. Mr. Johnson served his country and was honorably discharged from the Army. 
SHELLY was named Miss Green Bay Area 1995, a top 5 finalist and Miss Congeniality at the Miss Wisconsin pageant. Shelly graduated from St. Norbert College with a Bachelor of Music degree and was a member of several vocal groups including the colleges' premier performing group the Swinging Knights. She uses her Vocal Performance degree as a Praise and Worship Leader and entertains thousands annually throughout the Midwest. Shelly has sung the National Anthem for over 30 years at different area sporting events to include sports venues, corporate outings and many events honoring our Veterans. Her greatest accomplishment and gift is being a mom to four beautiful children – Nathan, Jaclyn, Max & Lauren.