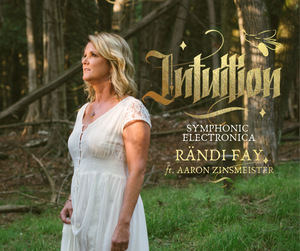 "The lead single from her upcoming album Intuition, 'Lone Wolf' is symphonic and haunting, conjuring the electricity of new romance while tackling the fear of vulnerability and the challenge of building trust as the relationship shifts from infatuation to love." Music Update Central, 9.30.19
It is SHOWTIME! This month, our lead single from our upcoming CD "Intuition" has been released, a song I love even more every time I hear it! "Lone Wolf-" Mysterious, conflicted and passionate, the video is so beautiful!! 
Also, during October, we have an ongoing Indiegogo crowdfunding campaign. This is so exciting- it's like a Kickstarter for creatives, bringing our music to an even larger world audience, and giving friends, fans and family the opportunity to purchase CD's and merchandise, or simply back our project with a donation! We are at the halfway point time wise and already at 86% funding!
Please help us surpass 100% by backing "Intuition!" Here is the link: Indiegogo-Intuition 
Why would you back this project? Because there is so much that is so cool going on in it-
1. Eleven Songs  and a commitment to storytelling at its most magical and musical. No one does that anymore- create 11 songs that are tied into the framework of a storyline, create 11 songs that have averaged over 50 hours per song in production and writing, create 11 songs over the course of almost two years.  We are too impatient and too drawn to quick gratification. 
2. A good story, that could be told again and again, especially in these harried times- finding beauty in our "humanness," and learning to love and be loved.
3. Collaboration: Aaron Zinsmeister and I have a very awesome chemistry on these songs, with sometimes very divergent viewpoints at the outset on how each topic and song will be handled. It is so cool- exactly why we work so well together. The songs would be trite if we were always on the same page! But together we hone and craft, as each song is very emotion driven, and the experience is very different from a male and female perspective. 
4. Collaboration: Our project has the energetic input of more people than you can imagine! We are not two writers huddled in isolation. See below for a list or the AMAZING people who have contributed to this project in different ways!
5. Nostalgia: I mean, it's a concept album for goodness sake! Who does those anymore? 
6. IT'S NEW! Have you heard of Symphonic Electronica? 
7. "Lone Wolf" is epic!  Already over 2000 spins on Spotify, over 1100 views on YouTube, and premiering on Facebook Thursday night! at 8:30 pm CST (Check my page Rändi Fay Music to sign on to watch with us!)
8. Courage: It takes courage to create. Stubborn belief in what you are doing, and that it has value. One of the greatest values of this project is the breadth of human experience we have boldly covered. There is a song for everyone-
Please consider backing our campaign! Click here for more information: Indiegogo-Intuition
Oh and one more thing! I have JUST submitted our next single, "Grown Up Christmas List" for 11.26.19  release! Timely and gorgeous- 
Never forget, you deserve to dream! 
With tons of love to you- 
Rändi  ♥??
Music & Lyrics: Rändi Fay (BMI) &  Aaron Zinsmeister (BMI), © 2019  
Arrangement, Production & Engineering: Aaron Zinsmeister  
Video Production & Direction, Indiegogo Promo, Lone Wolf: Jocelyne Berumen, CyclopsGirl.com  
Talent, "Lone Wolf": Troy Therrien  
Assistant Director/Set Photographer: Megan Johnson  
Cinematographer: Nate Haben  
Drone Operator: Rachael Dowling, Photo2Drone.com  
Set Photographer/Grip/Production Assistant:  Laura Anne Henderson,  
Grip/Production Assistant: Priscilla Brock  
Talent Makeup Artist and Hair Stylist: Sara Miller  
Hair Colorist: Bri Schramm  
Graphic Design: Katrin Schroeder, k-schroeder.com  
Campaign Consultant : Nancy Solhaug  
Vocal coaching: Lisa Haupert, Janet Planet  
Lyric Coaching: Shane Adams  
Lyric review: Suzan Sherman  
PR: Angela Mastrogiacomo & Erica D'aurora  
Location: Garden Gables of Door County- Kayla and James Larsen  
Location: The Strom Family  
Location: The Gallagher Family
Watch "Lone Wolf" now- 
INNOVATION ♥ PASSION ♥ NOSTALGIA  
CLICK HERE TO JOIN ME IN #CONNECTING WORLDS