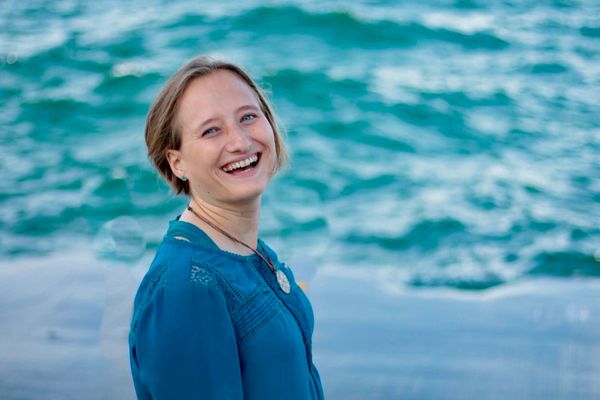 "I am a firm believer in the joy that comes from healing. Part of why I have gold in my branding is a reference to that Lenoard Cohen line "there's a crack in everything, that's how the light gets in." I've always been a joyful person but I think my joy has expanded as I have healed and developed into this more grounded complex thing. The album itself is a journey of joy from a more performative 'everything is fine (but it's not fine)' to a more mature 'everything is and that's beautiful.'"  -Gail
Gail Gallagher sparkles. This multi-talented songwriter, instrumentalist and improv & musical theater artist simply effervesces! And until I read her answers to our interview, I had no idea that others saw this in her as well. I have never been in her physical presence, but her smile and attitude just jump through cyberspace and grab you. Her excitement was bright and palpable as she prepared to release her album "Power of the Unnamed Passion," so imagine my surprise when I found out it was an album about grief. How can someone who exudes so much joy be feeling grief under it? I had no idea in our year long acquaintance all that she was going through. Her album is just as darling and authentic as she is- with all the feels, and I mean all of them- in a charming home-spun musical-theater-like style. 
Grief is something that can stagnate in our hearts. And this time of year, and THIS year especially, wowza it can hit hard, maybe in the loss of a loved one or maybe in the loss of an opportunity or experience. We have been racking up cancellation after cancellation these days.  And with the holidays approaching, a time for gathering and hugs and love, our celebrations may continue, but at a distance which just isn't the same. Also, many loved ones may have passed this year, from COVID or not, and the holidays become a time of sadness and loneliness in a time that we are already pretty sad and lonely. Seriously, who does NOT need a huge hug right now? 
Where am I heading with this? Grief will be no stranger this holiday season, and even bright sparkling people like Gail may be experiencing it. We need to not be afraid to embrace the grief in ourselves, to look for it in people where you least expect it, and to be aware that none of us are alone.  The closing lyrics of Gail's song "2:22" are a haunting repetition of  "I believe in you…" as though from beyond… Thank you Gail for wonderful words of comfort that perhaps should be a mantra this holiday season. CARE, SHARE words of kindness and CONNECT however you can. 
To learn more about Gail and her new album, read on:
Interview:
1. What is the current focus of your creative efforts? Singer, songwriter, producer, teacher, more- ? Which role comes most naturally to you? 
I think my most natural role is that of a teacher/coach. Even in my music there is an element of teaching and in all the things I do. I am committed to creating a sense of joy, curiosity, and growth. As far as how I spend my time goes, right now I'm juggling promoting the album, teaching lessons and creating content on songwriting, and working on my production skills.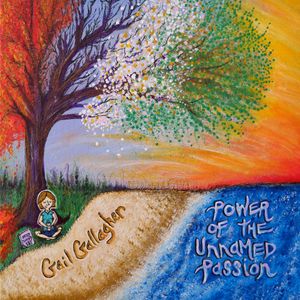 2. You just released a new album, "Power of the Unnamed Passion," filled with so many ideas and emotions! What was your inspiration behind it? What is the "Unnamed Passion?" 
"Power of the Unnamed Passion" is a culmination of a lot of feelings and growth over the past 4 years. The start of this period was August 2016 to August 2017. In that time my mom died, the 2016 election happened, and I turned 30 and got engaged. Through that eventful year and the years that followed I really dove into songwriting and these songs are all important moments in that journey of healing and reflection. 
As far as the "Unnamed Passion" goes- the original phrase comes from a conversation with a former professor of mine, Stan Brown, during my first year out of college. We were catching up and I was in a chaotic state of indecision and he referred to those times where you are trying a lot of things and not sure what to do as "the power of the unnamed passion." That lived in the back of my brain until I wrote the song seven years later. 
If I define "the Unnamed Passion" in the context of this album I think the phrase points to the deep well of complex feelings and wounds that are unearthed when life takes a major turn and you go into a season of transition (and yes as the song goes, at first one might interpret that as a need to get a haircut or go to grad school). How you name the "unnamed passion" is taking time to listen to it and check in with yourself. Which is easier said than done. The album is a journey of listening to all those fears, wounds, dreams and everything else that comes to mind when you take the time to check in with your soul. 
3. Finishing and releasing and album is a huge commitment. Daunting. What are three qualities that you possess that have been instrumental to your success? 
Time Management- I found that treating the album production process like you're rehearsing a play is helpful. Divide everything into small chunks and treat your recording sessions like a play rehearsal and it helps you show up to do the work. Having a clear deadline or an "opening night" is also helpful. 
Keeping a spirit of "yes and" in the process- the first rule of improv is "yes and." It helps you follow your impulses and also experiment with the offerings your collaborators bring to the table. That definitely came into play in the recording process (which was done completely remotely with additional musicians emailing me parts, by the way). 
Learning to delegate and determine which "hat" I'm wearing- When you are producing something you are also writing and performing it's important to learn which hat you're wearing when and when you need another person's input. I definitely learned a lot about how to distinguish which role I was playing when in this process. 
4. What in your background has prepared you for your work in music and theater? Did you have formal training or have you learned more from experience? 
I was a theatre major. I have a BA in Theatre with a dual emphasis in Performance and Theatre Management/Directing. I took piano lessons from 3rd grade through my senior year of high school and also played violin from 4th grade to high school but chose to focus on theatre as my major. In college, I spent a lot of time jamming in practice rooms and honing my improv skills. I ran off to the music building and took piano breaks in the same way my peers took smoke breaks. Then when I moved to Chicago, I found the music improv scene and found that these intuitive piano skills I had cultivated in college were something I could develop and plug into the improv scene. 
5. What have been the greatest barriers to you achieving the work you want to create? What do you do to overcome those? Do you ever feel like quitting? 
I spent a good portion of my teens and 20's with a fair amount of anxiety around performance. I did good work as a performer but it wasn't until my sophomore year of college where I started to process that "being in the moment onstage doesn't mean the obsessive thoughts about your director yelling at you." 
I also found myself facing a lot of rejection as I would audition for different roles and as a result I started to produce my own work and plug in with more community groups. 
I think my work in improv has been a huge part of working thru my anxiety and understanding the nature of creativity. The constant exercise of being in the flow and making decisions in the moment and riding the wave of a scene has absolutely built my confidence. 
My relationship with my anxiety has gotten much better. I definitely still have moments of anxiety and intense perfectionism. I recognize my fears but they don't take the front seat as much (using a metaphor from Big Magic by Elizabeth Gilbert). Anxiety is still a passenger in the car but it doesn't get to drive. It does choose the music sometimes. 
7. You obviously put your heart into each song on your album- so introspective, from the beautiful vocal/cello duet "Empty Wind" to the snappy "Dog Song" you have covered the gamut. Do you have favorite songs from the project? 
I've been with these songs for so long that it's hard to say which is my favorite. I do know that when I go back to listen to the album I start from the second half. This is because I'm a musical theatre nerd and I structured the album like a musical therefore there's a clear Act 2 and all my favorite songs are of course in "act 2" (tracks 7 thru 12). 
8. Tell us a little about your writing process. Imagery and metaphor play a huge role in your lyric- do you have to work at that? 
So first of all, the key to my writing process is I just write a lot. There are 12 songs on the album but I wrote at least 60 over the past 3-4 years. I write best in batches and with the restrictions of a challenge. I do February Album Writing Month (14 songs in 28 days) every year and many of the songs come from that challenge. As far as imagery and metaphor go- it's a huge part of my writing voice. I tend to make up words and play with phrases in my normal conversation and my husband has to remind me to go back and connect the dots sometimes. 
Usually when I have a song idea there's a specific image or metaphor that comes to mind and I build from there. Many of those metaphors are lifted from books I've read or podcast lectures I've listened to. (ex Spacesuit Days is based on a concept from a Tara Brach lecture). 
Musically I have a bit of a synesthetic thing going on. I don't see music as colors but I do lock into certain keys as having a personality in a way that makes sense to me. So that plays into my choices and storytelling (and also makes me super stubborn about transposing once a song is written which has made Empty Wind an adventure to perform because that low F has become a sometimes note for me)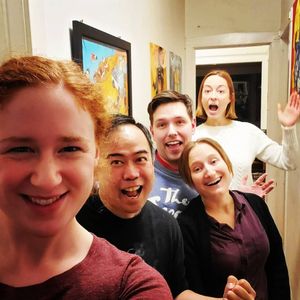 9. What audience are you hoping to reach with your album? 
Musical theatre fans with big, open, slightly broken hearts who are most likely going thru their "Saturn return"/that time in your late 20s where all the things happen. But really I think anyone who has been thru a major transitional period and wants music that openly reflects on the emotions involved in those transition seasons will resonate with it. 
10. COVID has impacted the live experience of the arts. How has it impacted your music and your career? 
Before the pandemic hit I was juggling teaching, improv shows, and the start of organizing a staged reading for a musical I co-wrote with friends. When we transitioned into stay-at-home times I had online lessons and a couple online improv gigs but I suddenly had more time to focus on my music and the projects that bring me joy. 
I have had a lot of fun leaning into the silver lining of everything being online. I've become more involved in the assorted online musician communities I'm a part of (shout out to Female Musician Academy and The Amplify community). At one point I hosted a weekly open mic on Instagram and it was so cool getting to know folks that way. I have musician friends all over the country and the world now. I had my release party online and people from all over were able to tune in. 
I've also had more time to have weekends where I can genuinely recharge and work on hobbies. I've done some ridiculous crochet/knitting projects including making my cat a cat couch. I'm working all the time but my work/life balance is sooooo much better. 
11. Can you name a few individuals or mentors that are inspirational to you? Current and past, acquaintances or public persona are all fair game! Who else shares the light? 
The specific artist I "want to be when I grow up" right now is Rachel Bloom who is the creator/ star of "Crazy Ex-Girlfriend." My dream is to create something like that. Musical theatre content that tells complex stories in a silly but meaningful way with layers of clever jokes and sharp lyrics. 
12. Do you have any closing "words of inspiration" for us during this pandemic or anything else you would like to share with our readers? 
One of my mantras is "we're all humans learning how to human" I think in this pandemic it's important to hold space for each other as we're collectively working thru a time of grief and transition and fear and all the things. In the personal context I think this mantra is helpful in holding grace for ourselves as we check in and learn and work thru whatever we're going to work thru.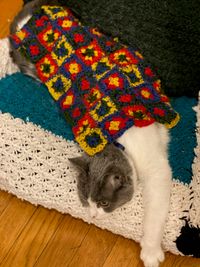 Bonus questions (please answer at least three up to all of them!): 
Do you have a nickname? "Sparklebard"- coined by a group I was working with because anytime I have a moment of musical inspiration when collaborating I light up in this joyful nerdy way 
Do you have a favorite song that you love to belt? "Me and the Sky" from "Come from Away" "As If We Never Said Goodbye" from "Sunset Boulevard." Both of these songs are sung by characters I'm still too young to play but I'll  just put it out there that I'm totally ready if anyone wants to cast me. 
Do you binge watch any shows??- Yes. Just finished "Queens Gambit." 
Do you prefer fiction of non-fiction?  Favorite book?- I read a mix of fiction/nonfiction. I love biography. When I read fiction I love speculative fiction/dystopian fiction. My favorite book from 4th grade onward continues to be The Giver by Louis Lowry. I was hardcore and had my own copy of the book on tape at one point. 
What is your favorite way to chill and restore? Knitting and watching reality TV ("Survivor," "Amazing Race," "Great British Bakeoff" are my top three)
Connect with Gail:
www.gailgallaghermusic.com 
Direct link for album: https://gailgallagher.hearnow.com 
Gail Mail list- www.gailgallaghermusic.com/gail-mail-list 
Facebook.com/gailgallaghermusic 
Instagram @sparklebardgail 
Twitter @sparklebardgail
Gail Gallagher is a Chicago-based improv music director, performer, teacher, songwriter, and composer whose lyric-driven songs reflect on the highs and lows of life with a witty and vulnerable twist. Gail has worked as a music director in the improv and theatre scene for nearly a decade, and in these pandemic times has taken her services online teaching piano & songwriting lessons and composing original music.  She recently released her debut album "Power of the Unnamed Passion" which is available on Spotify, iTunes, Bandcamp and wherever else you stream your music.
Photo Credits: Julie Merica Photography