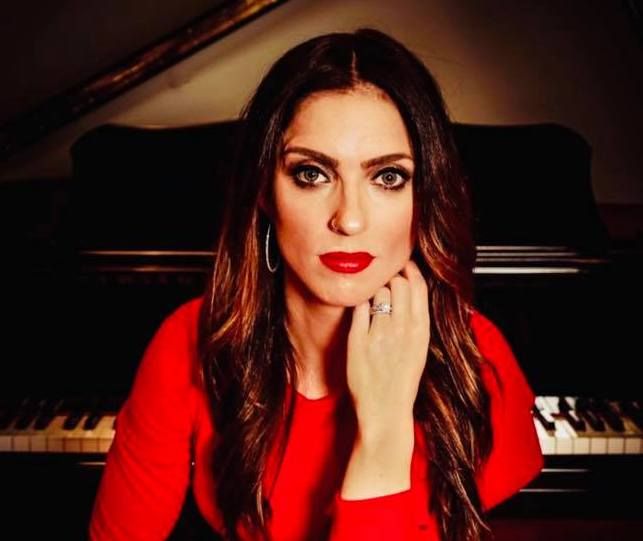 Building relationships is critical to success in the music business. Heck, it's critical to success in any business, including "the business of life." I often hear references to cronyism or nepotism, and sure they exist, but the practice of relying on someone regardless of their skills just because he's someone's brother-in-law is antithetical to what I am saying. That approach often backfires, getting you stuck working with under-qualified, unreliable, grumpy individuals. I can handle under-qualified if they are willing to learn, but unreliable and grumpy are right out. Life is toooooo short. For me, it's not so much about who you KNOW, it's more about who you TRUST-  trust to work hard, to be honest, to be prepared, to value your efforts and skills as much as you do theirs, to be a fun, positive and reliable influence in your work together. 
I met Kayla Peeters right after she released her first single "Brynlee's Theme" in May, and I immediately knew she would rock this business, simply by her natural expression of those aforementioned qualities. She balances graciousness and ambition, gratitude and grit. I  would work with her any day. Although she was a brand new recording artist, she already had an avid and engaged social presence, no doubt due to her beautiful commitment to performing her enchanting piano pieces on "Facebook Lives" starting during the COVID quarantine. She was already building a relationship of trust among her fans. How cool is that? And how strong and brave as well. Performing on those live streams is terrifying… um… says one who is to chicken to even give it a try! 
Kayla recently posted on her Facebook page this Helen Hayes quote: "The expert in anything was once a beginner." This is "can-do" attitude elucidates Kayla's approach to her piano students and to her own career as a classical-crossover composer, performer and now recording artist. She is bubbling with creativity and a willingness to learn from the greats every step of the way. She has released three more singles this summer and has an upcoming album release this fall. To learn more about Kayla and her music, read on: 
Interview: 
1. What is the current focus of your work in the creative community? 
My current focus in the creative community would be imprinting all I have learned and know into my students. I have a wonderful group of talented students of all ages and skill levels. I find that being creative and guiding them with a student lead approach helps keep everyone happy and striving to learn more. We really have fun with composition and improvisation. That is where we get to highlight our true selves at our instrument.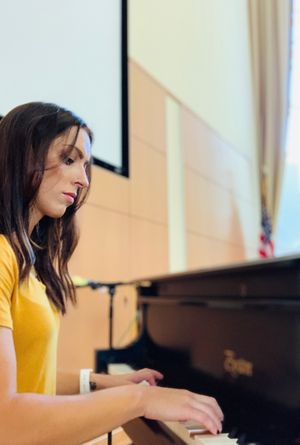 2. What is your inspiration behind your music? Do you identify more as a writer, a performer or a teacher? Is the inspiration similar or different between the roles? 
The inspiration behind the music first would be as a performer. I love to perform! Though I have to say in the end these are pretty evenly matched! I enjoy composing-writing just as much as performing. Seeing the piano as an open canvas is pretty exciting! Teaching is so special to me. I 100% invest all I am into each individual lesson. There is so much joy in seeing a student have beautiful learning moments at the piano. I have a lot of composers and performers in my pack and I feel lucky to guide the light 
3. What are three qualities that you possess that you feel have been instrumental to your success? 
When I started playing the piano, my parents were always very supportive of my playing and were dedicated from the start. They gifted me an acoustic piano as a child just starting lessons. Having an instrument to call my own as a beginner was very instrumental to my success. 
I always listened to so many varieties of music. I feel learning through listening was very essential to my success. I followed every step of those artists I was inspired by. George Winston always inspired me to be the best I could be. 
I have always played by ear and understanding I can pick up the tone easily and read music made me advance and strive to become efficient at both.  
4. Tell us about your upcoming CD- And what is the inspiration behind the songs and a little about your writing process? 
The entire album has been postponed to release in fall! I decided to remaster a few songs I wrote and they will be added! I have been so tuned in this past year and writing like crazy. I am really excited to share all of the tracks on the album. It is a little bit of everything and I cannot wait to release the finished product! The inspiration came from rediscovering myself. This has been a big year off change and all things are going in the right direction. 
5. You have a beautiful young daughter. Has becoming a mother impacted your playing and writing? How do you fit it all in? 
Becoming a Mother has been the BEST! I love being a mom. I have tried to balance all of the things and it does get hard. Typically when I am at the piano, Bryn wants to be at the piano. When I turn on the microphone, Bryn wants the microphone. You get the trend! A lot of my work is done after 11pm when everyone is asleep. That is when my mind is open and writing comes natural and organic in the night hours.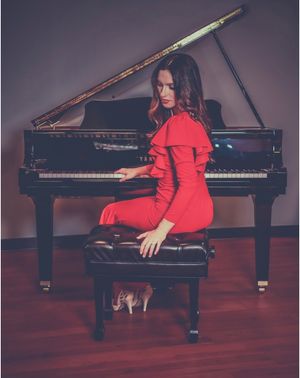 6. Can you share 1-3 milestones that you consider turning points in your career as a musician? 
Taking on gigs were big turning points in my career. Becoming comfortable as a performer takes a lot of bravery and confidence. I didn't always have that but overcame it. I reached out to a lot of professionals who I idolize and asked so many questions about this field. It was amazing that I had so many honest responses. This has helped open a lot of doors for me and has also educated me a lot in the growing process. Another turning point was understanding the new music world. Reading books, learning how to record and use all of the equipment to do so. I once said, I just wanna play piano- haha! If you have that mindset, you will not get anywhere. Understanding the business side of this market as well as the engineering has helped me drastically this past year. 
7. All of us experience obstacles in our paths- can you share a few of those you have overcome? What did you do to overcome those? Have you ever felt like quitting? 
Obstacles… We all have felt this I'm sure at one point in either early learning or our professional career. The more I have put myself out there in the music world, it has exposed me A LOT! That intimidated me at first. I am pretty reserved and shy…  I am still adjusting if a song gets (turned down) for a big Pandora or Spotify playlist for minuscule reasons. Example: "The music was too heavy on the arpeggiated chords in measure 38…" I have heard it all and have felt like quitting, BUT, I also tell myself if I quit, they win. I am not in competition with anyone else but myself so If I do feel like I am failing or need to work harder, I do. No excuses. 
8. Do you feel empowered by your writing or do you prefer to use it to empower others? 
I definitely write from my soul. I have never sat down and wrote a song in hopes people will "buy it." I write passionately and directly from my heart hoping my fans enjoy it!  
9. What in your background has prepared you for your piano teaching and performing? Did you have formal training or have you learned more from experience? 
I started training in professional lessons at the age of four. I was in group lessons and individual lessons. I was classically trained and was involved in competitions throughout my early years. I was guided by some of the best teachers and professors in the area. I am a member of MTNA and WMEA chapters and strive to continue my education yearly to be the best teacher, performer and composer I can be. 
10. COVID has impacted the live experience of the arts. How has it impacted you as a teacher and performer? 
Covid… I cringe at the word itself. I, like many amazing teachers, have seen a positive impact in the virtual world. I actually took on more students and really gained a fan base during this period. There is a site on Facebook I jumped on immediately called "Socially Distant Fest."  I would play live and was getting tipped virtually! It was awesome! I think Covid is terrible but it's how people approach it that makes a difference. I told myself, "Teach online or lose my studio. Play virtual gigs or lose your name." I just went for it and it worked out in my favor.  
11. Can you name a few individuals or mentors that are inspirational to you? Who else shares the light? 
I have a lot of people that have guided me on this journey. My parents, Kim and Brad have been extremely inspirational and supportive to me. My Dad would carry all of my equipment from gig to gig. I remember I played on the Foxy Lady for years and he would set up my gear with me and hang on the boat for 3 hours! It was pretty rad. My mom was always a very dedicated listener. She is my biggest fan and likes to be crowned for my success since she is my Mom. She is probably right- haha! My husband and my extended family and friends have been so supportive of my work and I am very lucky to have people that have always believed in me.  
I have also been influenced by George Winston and got to meet him twice in my life! I was a fan girl for years (still am)! I grew up listening to his music. My parents would have his album playing a few times a week and I just fell in love with it! My music is shared on the same playlists his music is on now and it's CRAZY! Beethoven inspired me, Hanz Zimmer, Yiruma, Jim Brickman, Lori Line, Jennifer Thomas, The Piano Guys, Coldplay, The Fray, Weezer, Metallica and The Beatles inspire me. I am a lover of music and love to hold on to something that can be put back into my music.  
I have a few professional music colleagues that have guided me on my journey. I would like to thank them for their dedication and commitment to me as an artist.  
12. Do you have any closing "words of inspiration" for us during this pandemic or anything else you would like to share with our readers? 
Closing statement: Don't give up! Life is hard but if you are a musician you are meant to share music with the world. Whatever the purpose is, it's supposed to happen. Music brings such joy to people and it's important that we stay dedicated to what we love. 
Bonus questions: 
Do you like to sing? Do you have a favorite song that you love to belt? 
I LOVE to sing! My favorite song to belt would be Bohemian Rhapsody! 
Do you binge watch any shows?? 
I like to binge watch shows. I typically watch shows like Game of Thrones or shows similar in nature. 
Do you prefer fiction of non-fiction?  Favorite book? 
I also LOVE to read. Harry Potter is my favorite book of all time. 
Clean freak or messy-bessie? 
I am a clean freak! 
Connect with Kayla- you can view all of her links here: 
https://linktr.ee/KaylaPeeters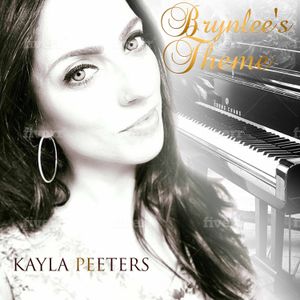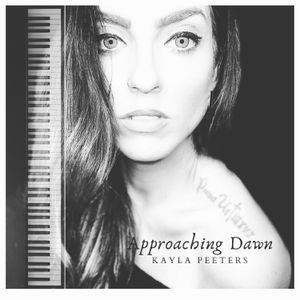 Kayla Peeters is best known for her solo piano performances, compositions and teaching. Kayla runs a successful studio in Green Bay, Wisconsin where she teaches with a student lead approach which includes everything from pop music training to classical training.  
Kayla has been playing the piano since age four. She has performed all over Northeastern Wisconsin.  Kayla's music can be found on many of today's most popular platforms including, Pandora, Spotify, iTunes and Amazon. Her music is popular in the Contemporary-Crossover genre. In March 2020, Kayla released her first single Brynlee's Theme and it hit the top 20 charts with One World Music in England. She recently released 3 singles. Redemption, Approaching Dawn and Rose Lane.