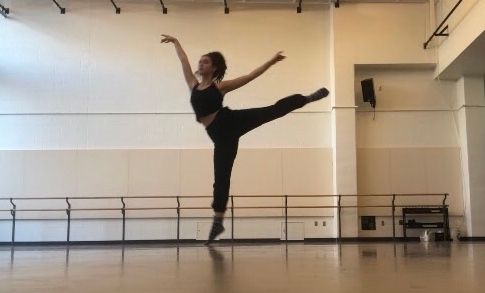 I have known Emily Holland for almost 20 years, since she took her first breath… literally. This proud Tanta (Scandinavian for "auntie") had the great honor of being present at Emily's birth and has been along for the ride on so many ensuing life events since then. I am pretty sure Emily was singing into her sippy cup before she could even talk! Her mom (my sister) Wendy has an incredible voice, and there was never a shortage of singing in their home. I seem to remember a particular Veggie Tales song about a hairbrush that was a favorite… oh boy… That song wended its way into my kids' ( her cousins') vernacular, and is still a part of our family repertoire! Oh Lord… cousins… 
In our extended family, Emily is the "baby" of all of us, with all of the crazy family antics that go along with it. We have all enjoyed watching her grow not only into a talent but also into a well spoken, energetic, ambitious and gracious young woman! Some of her credits include "The Merry Wives of Windsor" and "Henry V" (Door Shakespeare), "Clown Bar" and "Mamma Mia" (UWSP), "Jekyll and Hyde" (Next Stage) and "Les Mis" (Green Bay Southwest). Emily is currently working on her first album to be released by the end of Summer 2020. Wowza. Do not fear Gen Z- I couldn't be more proud! And if you are wondering if there is any talent of hers I may have contributed to, check out bonus question #v. Oh boy... 🤬
Read on for more: 
Interview: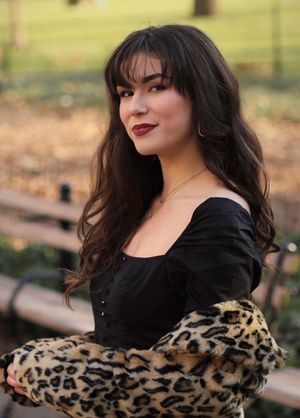 I. What is the current focus of your work as a creative, i.e. what are you doing most- a triple threat student at University of Wisconsin-Steven Point :), a performer, a songwriter, etc.? 
Right now, due to it being COVID season and most summer shows being cancelled, I have been putting all my focus into writing my first album. This is such an exciting time for me as I have never written before, and I have found such joy and passion in it. It is being orchestrated and produced by my dear friend Luke Brotherhood, and we hope to have it debuted by late August. I have been continuing to audition for local shows, feature films, and have recently done voiceover work for a local commercial! 
II. What is your inspiration behind your enthusiasm for your work? What drives you to be a performer? 
Wow, so many things. I think my love for acting comes from a desire to understand people. No matter what role you play, you must approach them with zero judgement, no matter who they are or what they have done. It can be a really difficult process, but it has allowed me to grow into a much more empathic person. I love discovering who people are and why they do what they do. It is so gratifying when I feel like I've finally cracked a complex character and begin to embody that. 
Something that also drives me to perform is watching the beauty that other performers create. I see a good performance and see the impact it has on others, and all I can think is "I want to do that. I need to do that." So, I do it. 
III. Getting into the Theater Program at UWSP is quite an accomplishment, but continuing in such a challenging program is another huge accomplishment. What are three qualities that you possess that you feel have been instrumental to your success? 
Awe, thank you. Yes, being in a rigorous program is certainly not for the faint of heart. Over my two years at Point, I have developed an incredibly thick skin, undying passion for the work, and the desire to always keep improving. Those three things keep me moving forward. 
IV. Can you share 1-3 milestones that you consider turning points and have brought you where you are today? 
My first major milestone in my performing career was the summer after my freshman year of high school. I auditioned for an "All Star High School Musical Program" called Next Stage, with the expectation I would not get in. However, I made it and gained the confidence I needed to continue working through high school. This experience helped me learn that I am capable of this dream. 
My second major milestone was, of course, being admitted to University of Wisconsin - Stevens Point's Musical Theatre program. I was one of nine girls admitted and it has proven to be the greatest blessing in my life thus far. Then, my sophomore year I was one of two students in my program to be admitted to the Dance Minor program which has completely changed the course of my collegiate career. I am so grateful that my life has led me here! 
My third major milestone that has gotten me where I am was booking my first professional gig the summer after my freshman year of college at Door Shakespeare in Baileys Harbor, WI. My life was completely changed that summer. I met so many people that I will look up to for the rest of my life, and made some lifelong friends along the way. (It was also my first experience with Shakespeare, so that was crazy!) It sparked a deep love for The Bard. 
V. All of us experience obstacles in our paths- can you share a few of those you have overcome? What did you do to overcome those? Have you ever felt like quitting? 
Oh my gosh, so many. I faced a lot of difficult circumstances in high school that at first disheartened me, but then eventually turned into a thick skin and a gratefulness for the good things in my life. 
I unfortunately have faced a lot of vocal problems (which are almost all gone thanks to my awesome professors at UWSP). I came into college with a complete lack of understanding for how the voice works, and I never knew until I was thrown into a pool of some of the most talented singers I have ever met at school. I just couldn't keep up. I was scoped twice down in Chicago because I was afraid I had some sort of vocal damage from singing incorrectly for years. I FORTUNATELY did not! But, I was diagnosed with MTD, Muscle Tension Dysphonia. Long story short, when I would sing or speak, my vocal chords wouldn't function properly which caused vocal swelling and fatigue. This made it nearly impossible to achieve vocal resonance without a great amount of tension. This is a very common problem, but mine was severe. It has taken me two of my years of college and my very patient vocal instructor to get me out of the rut I was in. I still work on this everyday, but I am finally seeing some amazing progress. The amount of times I would cry after voice lessons or call my mom telling her I just "don't think I am meant to sing" was too many to count. I always felt like quitting. I am so glad I didn't. 
VI. How did the COVID closure of campus affect you? How did you feel when you heard the news? What has been hardest, and what if anything has been positive about the experience? 
The COVID closure of campus was a real tragedy. I was in "Mamma Mia" and we had only been able to run our full show once. Our next rehearsal was going to be the first in the theatre, and then we got the news. I was heartbroken. This also meant leaving my friends for five months instead of three. I was in shock for a few weeks until it really set in. The hardest part by far was losing two months of classes with my peers. I will admit my professors did an incredible job at moving the curriculum online, but I know I speak for my whole class when I say we were just dying to get back into the Fine Arts Center. But, we did what we could and I still felt like I made progress which is what matters. 
I think I am one of the lucky few that can say I have had plenty of positive experiences in quarantine. I began a workout regime that I surprisingly stuck to, which included daily dog walks, online dance classes/barre classes, and rollerblading. I also joined a virtual book club to read the Harry Potter series (currently on book four and I am obsessed), took on online class through Yale University, and of course began the journey of writing my album. I now had the time to do so many things I normally wouldn't be able to with my packed schedule, and that was a blessing. 
VII. Do you feel empowered by your audience when you perform, or do you prefer to use your energy to empower your audience? Or a little of both? Any stories or examples? 
Absolutely both, but I think more frequently I aim to empower my audience. That is what theatre to me achieves. I want people to walk away and have more courage, think a little deeper, be more open minded, and to love harder.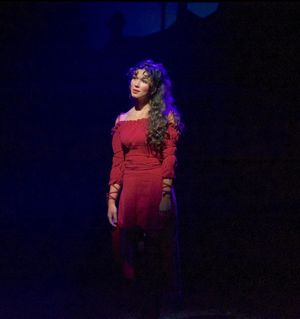 VIII. Do you have a favorite role so far or stage experience so far? What is your dream role? 
100% my favorite role I have ever played was Lucy Harris in Jekyll and Hyde. It was so demanding in every way, and it was the first role that I truly felt like an actress . I was making bold choices, creating things to make the character my own, and had a specific pre show ritual. It was the perfect experience to lead me into college. 
I have a few dream roles (as you might have expected :) ) 
Jenna in Waitress 
Amelie in Amelie 
Persephone in Hadestown 
Mary Magdalene in Jesus Christ Superstar 
I NEED to play Lucy from Jekyll and Hyde again (now that I know how to sing, haha) 
IX. How are you keeping your skills up this summer? Have you heard yet whether school will resume in the fall? Any news on performances? 
I have been doing all I can, while also taking this time to rest and recuperate. My main goals have been to remain physically active and stretched, warm up my voice at least four times a week, build up my vocal and monologue repertoire, and continue to apply/audition for films, plays, and musicals. I have also been watching as many critically acclaimed movies and productions as my schedule allows to stay inspired. 
UWSP has purposely not released their season for the second semester for the very reason that we may not return in the fall. If that is the case, our productions of Guys and Dolls, The Wolves, and Unruly Women & Unfinished Business: The Fight for the Vote! will be pushed to the second semester. Fingers crossed that we head back. I believe a decision must be made by July 1st, so we will know then. 
X. What are your hopes and plans for after graduation in 2022? Has the COVID situation in live theater impacted your dreams? 
I have some different routes I am considering taking after graduation. I might move right to a big city like NYC or Chicago, or I might move to another major theatre city like Washington D.C., Atlanta, GA, or Boston, MA. However, since my positive experience at Door Shakespeare, I have been toying around with the idea of getting my Masters Degree in Classical Theatre to further broaden my horizons. Only time will tell what my future holds, but those are my current ideas. 
It's so hard to tell right now how COVID is going to impact the theatre industry, especially because I will be graduating in two years and hopefully things will be "normal" again. But right now, things have absolutely been altered. Shows nationwide are cancelled, Broadway is dark, and rehearsals are not allowed to begin. I can only pray that this pandemic ends soon, not only for the safety of the people and economy, but for the jobs that rely on audiences. 
XI. Can you name a few individuals or mentors that you find inspirational and empowering in the theater, music or in any of the arts? Current and past, acquaintances or public persona are all fair game! Who else shares the light? 
Well, number one, you! Rändi Fay! It has been a unique experience to have a Tanta that is a singer/songwriter... you have inspired me to do the same and have taught me so much useful information about writing and about the industry. It's really a special thing. 
Theresa Schmidt and Andrea Hearden of Next Stage have my heart. They have supported me and allowed me opportunities to grow not only as an artist, but as a conscientious member of the theatre community. Their kindness. generosity, and wisdom is something that I will carry with my forever. My four years with Next Stage were some of the most impactful and instrumental in my life. I love them dearly. <3 
My UWSP professors are brilliant. Wow, do I owe them a lot. Their high expectations mixed with a true desire for their students to succeed is the perfect recipe for well-developed artists and good people. Special shoutout to Sarah Wussow and Tyler Marchant. They both have changed the game for me. They have showered me with endless support and wisdom. I love them. :) 
XII. Do you have any closing "words of inspiration" for us during this pandemic or anything else you would like to share with our readers? 
A quote I have in my room is "One day or day one? You decide." Make today the day to reach your goal. You have to start sometime. 
But, don't push yourself past your breaking point... stress levels are high right now. Just because we have more time on our hands, doesn't mean things are easy. Take care of yourself, but also, continue working. This is a great chance to learn about new artists, watch new movies, turn your single pirouette into a double... anything. 
Bonus q's: 
i. Cats, dogs or both? 
Both!! I have two cats named Rosie and Mr. Jinx, and a golden retriever named Lola. All three of them have my heart. 
ii. Do you have a nickname? Do you like it?
So many people call me Em (and a few of my closest pals call me Emmy). Also, everyone at UWSP calls me Tweeg. It's a long story, but that is how I am known. I honestly do love my nicknames. It makes me feel closer to those I love. 
iii. What did you want to be when you grew up back when you were a ten-year-old? 
Even though I always loved being on the stage, when I was ten I wanted to be a meteorologist. I used to watch the weather channel and take notes. It was such an odd obsession. To this day, I am fascinated by weather. My family used to joke that I would be the world's first "singing meteorologist".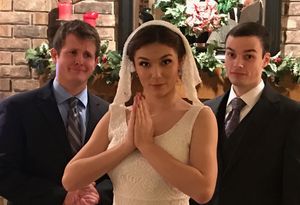 <----- a TBT photo of family antics with cousin and brother not buying the act... 
v. What are three qualities you seek in a friend? How about three qualities that are "game enders"? 
Hands down loyalty, sense of humor, and kindness. Game enders??? Well, let's see. I would say being ingenuine, being selfish, and being conceited. 
v. Do you have a bad habit? Do share!! 
Oh boy, do I! I swear like a sailor.... Hahahaha. 
vi. What is your favorite way to chill? 
My favorite way to chill as of recently is either reading Harry Potter, watching Schitt's Creek, or writing music. 
vii. Do you listen to music in your free time? Who's on your playlist?
Absolutely! My favorite artists include... 
Sammy Rae 
Lake Street Dive 
Queen
Emily King
Brandi Carlile
Billie Eilish
Rändi Fay... you ever heard of her? 
viii.If not an actress, what would you want to be? 
I would love to do something to help others, whether that be a social worker, something in the medical field, or something else! Honestly, I haven't thought much about that since I began college... 
ix. Where do you picture yourself in 30 years? 
In 30 years, I picture myself still working professionally, with a lovely husband and a bunch of lovely kids and pets. :) 
x. Are there any foods you simply can't eat? (not health-wise but they just gross you out-) 
Olives and mushrooms... yucky. 
xi. Who's your favorite Tanta 🖤? 
You trickster. I love all my tantas so much, but you sure are pretty special! 
Follow this link to check out Emily rocking the song "Valarie:" https://youtu.be/9eMnskMQ-iM
Connect with Emily:
Instagram: @emily_holland01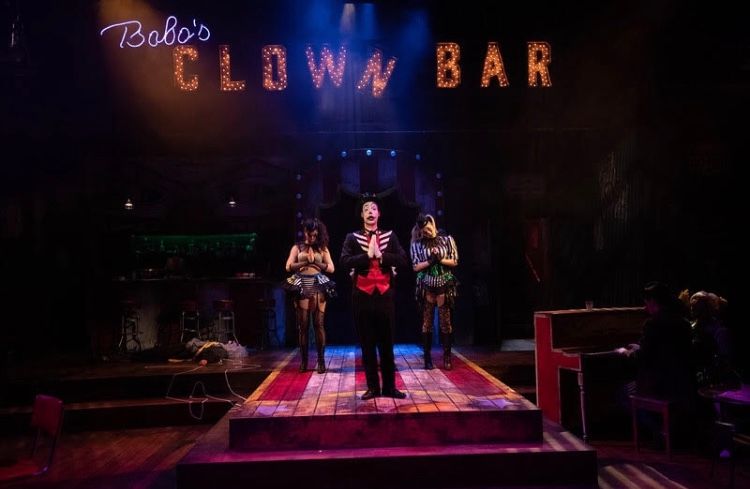 photo credit: Mark Jackson (Jekyll and Hyde), portrait by Hannah Wierzbinski