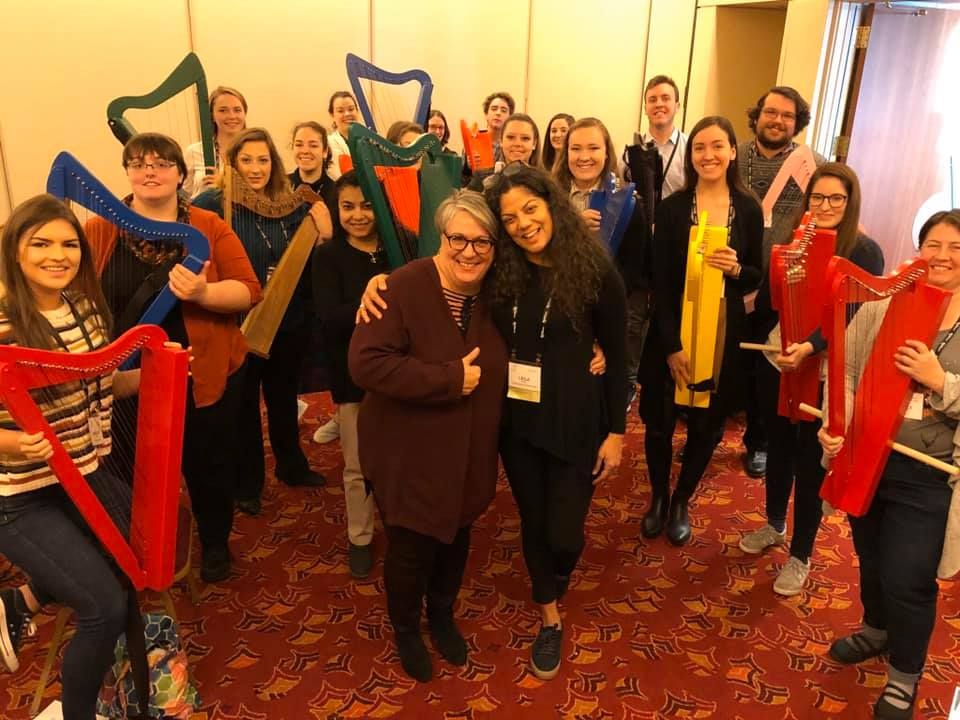 " ...music is just the tool with which we connect. Connection is all about the heart, and we all still have beating hearts. I'm still here for each and every one of my students and musicians, and I am confident they know that... The important thing is I know they are all learning - whether life lessons or music lessons - and I'll meet them right where they are when this whole thing is over."
-Audrey Nowak
I feel particularly sensitive to the complete tidal wave of disruption that students, families and teachers have undergone with the COVID school closures. SO much hard work goes into education, from those learning and from those educating them. It must be heartbreaking to miss the experience of learning together (who knew kids would miss school?) and celebrating the milestone and achievement of graduation. I have also witnessed, both to my delight and my sadness, the beautiful connection teachers have for their students, their professionalism and the loss they are experiencing as well. Violinist Audrey Nowak is an incredible example of one of those teachers.  Add in her deep sensitivity and compassion as an accomplished musician and you have a "perfect storm" of a woman who has dedicated her life to bringing extraordinary music to all generations, from childhood to end of life.
We can all learn a little more about what it is to be truly selfless in striving to make better the human experience from a shining star like Audrey. 
Please click on the link to get to know more about Audrey's work and inspiration:
Interview:
I. What is the current focus of your work in the creative community? 
I have always had trouble containing my passion, and I used to fight it.  The truth is many might consider me unfocused.  I tend to have my hands in a bit of everything.  I used to feel I had to apologize for it, but as I've gotten older I have learned to embrace this about myself.  I realize it keeps me energized.  I teach orchestra at Bay Port High School, which brings me tremendous joy! I play violin in the Civic Symphony of Green Bay, the Fox Valley Symphony, and the Oshkosh Symphony. That keeps me centered. I am the founder and director of a harp choir called Audrey's Angels (formerly the HSSD Harp Choir) - that's my "play time".  I am the youth orchestra manager and an adjunct professor at St. Norbert College, which keeps me in-check with my time management skills. And, perhaps most importantly, I am a Hospital-Certified Master Harp Therapist with Aurora BayCare Medical Center, which brings me peace and helps me keep life in perspective. 
II. What is your inspiration behind your enthusiasm for your work? Do you identify more as a performer or as a teacher? Is the inspiration similar or different between the roles? 
I had to think about this for a while. When I am teaching, I identify as a teacher.  When I am performing, I identify as a performer. That sounds simplistic, but it's actually fairly complex. It took me years to realize that, as a performer, it is not about "me" and what I am doing, but about the person or people receiving the music. With this knowledge, I simply identify with the person or people receiving what I am offering.  The inspiration is easy.  Throughout my life I have experienced every gamut of emotion that music can bring, and I want to share that with others.  Whether that be teaching them to create it or giving them an opportunity to experience it. I am passionate about both! 
III. Can you share 1-3 milestones that you consider turning points in your career? 
Thinking back, any "milestone" I've had has been the result of one thing: me being willing to take a chance.  That's the necessary ingredient in all milestones.  And for any success I've had, there are at least double the amount of failures behind it.  I think the first milestone happened in 1990 when I moved to Appleton from Michigan.  I was 23 years old and I came for my first public school teaching job. I was always insecure about my violin playing, but I knew I needed to keep playing in order to be happy. The first thing I did when I came to town - literally - was call the Fox Valley Symphony to arrange an audition.  I used a payphone in a McDonald's parking lot!  I hadn't even checked into a hotel yet. 
Another significant milestone was taking the risk to enroll at Bedside Harps to become a Hospital-Certified Master Harp Therapist. It involved four years of work, a lot of travel, and countless hours. But studying and learning the field of harp therapy has significantly impacted every area of my life.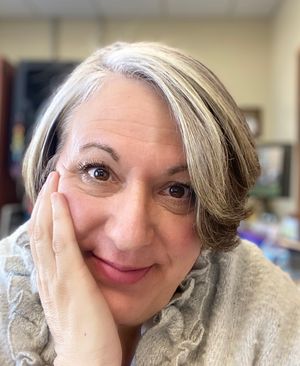 IV. What are three qualities that you possess that you feel have been instrumental to your success? 
First, I have a curious mind, and it has served me well. This has led me to being very open to new experiences, which have quite often carried me right to new opportunities. 
Next I would say being resilient. To me, this means I accept when things don't work out, and I try to find a new way to accomplish the same thing. Or, if that doesn't work - a different thing. Something even better! 
And lastly, but equally important, is a desire to make others happy. Please understand, that is very different from a desire to please people (I went through my people-pleasing phase in my 20's and 30's, and that is LONG gone, thank goodness!). I possess a sincere desire to make other people happy.  That can be sharing my music, offering a genuine smile, buying a stranger a cup of coffee, chatting with a neighbor when I don't have time…..however it looks, the result is the same. I walk away feeling I made a small difference in someone's day, and that fulfills me. 
V. All of us experience obstacles in our paths- can you share a few of those you have overcome? What did you do to overcome those? Have you ever felt like quitting? 
I could write an entire novel on the obstacles I've encountered in my path, so this is pretty difficult to answer.  I'll speak in general terms in the interest of being succinct. So far in life, I have overcome every obstacle in one way or another, because I'm still here and still doing what I love. And it's as simple and as complicated as that. Life IS the "obstacle". Without it we are not living. Realizing that and reminding myself of what I've overcome keeps me going on days when I feel discouraged. Have I felt like quitting? Sure, for an hour or two.  Maybe a day or two. But never forever. 
VI. Do you feel empowered by your creativity or do you prefer to use it to empower others? Or a little of both? Any stories or examples? 
How do I explain this? What flows through me goes to you and comes back to me stronger. It's impossible for me to separate these two things in my mind. I am both empowered by my creativity, and blessed to share it with you - and even more blessed when it comes back to me through you. 
VII. How have you managed with COVID in teaching or performing, or even your personal experience of quarantine? Is there something you really miss? Has anything good come from quarantine for you? 
This has been so difficult for me. I miss my students tremendously. I miss making music with them every day, seeing their smiling faces, and just talking with them in person. I have had to learn a lot of new technology and get very creative with my lesson plans, so that has been a positive. As for performing, I miss that too. I've resorted to using the Acapella app so I can play with me, myself and I. :-) 
VIII. Have you been able to maintain a relationship with your students and those you conducted? How do you feel they are handling this time away from the rigors and discipline of school and each other? 
Absolutely. Because music is just the tool with which we connect. Connection is all about the heart, and we all still have beating hearts. I'm still here for each and every one of my students and musicians, and I am confident they know that. They are all learning and growing during this time. Some are making great musical strides, and some are not, and that's okay. The important thing is I know they are all learning - whether life lessons or music lessons - and I'll meet them right where they are when this whole thing is over. We'll pick it up from there! 
IX. Do you have a favorite concert experience to share? 
Hands down, not a question, conducting 99 students in Carnegie Hall. It was spectacular! 
X. Can you name a few individuals or mentors that you find inspirational and empowering in the arts? Current and past, acquaintances or public persona are all fair game! Who else shares the light? 
My high school orchestra teacher, Mr. Dievendorf. He was the first adult in my life to take my passion for music seriously, despite my lack of ability to play the violin at the time. I told him I was comfortable being last chair, that I had come to accept it and I was just happy making music. He told me I should expect more out of myself, and that he expected more of me. It blew my mind at the time. I thought I was accepting my place in the world, and he taught me to fight for more. 
The late, great Maury Laws.  When I was about 25 years old, he selected me as the solo violinist in a piece he arranged for the Fox Valley Symphony.  I thought it was a mistake, but Harvey Felder (our conductor at the time) assured me it was not.  I was confused because section violinists do not get solos. So at the first rehearsal, which was just Maury and I in his home, I asked him why he picked me. He said the piece needed a lot of heart, and he could see I had that. That helped me realize that you don't have to be the "best" to be appreciated and to have value. He worked with me, and he helped me put that "heart" he saw into the music. The piece was Ashokan Farewell, and I never play it without thinking of him. 
XI. What is coming up for you this summer? How can music lovers and students find you and support you during this time of quarantine and social distancing?? 
My summer looks probably like everyone else's at this time: a blank slate. While there are no gigs and no performances to speak of (as of now) - I am enjoying virtual teaching through a site called VirtuLessons.com. It's a great platform and I've enjoyed private teaching violin, viola and harp! (I welcome all students - even beginners!) I am more rested than I have probably ever been in my entire life. I feel great! I'm reading, learning how to sketch, exploring new things in music technology, practicing just for fun, and enjoying swinging on my porch swing when the mood hits me. 
XII. Do you have any closing "words of inspiration" for your students or for us during this pandemic or anything else you would like to share with our readers? 
I would say, take the time that is given to you. Don't waste it away. Go for walks. Drink tea. Get lost in your thoughts. Learn something new. Explore your creative side. And most of all, think about what you want to tell your children or grandchildren about this time. When this is over, I hope you walk away with something new. New knowledge, a new skill, new insight, even new friends (yes, it's possible to make new friends, or deepen friendships, during a pandemic!). 
Bonus questions (please answer at least three up to all of them!): 
i. What is a dream vacation for you? 
Going to a performance in every major concert hall in the world!  I would start with the Western Hemisphere and go from there. 
ii. What about genre- if not classical, do you have another you love to play?  
I love fiddle music!  Especially around a campfire. 
iii. What are three qualities you seek in a friend? How about three qualities that are "game enders?" 
I really value trustworthiness, wisdom, and humor. In order to really grow a friendship, there has to be a mutual sense of trust. That is number one. And I love a wise friend - someone who helps me see myself or the world a different way. And of course, if we can't laugh together, forget about it! 
As for game-enders - a lack of integrity, treating others unkindly, and lack of compassion. It would be pretty hard to be friends with someone if those things were in the room.
Bio:
BA of Music, Michigan State University 
HCHP (Hospital-Certified Harp Therapist) Bedside Harp, Bensalem PA 
MHCHP (Master Hospital-Certified Harp Therapist) Bedside Harp, Bensalem PA 
Audrey Nowak is the conductor of the String Ensemble at St. Norbert College. She is also the Program Manager of the Youth Orchestra Program at St. Norbert College, as well as conductor of that organization's string orchestra. 
Ms. Nowak has taught in Northeast Wisconsin since 1990. She is currently the Director of Orchestras at Bay Port High School in the Howard-Suamico School District (HSSD). In her tenure there Ms. Nowak has been the 2014 recipient of the Golden Apple Award; received the 2015 Wisconsin State Teacher of the Year award from the American String Teacher Association (ASTA); and in 2016 received a Herb Kohl Fellowship Award. She has received special honors by the HSSD Board of Directors for her outstanding teaching and contribution to the community, both in 2014 and in 2018. The Bay Port High School Orchestra has recently performed at Symphony Center in Chicago; the Kennedy Center for the Performing Arts in Washington D.C.; at Carnegie Hall in New York City; and in 2020 will perform at the Musikverein in Vienna, Austria. 
Passionate about sharing music with everyone, Ms. Nowak is the Founding Director of the HSSD Harp Choir (est. 2016). The Harp Choir is a multi-generational learning community utilizing the harp as a catalyst for personal growth and community service. In this realm, Ms. Nowak also works as a Hospital - Certified Master Harp Therapist, completing her mastery level certification in 2018 at Bedside Harps in Bensalem, PA. Ms. Nowak has special training in hospice, oncology, and pain management and works at Aurora BayCare Medical Center. 
Still active as a performer, Audrey is the concertmaster of the Civic Symphony of Green Bay, and has been a member of both the Fox Valley Symphony Orchestra and the Oshkosh Symphony Orchestra since 1990.
Connect with Audrey:
VirtuLessons: https://virtulessons.com/dashboard 
Facebook: https://www.facebook.com/audrey.n.nowak
LinkedIn:  https://www.linkedin.com/in/audreynowak 
Email: audreynowak@gmail.com