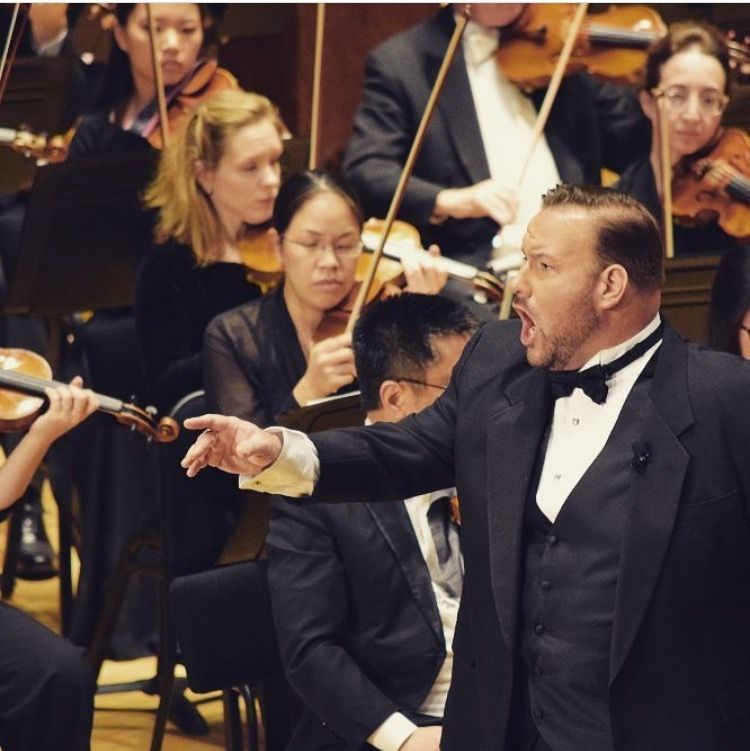 " 'Empowered' is a word that is a bit triggering for me when it comes to music. I see music as a gift, an absolute treasure. So, for me to take something from it for myself I find is selfish. I would rather my talents be a vessel for the power of the message of the music and lyrics to lift someone else up. That sounds so passive, but if I infuse my will on it, I ruin it. I have to serve the music; it doesn't serve me. In that, the music can then serve the listener. " 
~Scott Ramsay~
Wow. 
There is so much I love about this interview with the renowned Chicago-based opera tenor and DePaul University-School of Music 's Professor of Voice and Opera, Scott Ramsey. Maybe it's his home-town, midwestern roots that show through (he is a native of my fair city, Green Bay, Wisconsin) in his down-to-earth humility, his dedication and work ethic, his respect for the talent and gifts he is surrounded by but also possesses. Or maybe his is simply a super cool person. On a personal note, I really relate to his version of empowerment. As a performer I share the core of his philosophy- music moves through me, I am merely the vehicle. I may be a '67 VW Bug and he a fully loaded Jaguar XE, but that is beside the point :). Scott has so much to share about the rigors and joys of being an opera performer and teacher. Please read on for more, and be sure to check out the end of the interview for his extensive resume! 
INTERVIEW:
I. What is the current focus of your work in the creative and musical community? 
As a classical artist, I have to find the works or composers that inspire me. For much of my career I have been told what to sing by people who knew what was best for me, and I followed their advice because they were great conductors and managers that helped guide my career. Now that I am a bit more experienced, I have the luxury to choose what it is that speaks to me. Whether it be recital material or a new Operatic Role, I have to feel It would be good for me and I would fit the role both vocally and mentally. Whether it's Wagner or Britten, it has to excite me. When I was younger, it was more of the opportunity to perform that excited me, no matter what the role or piece. Now, performing is a little bit more work than it once was as I venture into more dramatic tenor repertoire, so the work has to excite me. 
II. What is your inspiration behind your enthusiasm for your work? What drives you to be an artist and teacher? 
I think you have to fall in love with what you do. It needs to be a passion. When it comes to Opera, it's the action of singing that is the addiction. I would rather be singing in an opera than watching it. Opera is such a heightened level of intensity; emotion is bigger, sound is bigger, and the stakes are always bigger dramatically. Even the stakes of each performance are bigger. It's like theatrical Olympics. At most you may get 12 performances to make the role your own, but at the regional level, maybe 2-3 performances. As artists we will never achieve perfection, but we will never stop trying, we have to try to get it as perfect as the composer intended. 
This is why I think teaching has been so successful for me, because of my passion for the craft. I know how it makes me feel to singing to the best of my ability and I want that for my students. In the same way I try to bring to the audience, the feeling of what my character is going through during and opera, I want my students to feel the joy of being free of their inhibitions, both vocal and personal, to achieve their career goals. 
III. Can you share 1-3 milestones that you consider turning points in your career? 
As I look back, I realize how incredibly lucky I was to have the opportunities that I had in some very prestigious Young Artist Programs and the mentors that I had there. Florida Grand Opera in Miami was my first big career bump and an opportunity to work alongside some "A List" singers and Operatic Legends. After 2 years in Miami, I went to the Lyric Opera of Chicago's Ryan Opera Center, which is the most coveted training program in the US. It was there that I made my debut in Verdi's Otello with a handful of some of the best singers in the world, Ben Heppner, Renée Fleming and Jonas Kaufmann. 
My time at Lyric is what really changed me. I was a really small fish in a very big pond, and I had to make a way for myself. I did so by being as prepared as I could be for all opportunities. A few opportunities came my way when as an understudy, I had to jump into a production at a moment's notice, with little to no rehearsal. One afternoon I was told to learn the tenor solo in Verdi's Requiem, (easily the hardest and most challenging oratorio in the tenor repertoire) because the music director at Lyric Opera, Sir Andrew Davis, needed me to begin rehearsals with him and the Symphony in Toronto a day later for a performance 2 days later. These are the moments you have to trust your technique, musicality and God to help you get through it. 
My final season at Lyric in the Opera Center, soprano Natalie Dessay was singing her first title role in LUCIA DI LAMMERMOOR. I was engaged to understudy the role of her lover, Edgardo and to perform the role of her Suitor, Arturo, whom she ends up murdering on their wedding bed. For some reason the tenor engaged to sing the lead wasn't available to be in Chicago for the first 2 weeks of rehearsal, so I was on! I rehearsed the entire opera with this amazing artist and famed Opera director Sir John Copley and under the baton of the late Jesus Lopez Cobos. The original slated leading tenor showed up for the last three rehearsals and sang the entire production. He had also let it be known to the leading lady he would be missing the final performance as it was his birthday and he wanted to be with his family in Spain. When the administration found out, they attempted to find another tenor with a big name to do the final performance, but Ms. Dessay protested and demanded that I was ready, and she was comfortable with me. 
The press release went out, the critics were notified, and I went on in the biggest role of my life. William Murray, New York Times writer and author of FORTISSIMO: Backstage at the Opera with Sacred Giants and Young Singers wrote in his novel that even though I had had a triumph in the role that night at Lyric, he didn't think I would go on to sing the role again. To this date I have performed that role in almost a dozen productions of Lucia because of what happened that one night. 
IV. What are three qualities that you possess that you feel have been instrumental to your success? 
Like any other career, you must first have the Talent to succeed at your chosen trade. I can't take credit for it, but I must have the Humility to devote myself to it, to nurture and refine it. Lots of people have talent, but you must devote your life to it. Some people struggle with whether or not they can, but others don't have a choice, they have to. It's their calling, and they have to humble themselves to that calling. Without humility, we don't grow. I have to be able to take criticism, accept my shortcomings and be honest about my limitations in order to be the best that I can. 
It may sound strange to say Ego right after I just said humility, but an artist has to know their worth and stand up for it, otherwise we will be taken advantage of. My job as a classical singer is to make it look easy. It's not, it's anything but easy. The downfall of making it look easy, is that people think you don't deserve the fee. Our artistry is not the moment we show up at the gig to the time we leave. Our artistry is the countless hours we work on one passage to get it as close to perfect as we can. 
I also like to have the humility to check my ego. To not take myself too seriously. To laugh when I crack a high note, to start over if I forget the words. Our Humanity is in the moments of imperfection. 
V. All of us experience obstacles in our paths- can you share a few of those you have overcome? What did you do to overcome those? Have you ever felt like quitting? 
Motivation is a big obstacle for me. If it's practicing, working out, or preparing, I have to really work at making myself do it. Some days are easier than others, but most days I have to make a schedule and stick to it. 
I don't think I have actually ever thought about quitting the business, no. I've slowed down a little, just for personal reasons. The road is hard. Being away from my family and partner got old. 
I also got to a point where I couldn't sing the same repertoire as I used to. My voice was changing, getting larger and I had to change my technique, which took a few years. But I feel I have learned more during that time than I ever had previously about my voice. I feel like I finally accepted what I was vocally. 
VI. How do you keep motivated to stay in vocal shape when not performing? Do you have daily rituals? 
HYDRATION, which is also an obstacle for me sometimes. Because I teach almost every day now, I am constantly singing and warming up, so that keeps me on my toes. I also devote one day to my own personal study, unless I'm learning a new role, then a little every day, but usually I have a day of little to no teaching to give it a rest and only work on my music.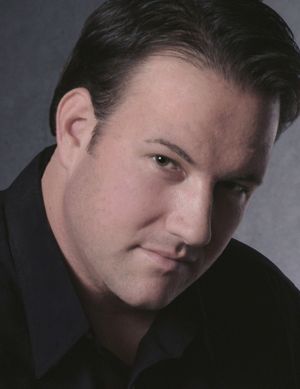 VII. Do you feel empowered by your music or do you prefer to use it to empower others? Or a little of both? Any stories or examples? 
"Empowered" is a word that is a bit triggering for me when it comes to music. I see music as a gift, an absolute treasure. So, for me to take something from it for myself I find is selfish. I would rather my talents be a vessel for the power of the message of the music and lyrics to lift someone else up. That sounds so passive, but if I infuse my will on it, I ruin it. I have to serve the music; it doesn't serve me. In that, the music can then serve the listener. 
I sang a Verdi Requiem at the Concentration Camp in Terezín, Czechoslovakia, a camp where many artists and children were sent. It was a special telling of a story of prisoners of the camp who would in secret, meet and learn the Verdi from one copy of the score. When the Nazi's found out about what they were doing, they forced them to perform the piece in public where they laughed at the Jews singing a Christian Mass. The choir was forced to perform a few other times. The final time was after the camp was "staged" for propaganda films that were made to show they had really created a "Spa for the Jews".  On this day, members of the Red Cross who were at the camp to dispel rumors about the camps being used for torture and death. Members of the Red Cross started to question when they saw members of the chorus weeping as they sang "libera me!" (liberate me). Immediately following the concert, the choir was marched single file to the train station and sent to Auschwitz. 
We were performing for the town commemoration of that event with a handful of actual survivors in the audience, in the front row, watching us, as we stood in the very same horse stable the Nazi's deemed appropriate for the Jew's Mass. This was an out of body experience. This had nothing to do with me, it was all about them, those who were watching from above and on earth that day. After the concert, I met a woman who told me in very broken English that her big sister was in that choir and sang a solo. This woman hid in a bush outside the stable and listened not realizing that would be the last time she ever heard her sister's voice again. But she wasn't sad that day, she was thrilled that American's had come there to honor her sister in that way. The music we made empowered her and gave her hope that this world can be better. But it wasn't because of me, it was in spite of me. Music is a responsibility. 
VIII. How has COVID impacted your music, in teaching and performing? Has there been anything that has been BETTER? 
Unfortunately, it is hard to find the positive in this situation. COVID-19 is going to have a long-lasting negative effect of the fine arts. All of my performances have been postponed at least a year. Luckily, I have some flexibility with my teaching position as a faculty member at DePaul University School of Music in Chicago that allows me to now teach from anywhere. It's not an ideal situation for the students, but it's better than nothing. For teaching, it's keeping the students motivated and keeping them connected to their school community for now. 
As a solo artist, its more about keep in front of your audience and using social media in short videos and in-home concerts, for now. I think this time has freed us up as artists to not seek perfection in our product online, but to show our heart and humanity. In national tragedies like this, society turns to music and the arts for comfort. I hope that after this, the arts may gain a greater respect for all that we give to society. 
IX. From your extensive repertoire, do you have a favorite role, performance or venue? 
I always say my favorite role is the one I am preparing to do. But in this time, I'm not preparing anything in particular. I like a role I can sink my teeth into. Edgardo in Lucia di Lammermoor will always be my guy. I love him as a character, and I adore his music. I think the role I am really suited for was Harold Mitchell in Andre Previn's A Streetcar Named Desire. The music is so complex and almost cinematic, and his character is so well rounded from beginning to end. I just get his situation and his heart. 
That role is also special because it was the last role I performed at Lyric Opera in 2013. 
X. What is coming up for you this summer? How can music lovers find you and support you during this time of quarantine and social distancing? 
Due to this Pandemic, all of my concerts have been postponed.  I am going to focus on a venture with a couple other colleagues that have roots here in Wisconsin that will help bring Opera back to NE Wisconsin. I am working with a dear friend and colleague, Candace Evans, who is a native of Madison and a world Renown opera and theater director and choreographer. We are working to develop the Door County Opera Festival, a summer opera festival that will aim to feature and develop the careers of the talented singers we have in our home state. Depending on what lies in store for us this summer when it comes to performance venues and crowd sizes, we might be able to do some smaller concerts and presentations. But for now, it is in the very embryonic stages, especially with our limitations. If we cannot do live presentations, we will try to launch some virtual concerts that the public can view and donate to. 
XI. Can you name a few individuals or mentors that you find inspirational and empowering in the arts? Current and past, acquaintances or public persona are all fair game! Who else shares the light? 
There are a handful of mentors that had a profound impact on me professionally. Sir Andrew Davis, Stephen Lord and Stewart Robinson are all amazing conductors and musicians that helped guide me and infliuenced me. French-Canadian director Bernard Uzan and his wife, the great soprano, Diana Soviero gave me my start and brought me to Miami. But I would never have found Opera if it weren't for Marshall Moss from St. Norbert College and Miroslav Pansky, the former music director of the Green Bay Symphony and Pamiro Opera. Dudley Birder, James Birder and Alicia Birder cast me in various roles in the summer Music Theater projects at St. Norbert, which really helped me find my theater tribe. 
But my vocal development is what got me where I am and I will always be grateful to my college professor Dr. William Lavonis, at UWSP & UWM. Gianna Rolandi was very central to my vocal achievements at Lyric Opera of Chicago. My current teacher and dear friend Scott Flaherty has changed my life by helping me find the final product of my vocal technique. 
XII. Do you have any closing words of inspiration for us during this pandemic or anything else you would like to share with our readers? 
I think during this time, we need to look at what matters to us, what we treasure. I most cases we will see that the defining moments of our lives revolve around the Arts in some way. Weddings, Funerals, Anniversaries; these types of Celebrations all involve music, food, flowers, fashion, etc. All of these moments are enhanced and become more meaningful when we include the beauty of the fine arts. Without Arts education we would not have many of the vital things we have and use on a day to day basis. Interior/Furniture Design, Architecture, Fashion Design, Film Making, Music Composition, Lighting Design, Creative Writing, Poetry, Landscape Design, and the list goes on and on. The Fine Arts bring make the world a more beautiful place to live in. Immerse yourself in it and don't take it for granted, donate to your local non-profit fine arts organizations; symphony orchestras, dance companies, opera, choral groups, or children's arts education. Help create a better world for the future. We need that right now more than ever. 
BONUS Q'S:
i. Do you have a hidden talent? 
I am a pretty good cook! 
ii. What did your 16-year-old self see yourself doing at this point? Is there a "close second' career you would do today if not for music? If not Opera, what other genre? 
I wanted to either be a choir director in a high school or a Contemporary Christian Music Artist. 
iii. What are three qualities you seek in a friend? 
Sense of Humor 
Loyalty 
Big Heart 
iv. How about three qualities that are "game enders?" 
Entitlement 
Rudeness 
Closed Mindedness 
v. If you could turn back time, what skill would you add to your arsenal? Or what skill are you working on? 
I'd love to play the guitar. Maybe it's time to pick one up?! 
vi. Do you have a bad habit? Do share!! 
Procrastination. But one that drives people crazy is that I have a pretty severe oral fixation and I chew on pens and straws more than I should. 
vii. What is your favorite way to chill and restore? 
I love to sit on the terrace of my condo in Chicago, or the deck of our Door County place with a good cocktail and good conversation. One of my favorite places to do this is on my parent's porch overlooking the bay of Green Bay at their home in Dykesville. 
viii. Do you listen to music while you cook, clean or drive? Who's on your playlist? 
Oh yes..my playlist varies right now. It can be anything from an audiobook or music. Artists on my playlist right now include Dua Lipa, Lady Gaga, a local Jazz Artist - Aubrey Johnson, New York Voices and of course Rändi Fay! 
ix. What is your dream vacation? 
A river cruise throughout Europe or a hut on the water in Bali! 
MORE ABOUT SCOTT: 
A Wisconsin native, Scott Ramsay is a graduate of the Lyric Opera of Chicago-Ryan Opera Center, performing over a dozen principal roles from 2001-2013. He has also performed with many Opera companies in the US and abroad, including the San Francisco Opera, Michigan Opera Theater, Madison Opera, Arizona Opera, Chicago Opera Theater, Virginia Opera, Florentine Opera, Portland Opera, New Orleans Opera, New Jersey Opera, Dublin International Opera Festival and MusicArtes in Manila, Philippines. 
Mr. Ramsay's featured soloist symphonic engagements have included performances with the Chicago Symphony, Toronto Symphony, Detroit Symphony, Rochester Philharmonic, Louisville Orchestra, Minnesota Orchestra, St. Louis Symphony, American Symphony Orchestra, Jacksonville Symphony, Pacific Symphony, Nashville Symphony, and the Kaohsiung Symphony in Taiwan. 
Mr. Ramsay recently joined the voice faculty of DePaul University-School of Music in Chicago as a professor of voice and Opera. 
CONNECT WITH SCOTT:
Website: http://scottramsay.net 
Facebook: https://www.facebook.com/ScottRamsayTenor 
Instagram: https://www.instagram.com/scottr10r