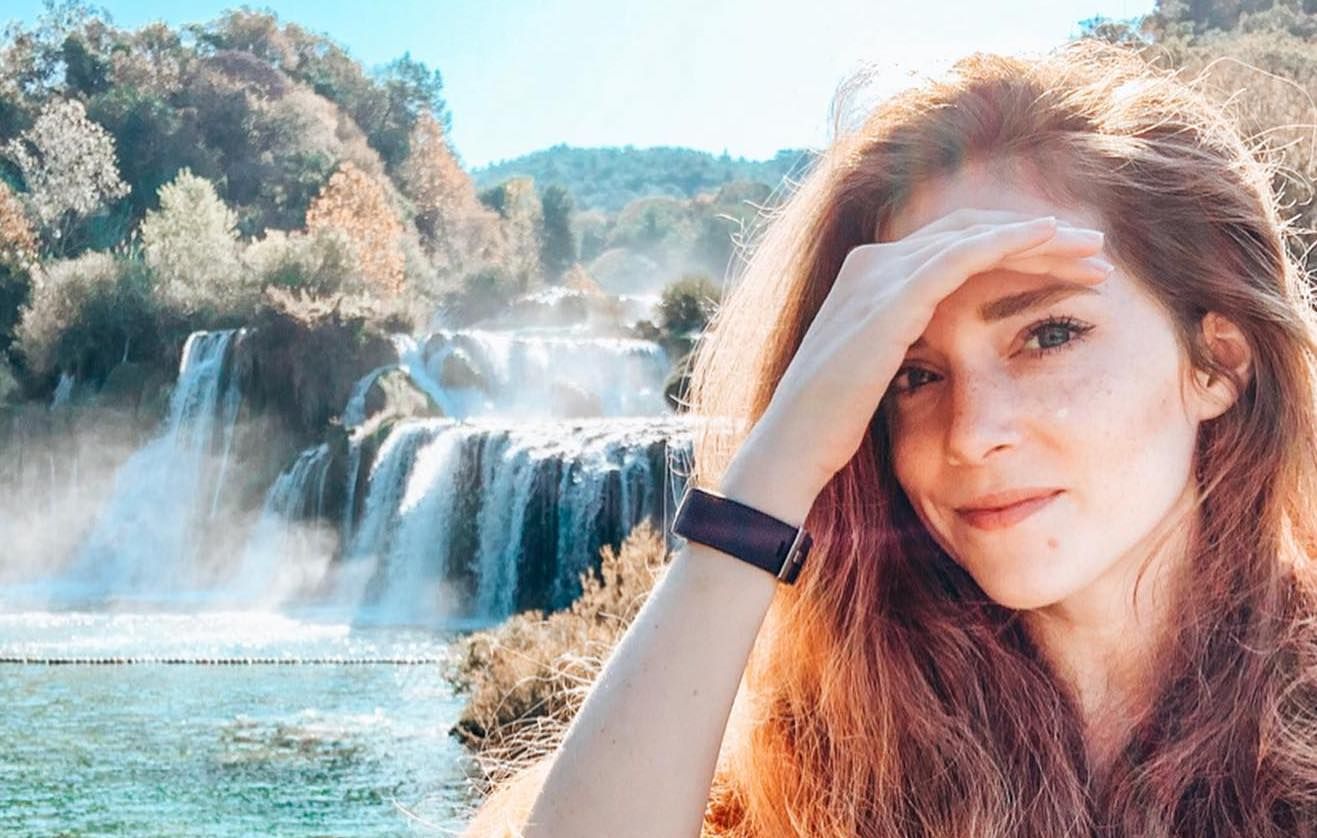 Katrin Schroeder is an extraordinarily talented emerging visual artist and designer from Minnesota-Italy-Colorado- and soon to be back in Italy! She is engaging, vivacious, professional and ambitious- all of the ingredients that simply top-dress her skill and put her on the path for great success in such a challenging field. Katrin bases her inspiration in her curiosity: "Simply put, I view the world with a childlike curiosity and am allured by details that are often over looked." When she puts her paintbrush to canvas, the outcome is enchanting!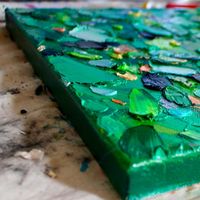 I have had the extreme pleasure of working with Katrin over the past few years as she designed the cover work for my most recent releases, "Supernatural" and "Intuition." Despite being a skilled graphic designer, Katrin has turned her intentions to focusing almost solely on painting. Katrin was forced to leave Florence in February as the spread of COVID was overtaking Italy, but will be returning this fall to study oil painting the Charles H Cecil Studios, where her work will shift towards capturing the figure in an impressionist technique using the sight-size method. 
Please read on to learn more about this wonderful spirit! 
INTERVIEW:
I. What is the current focus of your work in the creative community? 
I'm currently in between series and am primarily focusing on learning a new technique. For the past few years I've been researching and exploring different directions I want to take my work and while backpacking through Europe last fall I stumbled upon a studio in Florence, Italy which approaches portraiture and the figure in an impressionist method developed by Sargent. I was immediately enamored by their dreamy, soft style and was fortunately accepted into their program which I dabbled in a bit early this year before the virus took off, and will be returning this fall to further my studies there, at the Charles H. Cecil Studios. 
II. What is your inspiration behind your enthusiasm for your work? What drives you to be an artist? 
Ultimately I really enjoy sharing stories, especially ones that have brought healing to my life, with the hope it brings light to others too. I think portraiture serves this purpose especially well - each face is a unique poem; a seemingly visually simple subject can communicate complex ideas eloquently. 
III. Can you share 1-3 milestones that you consider to be turning points in your career? 
1. In 2016 I was working full-time as a graphic designer. I was offered a promotion to lead designer, and wasn't excited at the prospect of it. This really bothered me, so I sat with those feelings to see what was there. It didn't take long to realize I wasn't excited about it for a lot of reasons - mainly because I didn't want to be a full-time designer, I wanted to be an artist! 
2. I was very fortunate and instead of accepting the promotion they allowed me to go part-time. For the following year I worked there three days a week and the rest of my time I spent figuring out how the fruit loops to be self-employed and get a loose grasp on how to run a business! In August of 2017 I finally reached a point where doing both was too much and I had enough sorted so I made the leap to being self-employed full-time. 
3. As I mentioned earlier, I've been trying out a lot of different visual directions over the past seven years and finally figured out a definite direction I want to take my work in just recently! I'm ecstatic at the opportunity to join the Charles H Cecil Studios and to live in Florence, and how transformative the whole experience will be. 
IV. What are three qualities that you possess that you feel have been instrumental to your success? 
1. Moxie - for better or for worse I really enjoy rolling the dice and saying 'yes' to risks most people have the sanity not to take lol. I figure if you dream something it floated into your mind for a reason! Plus, we only live each lifetime once, might as well have some fun and squeeze the most sparkle out of it while we're here. 
2. Curiosity - 'What if..?' and 'Why?' are a couple of my favorite thoughts, as they lead my mind to wonderful new places. 
3. Empathy - I feel like this is the biggest x factor in my work, especially when it comes to portraiture. Empathy allows me to not only paint how the subject physically appears to me, but how they feel energetically as well. I think on some level (wether consciously or not) viewers pick up on this and it resonates with them. Empathy also allows me to communicate stories more deeply to my audience. 
V. All of us experience obstacles in our paths - can you share a few of those you have overcome? What did you do to overcome these? Have you ever felt like quitting? 
Whew, boy! I can definitely think of a few. A few years ago it become apparent to me I needed to seek treatment for an eating disorder, I couldn't be who I wanted to be for others, myself, or in front of the canvas without addressing it. After a few months of debating I gathered the courage and admitted myself to an outpatient program through the Emily Program, which I eventually graduated from a year and a half later (which was last August - just before I left to travel  Europe!). I imagine it will be the hardest thing I'll ever go through in my entire life - saying 'yes' to recovery and confronting my addiction through every meal every day and saying 'no' to the diet culture messages we are constantly bombarded with. It was so difficult, there were plenty of times I considered quitting, I just knew the person who I wanted to be would keep at it so I did. Slowly, it got easier and easier. It still can be hard to resist the illusions diet culture promises. 
I've also had a pretty slim wallet a few times, making the promise of a constant paycheck more appealing. Fortunately, I've had some lucky breaks, especially over the past year (like selling almost all of my paintings in 24 hours to raise money for my tuition!) that's given me a bit of cushion. If I could do it all over again I would have saved at least twice as much before quitting my job - you live and you learn! 
VI. How has COVID impacted your art? In content, creation or business? 
 Oh man, how has it not? At the start of the year I had been hoping to be living in Florence beginning my studies, and currently I find myself sheltering in place at my parents home! Quite the drastic change of pace from traveling Europe by myself for over four months, it has taken some getting used to. I'm grateful I was able to get a proper set of studio materials while I'm here, and have been working at a smaller scale to be respectful of their space. I also have been doing more one off studies rather than a series during this time. 
VII. Do you feel empowered by your creativity or do you prefer to use it to empower others? Or a little of both? Any stories or examples? 
What a fantastic question! A little of both I suppose. When I'm in front of the canvas and in flow I feel the most empowered. I's an ethereal feeling really. That's such a small part of a painting's life though, and ultimately I enjoy what it brings to others once it's off the easel. Really I intend each to be a commentary people can then contemplate for themselves and with others, and walk away slightly changed (hopefully for the better!). I remember a couple of women coming up to me at one of my shows and telling me how they had read the thoughts behind my 'Nostalgia' series together and then had spent the rest of the evening running away with that topic, I really love that they did that. 
VIII. Can you tell us about your flight from COVID stricken Italy and your plans to go back? 
Oh yes, that was wild! I was in Florence throughout February and had already been planning to come back to the States between trimesters to sort out a hiccup with my visa. Things escalated pretty quickly while I was there - only a few weeks after my arrival northern Italy went into lockdown, and the first case appeared in Florence. I knew it was only a matter of time before the same happened there, so I promptly changed my flight to one of the last remaining tickets (flights were booking up like crazy because all the study abroad programs were being cancelled and all the students we're being forced to return home) and was headed back home a few days later! It all happened so quickly I threw most of my belongings in a few boxes and left them with a very kind friend who offered to hold onto them for me until I can return. It took 30+hrs of traveling to get back home, but I finally made it safe and sound (and my suitcase did too a day later lol!). 
Fortunately the studio is holding my spot for me, and I actually just booked a one way ticket back to Florence departing in September! Fingers crossed the borders are back open by then, the school is optimistic we'll be able to start on time. 
IX. Is there anything else coming up before you leave? How can art lovers find you and support you during this time of quarantine and social distancing? 
Thankfully I don't have anything too major coming up before I return to Florence (which is perfectly fine, I kind of need a moment to catch my breathe!) - mainly working on design projects for some of my clients (I'm the Creative and Social Director for my parents startup - MoonlightBeverage.com) and spending afternoons in front of a canvas. I'll be creating studies while I'm here for the summer and intend to do another big auction before I head back - if people are interested in investing in a piece for themselves or would like to follow along on my journey the best place to connect with me is on instagram, my handle is katrin_schroeder. I also have a limited number of pieces available on my website, k-schroeder.com if they are interested in securing a piece more immediately.  
X. Do you have any closing "words of inspiration" for us during this pandemic or anything else you would like to share with our readers? 
Well, I've seen a lot of memes and jokes going around online about gaining weight as we wether this pandemic (so it's pretty clear there is a lot of anxiety around this) and I would encourage people to sit with and look at those thoughts and feelings. I could say a lot on this topic, but I'll just say this: health and weight are not as intertwined as diet culture would have us believe (reading about set point theory is a good place to start for those of you interested in diving in more). Our bodies are far smarter than we give them credit for and have evolved to survive events like this. If you find yourself gaining weight and/or eating more - trust and find comfort in knowing your body is doing what it needs to do to get through this. Ultimately, be gentle with yourself during this time. It's ok to rest. 🤗🌼✨ 
If that's all a bit too much feel free to shorten it to 'In case no one has said this to you yet - it's ok to rest. 🤗🌼✨' 
BONUS Q'S!!!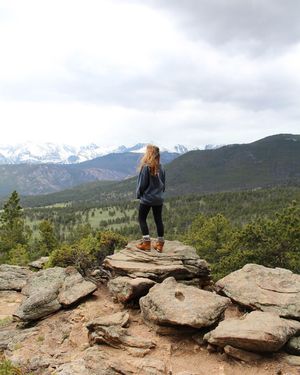 i. Do you have a nickname? If so is that a good or bad thing? 
I have quite a few - so I guess it depends on which one we're talking about LOL! My family has started calling me 'Colorado Kate' since we started quarantining together out here, and a new Italian friend has recently dubbed me 'gelato bandit' - both of these nicknames I'm rather fond of. 
ii. Is there a 'close second career' you would do today if not for art? 
I mean, technically I currently have a dual career - as an artist/painter and graphic designer! If I didn't persue either of those I think it would have been quite fun to pursue the life of a pastry chef or florist. 
iii. What are three qualities you seek for in a friend? 
A compatible sense of humor, kindness, respect. 
iv. How about three qualities that are 'game enders'? 
Pretty much the opposite of the previous answer I guess lol! Lack of respect for my boundaries, no sense of humor, indifference. 
v. If you could turn back time, what skill would you add to your arsenal? Or what skill are you working on? 
I'm currently working on that new painting approach, as well as studying Italian. :) 
vi. Do you have a bad habit? Do share!! 
I care too much, I work too hard, I.... haha just kidding! :) I'm a huge procrastinator and am constantly late to everything (slowly getting better!). I also tend to juggle too many balls at once, and, again, am learning it's ok not to do everything at once. 
vii. What is your favorite way to chill and restore? 
I looooooooove taking walks in nature and am very fortunate to be currently living on the side of a mountain where I can wander about without worrying about violating social distancing rules! Lately I've been drawing a steaming hot bath with lavender salts, lighting a candle that smells like the Mediterranean sea and reading a book to close the day. 
viii. Do you listen to music while you create? Who's on your playlist? 
Oh man... my taste in music is truly all over the place, but primarily tunes that make me want to dance! I'll listen to anything from Abba, to Fleetwood Mac, to Blitzen Trapper, to Doja Cat. 
x. Can you name a few individuals that you find inspirational and empowering in the arts? Acquaintances or public persona are all fair game! Who else shares the light? 
Samantha Louise Marett (samanthalouisedesigns) - We found each other through instagram, she is such a bright light! I really admire her ability to discuss hard to touch topics, especially on mental health. 
Colleen Elizabeth jumps out to me as well (colleenelizabeth_art) - this chick kicks some serious arse all around! 
I recently befriended an Italian photographer - Andres Escalante (escalante_fotografia). His ability to take stunning photos without editing is astounding!! I've never seen anyone so skilled at doing that before. 
Social links: 
Instagram: https://www.instagram.com/katrin_schroeder/ 
Facebook: https://www.facebook.com/katrinschroederart 
Katrin Schroeder Artist + Designer: https://www.k-schroeder.com