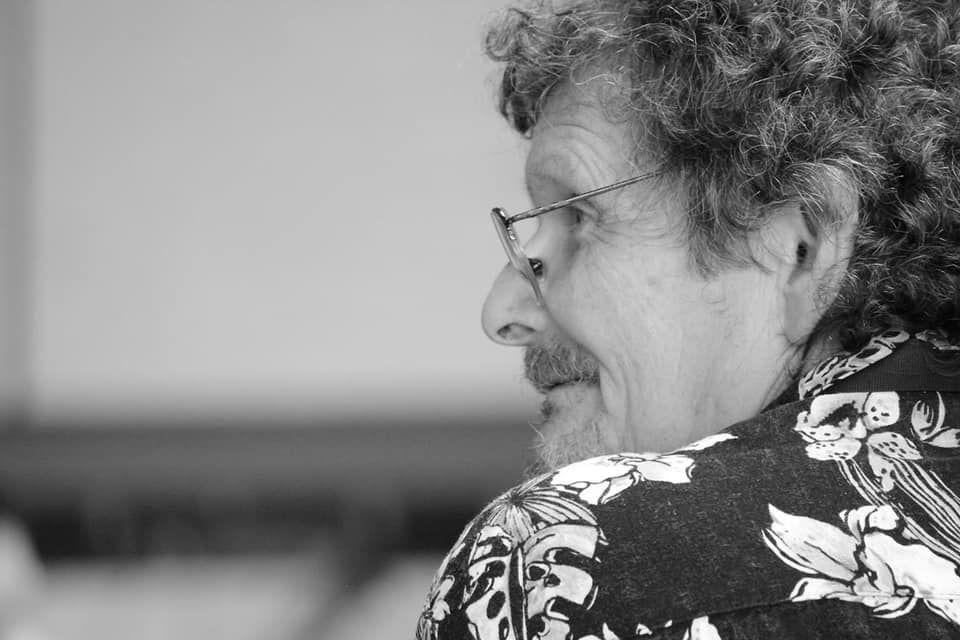 photo credit: Mike Riley
I remember my first encounter with Bob Balsley. We had just moved to Green Bay from Minneapolis in 1998 and were unsure of the quality of live music in this smaller market. We went to a dinner theater and were completely wowed-  by the singing, the band, and OMG by the guitar player! He was one of the best I had heard anywhere! Over the ensuing years, we ran into Bob playing in many different venues and became huge fans. Fast forward to 2012 when I was looking for a guitarist with whom to gig, and Bob's name came up. I never in a million years thought that he would be interested or available. I nervously made the call, and well, yes indeed Bob WAS interested! After that, Bob became a cornerstone of my performances for the following five years, leading my band Limited Edition, shepherding me through my first song-writing attempts, and a critical talent in my first original album "Falling" recorded in 2014.
Bob's credits are long;  A respected musician and author, he plays every style from classical to country to rock and jazz. His international tours have included the UK, Europe, Asia, South America and Africa. In 2007 he toured the world with "Semester at Sea" and special guest Archbishop Desmond Tutu. He has shared the stage with Chuck Berry, Bobby Vinton, Mickey Gilley, the Green Bay Symphony Orchestra and Spyro Gyra to name a few. He performs at all Green Bay Packer home games with the official band. His best selling guitar books are published by Mel Bay. In 1999 his song "The Sad Fact was a #1 hit on the contemporary jazz charts in France. 
Here is a chance to see what Bob is up to in 2020:
What is the current focus of your work in the creative community? 
I work with students at my studio encouraging creativity and a better understanding of the role music plays in all our lives. I try to teach in depth understanding of the guitar rather than songs or genres. 
II. Can you share 3 milestones that you consider turning points in your music career 
I was born into a musical family. Piano, violin and choir from toddler times, guitar at ten. 
My guitar teacher gave me the tools and beginning students to teach while my brother showed me how to perform. 
Teaching at UW Green Bay I made many friends and contacts. It focused me on education and performance and gave me the credibility to publish my Mel Bay guitar books. 
III. Have obstacles to success in the music industry shifted in the years spanning your career? If so, how? Is there anything you miss from the early days? 
It depends on your definition of success. Mine is doing what you love and getting paid for it. Never had a rock star moment but plenty of gigs, performing and teaching. 
Musician is always a difficult career choice. The internet gives greater access to audience but less monetary reward. I don't miss a thing from the old days except some dear departed friends. 
IV. What are three qualities that you possess that you feel have been instrumental to overcoming these obstacles? 
Me: How do you get to Carnegie Hall? 
Uber driver: Practice, practice, practice. 
V. You don't seem to hesitate to work with performers who have much less experience than you. That is awesome! I am especially appreciative because I was one of them. Do you identity more strongly with yourself as a teacher or performer, or both? And where does writing and producing fit in? 
All these things are part of the big picture. When I play with less experienced musicians I often learn as much as I teach. My golden rule for live music is make everyone sound better. I have some recording, mixing and mastering skills from my years teaching and writing Audio Engineering curriculum at NWTC but that has never been my passion. Writing songs is more like getting hit by lighting. It either happens or not. 
VI. Have you ever quit music or felt like quitting? If so, what did you do to stay in the game? 
Music chose me. Quitting is not an option. When my son was young I worked many jobs for $$$ but always played. 
VII. Do you feel empowered by your creativity or do you prefer to use it to empower others? Or a little of both? Please share examples! 
It's both. Performing for me is addictive especially when my improv juices are flowing. On the other hand, I am so honored when a former student tells me I changed their life. Creativity comes and goes, changing a life lasts forever. 
VII. What is coming up? How can fans and students find you during this time of quarantine and social distancing? 
I have a pretty extensive online presence, including four recent albums streaming on most platforms. I am also giving online lessons. Stream my songs people. Amazon music pays best lol. 
VIII. Do you have any closing words of inspiration for us during the pandemic or anything else you would like to share with our readers? 
Patience, generosity and tolerance will prevail. Sharing your energy and skills with others is a form of paying it forward. 
Bonus questions: 
i. Where were you in the 70's? 
Marin County CA, Breckinridge CO, Door County WI 
ii. How many states and countries have you played in, and did you have a favorite? How about how many have you skied in? 
30 states -it's a little blurry? 23 countries and only th US and Canada for skiing 
iii. Do you have a favorite gig story? 
Two stories: 
1970 Chuck Berry gave me a 24 bar solo in Jonny B. Good after duck walking over to me. 
2012 I played at the eg conference in Monterey CA with astronauts Cady Coleman and Chris Hadfield while Chris was aboard the International Space Station. (Here is a link to the performance: https://youtu.be/JE0XK82EbUY) 
iv. How about your most embarrassing moment on stage? 
One time in the early 70.s I was rocking out and broke the headstock off my guitar, a Gibson SG. Alcohol was involved. 
v. If you could turn back time, what skill would you add to your arsenal? Or what skill are you working on? 
I would have worked harder on my vocal technique. Always good at harmonies and copying others but never developed my own voice fully. 
vi. What are three qualities you seek in a friend? 
Loyalty, generosity, intelligence 
vii. How about three qualities that are "game enders?" 
Opposites of above 
viii. What is your favorite way to chill and restore? 
Sounds dumb but learning a new tune always works. 
A good book is nice too. 
Making whoopee ain't bad either. 
ix. Can you name a few individuals that you find inspirational and empowering in the arts? Acquaintances or public persona are all fair game! Who else shares the light? 
Spent four months on a ship with Desmond Tutu. Wow! 
All the guys in the Packer Band 
Django 
S. Drummond Wolfe: Baroque Music Theory, College of Marin, 1971 
All of my former band mates 
All of my students over the years especially those that are better than me. You know who you are.
To connect with Bob: