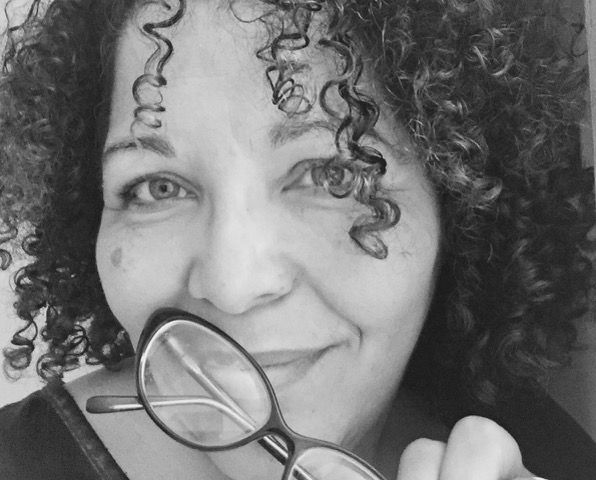 I first ran into April Strom-Johnson about ten years ago when I heard her incredible power at a worship service. She made an impression on me because of her spirit, but also because we hare the same maiden name! Our paths have since crossed many times, and I am always engaged by her courage, her energy, her talent, her smile. I am excited to share more, so you can get to know her as well! 
April was raised by her grandparents who heard her sing for the first time when she was three. By the age of five she was singing everywhere from church and schools, to nursing homes and later in musicals. April began teaching privately in 2007, working with young people interested in public speaking and all forms of vocal music from musical theatre to worship leading. Currently, April has partnered with Studio 12 in Green Bay as a vocal teacher and coach. She continues to share her magnetic spirit and talent both locally and across the globe in theaters, public speaking engagements and as a corporate communication coach as well as leading worship at church, in missions and at music venues. 
Here is the interview:
I. What is the current focus of your involvement in the arts community? 
When it comes to what I'm currently focused on, it's a bit of a mixed bag! You see, I have always loved music and the arts. From a very early age I was taught that my gifts and talents in this area are like tools in the toolbox. So I find myself involved primarily in ministry, teaching and performing, and in the midst of that I use my singing voice, acting skills as well as speaking to reach people who are struggling with hurts… people struggling in letting go and finding true healing within themselves. 
I am wonderfully busy in the area of teaching, something that I find true joy and happiness doing. I have partnered with Studio 12 to teach privately in the areas of vocal performance, acting, personal speaking and personal life-skills. I've always seen my teaching style to be more like a mentor or coach. I've often said that not every young person I teach will be the next big Broadway star or win the next Grammy or Oscar, but they will all be something and my goal is that, through the arts, I can help them become the best of whatever they will be. 
II. What is your inspiration behind your enthusiasm for the arts? 
Sounds silly, but everything does! I started singing when I was like three and it always gave me such peace. I was raised by my grandparents and I sang before I spoke. I have always considered it my secret weapon. In middle school my choir teacher recognized my talent in a different way and made every effort to make sure I got lessons, was involved in extra-curricular music and, most-importantly, was treated well by others. I am forever grateful for her belief in me, not just as a performer, but as an individual. 
Growing up I was victim to racism, abandonment, and had great loss to overcome. My enthusiasm for the arts is what kept me from going down paths that would have lead me to my demise for sure. I still made lots of mistakes, but when singing a piece of music I could pour my deep hurts, my confusion, my good moments into it and watch my days turn into joy. Singing was exactly what I needed. 
III. Can you share 1-3 milestones that you consider turning points in your career? 
Sure. One milestone came in my acceptance that I did not have to try to be someone I wasn't in order to get work, and if I needed too, then it was not worth having. I was passed up for many roles. Frankly, I played the maid, the bum, or the "girl-in-the-room" three more than anything else in my career. I used to think it meant I was not enough… I know better now. 
Another milestone was when I made my first CD "Unashamed." It was my first attempt and there were so many things to achieve through this project. I learned that musicians LOVE to collaborate! Two o'clock am sessions are a blast with people who love music! I also learned that any project is just a snapshot of where I am at that time so I did not have weigh the future of my career on it. 
The third was when I started speaking at women's events, luncheons and mission-type events. I learned that you can share thousands of words to people with little impact, or you can sing a song and touch their hearts in ways you didn't dream of. 
IV. What are three qualities that you possess that you feel have been instrumental to your success? 
The three qualities I think have been instrumental in my success are: 
1) An authentic approach to life. I'm not perfect and I do not have to be to be okay so I prefer to just show people the authentic me. 
2) Faith. It's simple without my faith… I got nothing. 
3) Finding the funny in things… I used to not want to listen to myself singing or speaking because I was afraid it would not be perfect and guess what… it wasn't. Now, I hear so many funny moments in my concerts and speeches and it is just me. If something does not work out the way I thought it would, I have learned to look for the funny or positive in it all! 
V. All of us experience obstacles in our paths- can you share a few of those you have overcome? What did you do to overcome those? Have you ever felt like quitting? 
There was a season in my life when I made poor choice after poor choice. After many wrong turns I found myself with a very large drinking problem, only propelled by being in the bars and nightclubs performing on such a regular basis. I stopped being paid with checks and started accepting payments of bar tabs if you get my drift. I was a single mom and being a single parent was beyond difficult. 
I was a singer who faked that I was okay and drank my deep hurts away. I think for a period of time I forgot about everything and everyone in my life and all the things they had done for me because they saw more in me then I could see in myself; oh yeah I wanted to quit music many times. So grateful I didn't! 
VI. For some creatives, their involvement in the arts is a source of empowerment while for others it is a vehicle to extend empowerment to others. Do you find yourself in group A or B or a little of both? Any stories or examples? 
I am more like group B. I really believe that my musical gifts are the keys to the hearts of others. I see this in my mission work, like teaching music in Uganda, Honduras, and Jamaica over the years. Singing a simple song or making sound on your first instrument (Kazoos) gives the children in these countries such a joy! My hope is that the young people I teach here or in other countries will grab on to music in a way that will give them a way to express themselves, a way to tell their stories and know that they have value. 
Locally, I have became the Ministry Leader for a recovery program for teens under the umbrella of "Celebrate Recovery" called "The Landing." My team meets 52 weeks a year to help kids in 7th-12th grade students find healing from their very real hurts, hang-ups, and habits. I remembers how difficult it was to find healing from many childhood wounds and I want to help others with boldness and enthusiasm! We use a great deal of music and art in mentoring these young people. 
VII.What is coming up? How can fans and students find you during this time of quarantine and social distancing? 
WOO, that is a tricky question these days… Unfortunately I have had all my gigs, concerts, and speaking engagements cancel through May so I am hopeful to be performing and making public appearances by June. I am staying busy on Facebook and finding it to be very helpful during this time. I am still teaching privately and you can reach out if you are interested in vocal, speaking, or coaching. 
VIII. Do you have any closing "words of inspiration" for us during this pandemic or anything else you would like to share with our readers? 
My faith and positive attitude has been a life saver for me during this time. My encouragement to you comes from a statement my grandmother always said to me when times were tough: "When times get tough, take care of others. God will talk care of you while you are caring for them." Always loved that! 
Be sure to note the ways you have changed for the better so you can be reminded when this goes away and you are tempted to just go back to business as usual, you may not want too. 
Bonus questions: 
i. What did your 16-year-old self want to be when she grew up? Is there a "close second' career you would do today? 
Oh the 16 year-old April wanted to be a Broadway star and have a Tony Award by the time I was 30! What I am doing now is actually the best version of my Tony award. If I could be doing something else I would be an author and own a jazz club! 
ii. What are three qualities you seek in a friend? 
Good listener, funny as can be, willing to tell me what I need to hear; basically all the qualities my best friend of 19 years has; Dawn Amacher :) 
iii. How about three qualities that are "game enders?" 
Using people, being two-faced, a "one-upper" 
iv. If you could turn back time, what skill would you add to your arsenal? Or what skill are you working on? 
I would have kept taking piano lessons and it is what I am also working on right now to improve. 
v. Do you have a bad habit? Do share!! 
SPENDING!!! Oh God help me on payday :) 
vi. What is your favorite way to chill and restore? 
Water! Just sitting or singing by it. 
vii. Do you have a favorite song to sing? 
Oh my… gospel- "Blessed", Musical Theatre - "I'm Here", Traditional - "How Great Thou Art" 
viii. Can you name a few individuals that you find inspirational and empowering in the arts? Acquaintances or public persona are all fair game! Who else shares the light? 
YES! 
My grandmother and grandfather, Marjorie and Maynard Colson, there is not enough space to write all they taught me about being the best of myself. 
Darlene Dornor, my choir teacher who believed in me when no-one else, including myself, did not. 
Dawn Amacher, my best friend who brings out the best in m ! 
Ruth, Director of Another Hope Children's Ministry Center in Uganda, her commitment to caring for God's children that have been forgotten is beyond reproach. 
Billie Holiday and so many African American singers of that era who paved the path early on for me!
You can connect with April via email at: aprilrosiej@gmail.com 
You also can find "April Strom-Johnson" on Instagram,  LinkedIn or Facebook