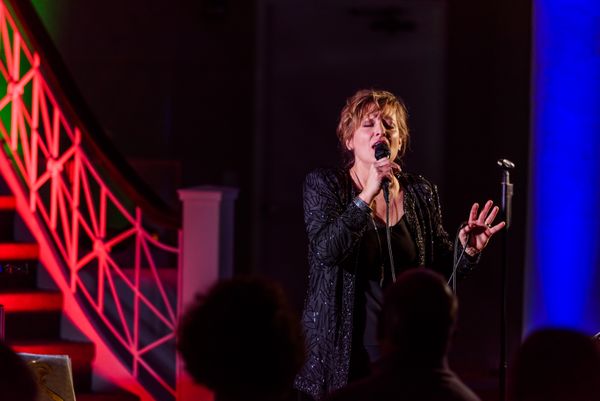 Janet Planet is an icon of performing and recording artists in Wisconsin. Spanning a 35 year career and known mostly for her incredible jazz performances, she is truly a multi-dimensional creative force in music. Her website calls her "spirited and vivacious," and indeed, she is! 
Janet has been a dear friend, a vocal coach and an all around mentor to me. One of the things that struck me in our interview is her humility and how strongly she values her relationships. She is bold and beautiful and I am thrilled to have her be my first artist featured on "Independent, Inspired and Empowered." 
Here is our interview: 
I. Can you share 1-3 milestones that you consider turning points in your career? 
1. Working with musicians like Tom Theabo, John Harmon, Chris Swansen, Gene Bertoncini, Fred Sturm and of course my husband, Tom Washatka: 
Tom Theabo really got me up and running in the world of jazz singers and turned me on to so many greats when I was young and singing more blues.  Tom has been involved with just about ALL of my musical arrangements and charts over all the years. He's unique and has a gentle voice. 
John Harmon is an icon and his dedication and artistry are inexhaustible. We still work together and he is still writing.  Like many "neighborhoods" of musicians around the world, we're lucky to have him as our mentor and example of what it means to never give up. 
Chris Swansen came in to the picture in the mid eighties and he wrote some stunning songs for me. Difficult to sing to this day!  We recorded an album called "Sweet Thunder" and it was released on a jazz label out of L.A. called Seabreeze. The album caught the attention of "Steve Allen".  He heard my voice and wrote me many letters throughout the years, encouraging me as a singer. I finally met him when he performed in Milwaukee at a jazz club called "Red Mill East." I had a regular gig there and when Mr. Allen performed (along with Ella's pianist, Paul Smith), Mr. Allen asked me to come up and sing a song. It was the song that sparked his interest in me off of the album "Sweet Thunder," "For All We Know". I guess you could say that experience was a milestone. 
Gene Bertoncini has a list of credentials longer than this answer! We are dear friends and he's recorded on a couple of albums with me. most notably "Just Above A Whisper." When I performed in New York, he was kind enough to come out and sit in on some songs. One of my favorite musical experiences (you can find on my youtube channel JanetPlanetSings) is when he accompanied me on the beautiful Peggy Lee lyric and Johnny Mandel song, "The Shining Sea."  Gene is a monster jazz guitarist and is revered as the "Segovia of Jazz." 
Fred Sturm was the force that inspired me to teach the way I do today. His energy was incomparable. I first met him when I was a frequent guest artist with a group called The Fox Valley Jazz Orchestra. I remember how he sat at the head of rehearsals. It was like he wrapped his arms around every individual "kneading" the best out of all of us. His eyes were on fire and his laugh was like thunderous applause. He's the reason I'm teaching at Tritone Jazz Camp and Lawrence University. He passed after a ten year fight with cancer and you would never have known the stress that engulfed him and his family during those years. 
My husband, Tom Washatka is simply amazing. We "trenched it" together (pre marriage), and continued to work after the late gigs, working on a way to capture our music via recordings. I remember stringing up my apartments with rented gear and making our own recordings. This is before digital. We'd sit for hours figuring out the placement of mics, getting levels and then the MIXING!  Yikes!  It was hard at times but we kept doing it. 
We were married in 1997 and we're still working together in and out of the studio. I really lucked out and got myself an honest, curious, talented and hard-working partner. Of all the "milestones" I can list, he pretty much covers it all. 
2. Another "milestone" is the formation of J.P.E. Janet Planet Enterprises in the late eighties. A group of amazing people from the area approached me and wanted to help me establish myself as a business. It was hard at the time because all I knew was late night singing in smoky bars and recording. This group of people headed by Richard Stiles put their time and efforts in to helping me: Jim Putman, Cathy St. Claire, Jean Filut, Bob Lowe, Bob Coglianese, Nancy Rice are among them. I'm eternally thankful for their believing in me. 
Another person I'm thankful for is Kyle Knoke. He had been in my life for many years as fan of our music. His parents brought him in to this world and brought him to me! Kyle put his artistry, time and efforts in to Janet Planet and was instrumental in bringing me to New York City to perform at some of the best rooms NY has to offer, "Feinstein's" on Park Avenue and "The Metropolitan Room."  He also produced two albums "Of Thee I Sing" and "Janet Planet Sings The Bob Dylan Songbook vol. 1."  The last time we were in New York doing a 6 night engagement at "The Metropolitan Room" he arranged for us to record in the famous "Sear Sound Studio." Sear Sound used to be called "The Hit Factory," a place where Yoko Ono and John Lennon made music together. 
3. Performing abroad is another significant change to my development as a musician but also a person. My trips to Japan, Russia and South Africa were the most memorable. When we came back, I was ignited with gratitude. We have it good here! If we pay attention, life is a series of milestones that continue to reveal themselves even if it's in the way we perceive music and each other. 
II. What are three qualities that you possess that you feel have been instrumental to your success? 
Creativity. 

The feeling of needing to know more. 

Gumption 
III. All of us experience obstacles in our paths- can you share a few of those you have overcome? What did you do to overcome those? Have you ever felt like quitting? 
My personal story goes like this...As early as 1st grade, I just knew that this was going to be my path. I certainly didn't take the traditional route as there were so many obstacles financially and emotionally as a kid but my creative being became my sanctuary and eventually, my career. There are too many obstacles to even list but I think the main ingredient is that we get over ourselves and work our hardest to be better musicians and people so we can add to the collective. I used to think of giving up and I'd shake my fist at  sky and ask "Why?"  Now, I just do the best I can with what I have. 
IV. You are incredibly natural when you perform. Your approach is very similar to when you teach, authentic and personal. What is the inspiration behind all of that energy? 
When you get over the various humps of insecurity, which can happen any day or any minute, the energy comes from honesty. This is who I am. I'm not perfect but if I can show someone my imperfections, I believe they are allowed to be their imperfect selves as well. Too much judgement on ourselves and on others kills our creativity. My passion in teaching comes from the honest truth that I care and I try, so I want to help others to do the same. Many of the brilliant musicians I know feel the same.  After a while you realize "there's always someone on a higher rung of the ladder than you, but we're all on the same ladder."  That quote comes from John Harmon. 
V. For some creatives, their involvement in the arts is a source of empowerment while for others it is a vehicle to extend empowerment to others. Do you find yourself in group A or B or a little of both? Any stories or examples? 
I'm empowered by the pursuit of learning and sharing.  Music is still the boss and as I stumble through the process of understanding it, I feel empowered. 
VI. Do you have any closing "words of wisdom" or anything else you would like to share with our readers? 
Words of wisdom at this time… stay creative, connected and concerned. 
VII. What is coming up? Performing musicians have been hit very hard with the COVID crisis. How can fans find your music during this time? 
Like most we're going virtual. I've been giving and receiving voice lessons on line. If someone's interested in that, they can email me info@janetplanet.com and put in the subject voice lessons. My youtube channel will become an outlet.  My website is always a good place for a one stop link to what I have available. I'll be doing some facebook live sessions. For now, I'm working on a facebook group for students to post their creatives selves. I'll also be posting some of my videos on technique. I teach jazz vocal technique at Lawrence University in Appleton and this will be set up for that purpose and beyond. As far as live performances… we'll keep holding tight and hope for better days ahead. 
Bonus questions: 
i. What did your 16-year-old self want to be when she grew up? Is there a "close second' career you would do today if you weren't in music? 
Singer.....visual artist 
ii. What are three qualities you seek in a friend? 
Honesty, authenticity and humor! 
iii. You have had some very long-term performing relationships that are uncommon in the music industry. To what do you attribute that success? 
The like-mindedness of putting music and people first.  You don't become a millionaire but your wealth manifests in longterm meaningful relationships. 
iv. If you could turn back time, what skill would you add to your arsenal? Or what skill are you working on? 
Piano lessons as a youngster. Unfortunately, that was never an option growing up as there were always financial issues. 
v. Do you have a bad habit? Do share!! 
Bouts of self doubt. 
vi. What is your favorite way to chill and restore? 
Yoga.  Boat trips with my husband in the summer. 
vii. Do you have a favorite gig story? 
I think there were some examples earlier in interview.  There are many, so many that I can't really choose. But the next gig, will have its own story, I'm sure. 
Connect with Janet: