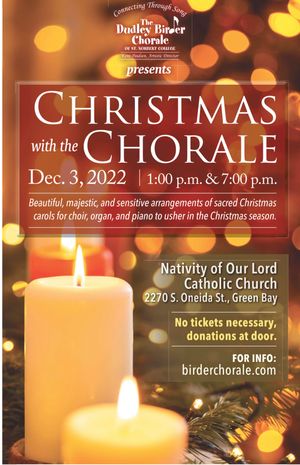 A very dear friend, teacher, and mentor of mine passed this last weekend. If you didn't know Dudley Birder personally, you will likely recognize my him from my many references to him in previous newsletters. We knew him as "The Music Man" and that he was. 
This Saturday the Dudley Birder Chorale will be performing a concert of beautiful carols. The event will be especially moving as we remember our founder and artistic muse Dudley Birder. We first learned many of the songs we will be performing under his baton. I will never forget Dudley's sweet expression during the a capella portion of "Away In a Manger," a very favorite moment of mine in our repertoire. Please join us Saturday for a spiritually uplifting choral experience. 
I have included a link to Dudley's obituary in case you are interested in learning more about this wonderful man. 
I have also included a link to my "Inspired" series. During Covid I interviewed several local and national artists/musicians/painters/etc. I looked back and discovered that no fewer than nine of these featured individuals* had been students of Dudley in one way or another. He will live on through the many, many, many people he has inspired. 
(*Frank Hermans, Kent Paulsen, Therese Barry-Tanner, Darren Johnsen, Emily Holland, Scott Ramsey, Bob Balsley, April Strom-Johnson and of course Alicia Birder)
With Love,
Rändi