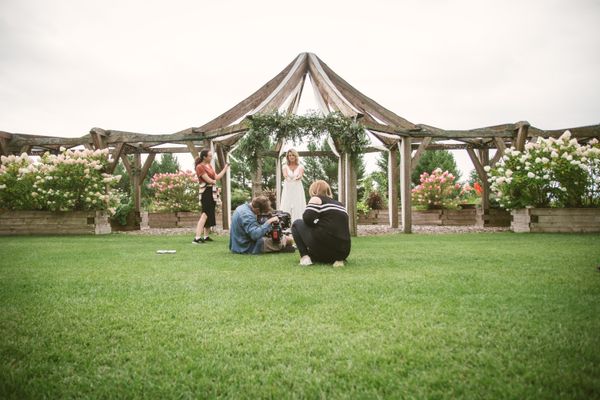 Where do you start when you decide to make a music video? In a huge endeavor like this, where do you begin?
First, you need a dynamite song- a song you love, a song that inspires you, a song that will inspire others. And yes- inspiration! You MUST have inspiration to keep you going. And a dynamite cast and crew, led by someone who can plan and execute the shots. And a budget! With lots of cushion. And locations! And a wardrobe suited to the story, and hair and makeup... and did I mention determination? Yeah, a lot of determination. And friends. The very best of friends.
Just over a week ago we finished an incredible day of filming a music video for the lead single of our project "Intuition." "Lone Wolf" is a song I began to write before the project "Intuition" was even conceived, over two years ago. It's the grand-daddy of them all! The content of the song evolved as co-writer and producer Aaron Zinsmeister created the powerful music track, a sort of "experiment" in what symphonic electronica had to offer, highlighting the inner conflict in the story line of giving in to love, setting the stage for the whole "Intuition" project. "Lone Wolf" is not only about love, it's about growing in love. Being wrapped up in chemistry but discovering there is so much more to deep connection- more to lose if we are not on the same page, but so much more to gain if we are right. This song is about being on that precipice-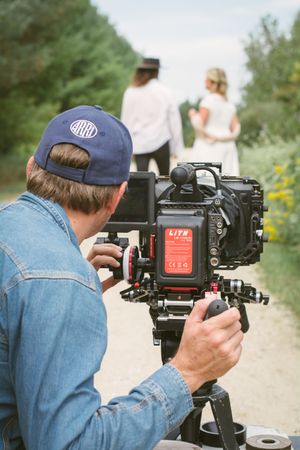 I knew I wanted THIS song as our lead single and video. I could clearly see a beautiful visual story line, and the music is epic. I had no trouble convincing Aaron, and I knew without a doubt I wanted Jocelyne Berumen, the director of our successful "Supernatural" video, to take the helm again. Planning started in April, as we brainstormed locations, searched through youTube video for lighting and visual ideas and started to assemble a crew. Jocelyne's great showing at the Wildwood Film Festival in March (our "Supernatural" getting "Best Music Video" honors!) caught the attention of some very talented filmmakers who wanted to be a part of her next production and she gladly brought them on board. July arrived before we knew it, and we sat down to make a basic story sketch. But we still did not have a location or a lead actor. Remember what I said about friendship? This is where that comes in. 
I had the vision of filming on up in Door County, WI, and I suddenly thought of two beautiful properties belonging to friends of mine that would be just right for the needed settings- why hadn't I thought of them before? Friends Kayla and James Larsen own the charming flower laden horse farm and wedding event facility Garden Gables of Sister Bay and long time friends the Gallagher family own a stunning property with sweeping vistas on the cliffs overlooking Green Bay. Both were more than happy to have us film on their sites! Jocelyne and I spent a lovely afternoon in Door County becoming so fired up as we went over the properties, and on a whim I brought her to a haunted, old cabin that is in my family. She loved it as well!! We had our locations!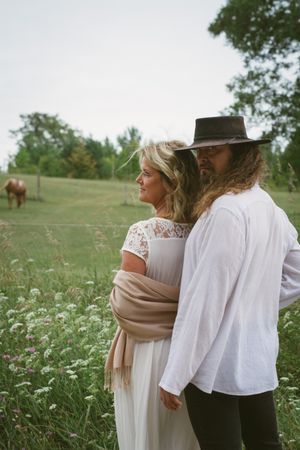 And now for a leading man- wow, how do you find someone to be your "Lone Wolf"- distant, dignified, intimate, intense? Once again, inspiration struck and friendship came into play. Troy Therrien, a fellow musician and artist I had known for many years who also happens to be pretty darn handsome would fit the role exactly! He is also a super sweet person, which is paramount to everything else. We connected and he said yes! YES!! I finally felt as though all of the necessary elements were lining up, and that this video was going to be a dream. But next up was scheduling:
To set a date we needed to work around weddings and crew schedules, coming up with three in September, planning alternatives in case of rain. Well, bad weather and about ten other huge obstacles cropped up, including Jocelyne sustaining a significant leg injury a week prior to filming! She is incredibly strong, by the way! She didn't let anything stop her. We scrambled to pull the crew together on short notice when the forecast gave us only one day with about two hours of sunshine in the ensuing 14 days (yes, this has been a RAINY summer... ). So on the rescheduled day, we frantically made our way up to Sister Bay, and were blessed for our efforts by the most perfect weather! The sky was a pearl grey in the early afternoon, giving soft, breezy light for the first part of our shoot. The clouds broke up at 4:30 creating light streaming through the trees for lovely woodland footage, and then the skies cleared for the most incredible sunset overlooking the water! And, by the way, the next morning it POURED!  Yes, indeed we were blessed.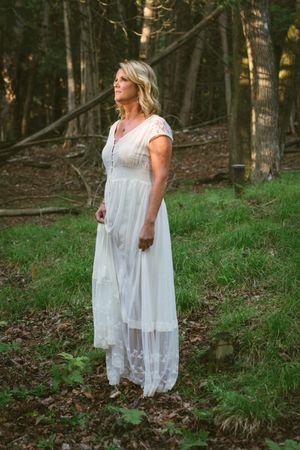 So what happens now? It is now mostly in the hands of our talented director: post production, editing, pulling all of that transcendent footage into a cohesive story. I am so grateful to have had so many committed professionals on the shoot! The raw material is golden, and I know the final product will be as well!  
Watch for our video and single "Lone Wolf" 10.1.2019!!
Please consider joining our Indiegogo pre-sale and campaign too, also starting on 10.1.2019! Just click on the link: INDIGOGO-INTUITION
Kudos and many, many thanks to the talent and professionals who are a part of the "Lone Wolf" Music video! Photo credit goes to Laura Anne Henderson- 
Music & Lyrics: Rändi Fay (BMI) & Aaron Zinsmeister (BMI), © 2019 

Arrangement, Production & Engineering: Aaron Zinsmeister 

Video Production & Direction: Jocelyne Berumen 

Talent: Rändi Fay, Troy Therrien 

Assistant Director: Megan Johnson 

Cinematographer: Nate Haben 

Drone Operator: Rachael Dowling 

Set Photographer/Grip/Production Assistant:  Laura Anne Henderson 

Grip/Production Assistant: Priscilla Brock 

Talent Makeup Artist and Hair Stylist: Sara Miller 

Hair colorist: Bri Schramm
Much love-
Rändi