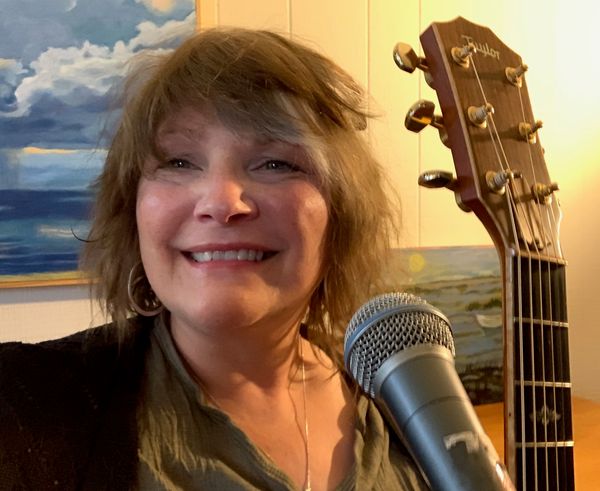 Until this year (COVID… grrrr), a highlight of summer travels in Wisconsin's beautiful Door Peninsula has been its live music. Drive through its quaint towns any evening and you would hear open air concerts of Door County artists creating their eclectic blend of Indie, Americana, Singer/Songwriter and Folk. And on the top of everyone's list of performers is the clear melodic voice and gentle guitar vibes of artist and songwriter Jeanne Kuhns. 
I have been a fan of Jeanne's long before we met. Living a good portion of my time in Door County I couldn't miss her dynamic presence!  I connected with her pretty early in my gigging and recording career in 2010 as my roots are in Door County as well, and we immediately discovered we shared many things- the challenges of starting our music careers at an age a bit over twenty (I won't define "a bit'), insecurities, motherhood, shared dreams, gossip over musicians we both worked with (hahaha- I'll let you figure that one out!). I had been a long-time fan of Jeanne's art as well- she creates the most beautiful paintings of polar bears, birds, foxes and more! On top of that she has directed a concert series out of Woodwalk Gallery in Egg Harbor for 17 years, which sadly has been suspended this summer. Alongside such an impressive resume, Jeanne maintains her approachability, her humility, her work ethic and her integrity. 
To learn more about Jeanne read on: 
1. What is the current focus of your work in the creative community? 
I am focusing on my solo career currently, so I am working on writing songs for a new solo CD due out Summer of 2021. Trying to find safe ways to share my music at outside venues this summer and make collaborative music videos. 
2. What feeds your enthusiasm for your work? You have so many avenues of expression: songwriter, performer, visual artist. Do you identify more specifically with any of these roles? Is the inspiration similar or different between the roles? 
I think the visual art world often triggers lyrical ideas which then invite musical phrasing. Sometime I hear a bit of melody in my head first or when I'm practicing guitar. My music doesn't inform my fine art as much as the visual world sparks my music.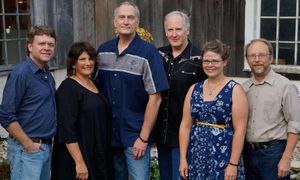 3. Can you share 1-3 milestones that you consider turning points in your career? 
Recording my second CD "Lost Moth Found" with Hans Christian funded by a grant from Peninsula Arts Association. This really upped my game, putting me in the professional musical arena.
Starting the "Woodwalk Concert Series." Seventeen years ago I started this concert series at the Town Hall Bakery, then moved it to the Woodwalk (Gallery) as it grew. This was a wonderful way to connect with and start friendships with many nationally and internationally touring singer/songwriters. I learned something from every act I listened to and became aware of musical possibilities I never would have known about. 
Singing in a variety of bands: a duo with Roger Kuhns, a trio with Dan Mayhew and Ben Larsen, Lost Moth (Pat Palmer, George Sawyn and Lynn Gudmundsen), Small Forest (Marybeth Mattson and Pat Palmer) and Buckets of Rain Band (Eric Lewis, Katie Dahl, Rich Higdon, Pat Palmer and Chris Irwin) and participating in the Steel Bridge Songfest, writing with so many excellent musicians. Performing with other musicians really heightens the bar and this very much changed me and opened my world. 
4. What are three qualities that you possess that you feel have been instrumental to your success? 
Being a self starter. I will not wait for opportunities, I make them and I happily embrace the surprising interactions that come my way. 
Observational skills and a love of storytelling help me notice details in the world from interesting angles of perception, that helps write songs and melodies that connect to people.    
My voice, my harmonies my love of singing. My musical intuition. 
5. All of us experience obstacles in our paths- can you share a few of those you have overcome? What did you do to overcome those? Have you ever felt like quitting? 
Sure, I have felt like quitting, but I already tried that years ago. Living without making music was empty, so I'm back at it for good. Funding for projects is always a huge obstacle. Self doubt, setting unrealistic goals, comparing myself to performers I could never be like. I found I had to accept my gifts and work on making me the best me! Instead of saying "I wish I could do that," learn to do that! Also realistic goals for what I can accomplish at my age helped. I just don't have the energy of a thirty year old! But I have the drive to keep learning and creating and the wisdom to know what I do and don't know. Still planning to write my best song.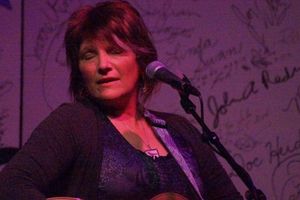 6. Do you feel empowered by your creativity or do you prefer to use it to empower others? Or a little of both? Any stories or examples? 
Definitely feel empowered by creativity, not sure how I would function without a musical avenue to express the impact of the world on me, the joys, the appreciation of beauty, the anguish of worry, the state of the world and specific issues. But I often feel my music is an extension of my nursing career in that I'm caring for people, only with music and lyrics to help them make sense of what they are going through. I really started my solo music career again when I was asked to sing for the "Women in Shadows and Light" project in 2003. This was a photographic exhibit by Jan La Fontaine focusing on the healing of Door County women who had suffered domestic violence or physical and sexual abuse. It felt good to sing to them words of understanding and healing. 
7. How has the experience of COVID and quarantine impacted your creative side and your performing? 
Well it instantly cut me off from performing live of course, lost many gigs and no chance of real time accompaniment while performing online. So I have had to rely on myself more. I have been doing a show Weekdays at 5:00 (CT) on Facebook called "Singing For My Supper." I'm in my twelfth week of that. Just a 20 minute show everyday, but I have gained a bit of confidence and tech-savvy while doing shows online. So encouraged by wonderful viewers. Also trying to get familiar with iMovie, as music videos is what it's all about. So I think Covid has forced creativity in a new direction. I'm also involved with several online collaborative projects. 
8. One other huge role you have is that of a mother of three incredibly talented kids. What did you do to foster their creativity? 
I just always tried to give my kids as much exposure to the arts as possible, African drumming classes, music lessons, musical theater experiences, live music of all kinds, art shows etc. Took them to see the Blues in Chicago and "Miss Saigon," "Phantom of the Opera" and more at the Weidner, Steel Drum Concerts at Birch Creek.  If they were interested I tried to make musical instruments available.  We did a lot of fun stuff together, I home schooled them for a while. 
9. Do you have a favorite concert experience to share? 
I have loved listening to the Singer/Songwriter Concerts at Woodwalk every Friday in the summers. Learned so much from watching a diverse group of high level professional singer/songwriters. Specifically Krista Detor's shows have really changed me as a person, also hearing and getting to know Michael Smith. As far as other transformative concerts elsewhere, Joan Baez when I was 16 and Brandi Carlile just a few years ago sparked that creative fire in my heart. 
10. Can you name a few individuals or mentors that you find inspirational and empowering in the arts? Current and past, acquaintances or public persona are all fair game! Who else shares the light? 
I saw Sue Demel in her band Sons of The Never Wrong many many years ago at the old Town School of Folk music in Chicago. I had not been performing, singing or writing since I had kids. My youngest was probably 12  then. When I heard her, her amazing voice and presence opened up a place that had been locked tight for all those years. I spoke to her after the show. Then I went home, found a guitar and started singing again. I have been honored to have her band at Woodwalk many times and count her as a friend now. Still learning from her- I've been taking Songwriting classes from her this spring.  Singing in Small Forest with my daughter has been incredible. I really feel that the whole community of Door County musicians has inspired me. Any show can teach me something!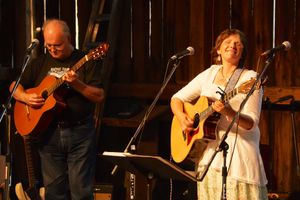 11. What is coming up for you this summer? How can music and art lovers find you and support you?? 
I'll be singing at MacReady's Artisan Bread Company in Egg Harbor Sundays from 11:30-1:30 outside, socially distanced under the Gazebo. 
George Sawyn and I have a very few outdoor gigs. They will be listed on my website www.jeannekuhns.net. 
Also will do a couple of "Singing For my Supper Shows" weekly on Facebook. (editor note: Jeanne gets 100-200 views a day in her 12th week of doing five 20 minutes shows a week.!  THAT is impressive!) 
On July 21 I will be live streaming from Woodwalk Gallery our annual Wise Women Show 
Financial support can be given at paypal.me/jeannekuhns and Venmo: @jeanne-kuhns 
12. Do you have any closing "words of inspiration" for us or anything else you would like to share with our readers? 
Times are hard but eye opening and full of opportunities for a better future. Do the work and keep creating. Vote. Look deep inside and be the best you can be. Don't quit piano lessons! 
Bonus questions: 
A. What is a dream vacation for you? Anywhere but Door County? 
I'd like to drive across the country and visit as many national Parks as possible with my girlfriend from high school! 
B. What has been your most inspiring object to paint or draw? 
I love painting animals, especially foxes and crows. Love painting landscapes just to marry all those cool shapes together. 
C. Do you have any secret talents? 
I can pick objects up with my toes! 
D. Are there any foods you simply can't eat?  (not health-wise but they just gross you out-) 
Pigs feet, ewww. My Dad loved them. E. If you could turn back time, what skill would you add to your arsenal? Or what skill are you working on? 
I would have worked on my guitar skills much earlier. I am working on my technical guitar playing and music theory. I would not have quit piano lessons when I was ten if I'd known I'd be doing this!! 
F. Do you have a bad habit? Do share!! 
Chocolate. 
G. What is your favorite way to chill and restore? 
Read science fiction/fantasy books. 
H. Do you listen to music in your free time? Who's on your playlist? 
I actually don't listen to a lot of music as I'm usually writing in my head. But when I'm painting I do: Sons of the Never Wrong, Krista Detor, Mandy Fer and Dave McGraw, Dayna Kurtz, Patty Griffin, Kathleen Edwards, Joni Mitchell, Bob Dylan, David Bowie, Leonard Cohen, Etta James, Brandi Carlile, Ella Fitzgerald, Bonnie Raitt, Beatles and many many more. 
I. What did your 16-year-old self see yourself doing at this point? Is there a "close second' career you would do today if not for music and art?  
I did become a registered nurse, but really wanted to become a zoologist/animal behaviorist and study animals in their natural habitats to help preserve our wild ones. I finished a couple of years of Zoology at University of Montana, but never finished. 
Connect with Jeanne: 
https://www.jeannekuhns.net 
https://www.facebook.com/jeanne.kuhns 
https://www.youtube.com/channel/UCisG04rWplNjjR_HKlN3RzA 
https://www.reverbnation.com/jeannekuhns 
https://www.instagram.com/jeannekuhnsmusic/?hl=en 
Booking : jeannekuhns53@gmail.com 
Bio: 
Jeanne Kuhns creator and director of the Woodwalk Concert Series has been living  and performing music regularly in Door County since 2000. Brought up on folk festivals and hanging around the Old Town School of Folk Music in Chicago as a kid, it was natural for her to start playing guitar and writing songs. She performed in coffee houses and festivals during her college years and then went on to be a painter and RN and raised three children. Kuhns moved to Door County in 2000 to step back into her songwriting/performing shoes and has recorded seven CDs since, including  solo CDs with a variety of guest musicians and CDs with her bands Lost Mothra, Small Forest and George Sawyn. She loves  to bring music people together and started her own concert series bringing in national touring singer/songwriters to Door County Wisconsin, starting 17 years ago. This became the successful Woodwalk Concert Series.  She performs solo, and in a duo with George Sawyn and is in the duo Small Forest with her daughter Marybeth Mattson. 

Photo credit: Jeanne Kuhns, Monica Sawyn