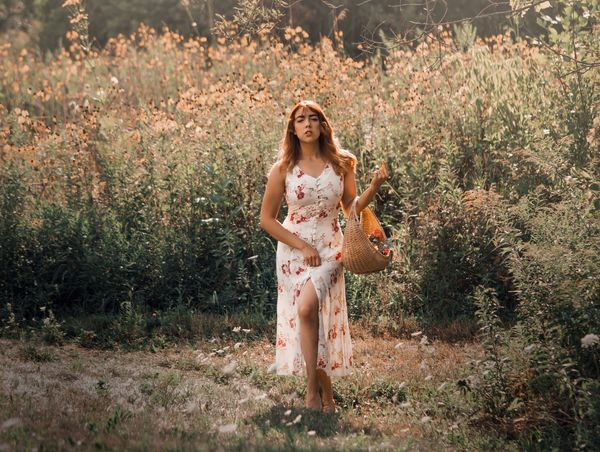 One year ago today, a film crew and I were scrambling across three counties to film our ambitious music video "Lone Wolf." We had to move the schedule up because we were dodging non-stop torrential rain storms for the week ahead, and we had a window of only about six hours to accomplish filming at three distinct outdoor sites.  How were we made aware of this narrow window? Because our incredible director had a mainline to a local meteorologist and was getting minute by minute updates. How cool is that? So we gathered and texted and called and carpooled and somehow pulled together to make it happen, with about 45 minutes to spare. In addition, our incredible director was in pretty significant discomfort recovering from a recent leg injury. She should have been icing and elevating, but no, she was tramping through weeds and forests, working her tail off in the field directing what was to become our beautiful, epic music video "Lone Wolf." 
This amazing director is Jocelyne Berumen, a creative talent with a mysterious depth and artistic aura reminiscent of Frida.  I met Jocelyne while I was researching the creation of our video "Supernatural." She came to our first meeting prepared with forethought and originality on how to capture our unusual song in film and a clear vision of how to make it happen. And did she ever make it happen! She also has always been on budget and on time- WOW- for anyone in the artistic world you know that is an incredible feat. She has been a catalyst for me- a collaborator with gentle understanding and an old soul energy, bringing out the best in all who work with her. 
Young, beautiful, positive and so capable! You must read on to learn more about this up and coming filmmaker from Northeastern Wisconsin.
Interview: 
1. What is the current focus of your creative work?  
Currently, or maybe always, I am all over the place. During summer all I did was take photographs of models in vintage clothes I had bought before the pandemic hit. Now, I have been working on script doctoring and line producing for feature films. I have always been split between being a photographer and capturing stills, or telling stories through video. In everything I have worked on though, I see myself as a director. I direct models to produce a certain feeling or mood as much as I direct characters in films. 
2. What is your inspiration behind your creativity? Do you identify more as film producer or still photographer? Is the inspiration similar or different between the roles? 
Imagine being five years old and telling all your school mates that the reason the wind is blowing so hard is because the devil is angry and is whistling their names. Then you all stare off at the wildly blowing sweeping willows, hear the whistling and run off like your life depended on it. The next day, your school mates come back to you for another story. I was raised with my superstitious family members in Mexico before moving back to the United States. Back in Mexico, all of my mother's family members are creatives. They write, they sing, they dance, they film, they draw, but most importantly, they tell stories. The stories they filled me with were wild, free, crazy, and unforgettable. I brought this love for storytelling and art to America.  
I think my inspiration comes from wanting to tell a good, meaningful story that evokes a strong feeling. I want others to feel as excited as I felt as a child in Mexico. To me, if a project of mine does not have substance behind it, the project is not at its full potential. I have recently been taking portraits for fun because I love being able to create a mini scene. I get to choose the outfit, the location and the mood. Maybe it is just me trying to put a reason and purpose to everything I do. I am definitely more of a film producer, but portrait photography has been really fun during these times of isolation.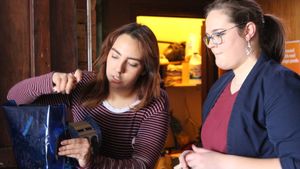 3. What in your background has prepared you for your combined artistry and business sense? Did you have formal training or have you learned more from experience? 
I already spoke on my mother's side, my father's on the other hand… They are all small business owners. Even in the small villages in Mexico, all of them owned a business. My father started his own lawn care  business when I was in middle school. I watched him grow from struggling to find clients to now having his own employees do the work for him. I didn't learn specific techniques from him; I think I just have that passion in my blood. I go out and use resources, people, books or online to help me learn the business side. I enjoy it. 
I did not go to college to learn or train formally on filmmaking. Most of it was from working hands on with mentors and other professionals in the industry. Every job I've taken, if I show enough interest, someone will take me under his or her wing and teach me everything they know. I'm always so grateful for the people I've met, and projects we work on. For example, after working at the news station without a degree, I showed interest in news photography. Although I did not get the job right away (due to having no formal experience), I was given a chance to shadow under other photographers. Soon, I would be out there driving news cars by myself and shooting for stories. I was able to learn a lot about lighting from Tony Reale of Creative Edge Productions. Screenwriting from the long calls with Tom Mccurrie  in L.A. I read many, many books as well. 
Portrait photography was easy to pick up after learning videography. To improve, I just took more photos, and went to conferences to meet other photographers such as Promoting Passion by Brooke Shaden. Collaboration is huge when it comes to the creative world and improving your craft. 
4. What are three qualities that you possess that have been instrumental to your success? 
People Person - I really care about those I interact with. Contrary to introverted stereotypes, I truly want to see others happy and successful. 
Passionate - Everything I do, I want to do very well. I am very hard on myself when something does not come out as I planned it to. 
Optimistic - Under every circumstance I see the bright side. Many tell me I am way too optimistic for my own good, but when you have projects that rely on your quick thinking, last minute decisions, you have to be.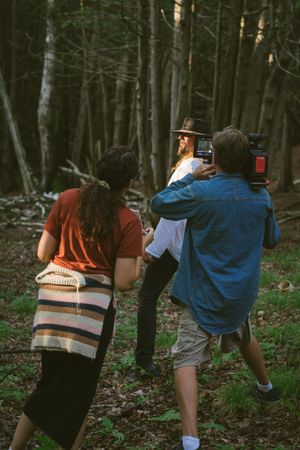 5. What have been the greatest barriers to you achieving the work you want to create? What do you do to overcome those? Do you ever feel like quitting? 
The greatest barrier has been myself. Constantly fighting the imposter syndrome, and telling myself that I CAN do these things is a struggle. I have moments where I back out of a project out of fear that I am not good enough for it. I'm also truly an introvert. It can be so difficult sometimes leaving my house and talking to a possible client- a stranger. There is such a tough inner battle to show the world who I am in person, and not just online. 
On another note, I am in my mid twenties. I don't go out and party on the weekends, I don't even drink at bars with friends. I don't have a partner to take me to the movies or to the musicals. Sometimes I wish to be able to experience these things instead of sitting at home figuring out what my next business move is. "I should just leave that stuff aside and work a 9-5, and marry a nice guy before I turn 30." 
I overcome all this by talking to trusted mentors or friends. People who understand this path. They motivate me, and even join me. After all, the biggest reason for my success are these connections I make with others.  
6. Has being a woman, being young or being of Mexican descent been an obstacle to you? Have you ever felt that you were disregarded professionally because of any of these qualities? 
This field, or industry, has always been male dominated. Even in high school, I took the video and editing class four years in a row, and all four years I was the only girl. Was it hard? Sort of. Did it change me? Not one bit. I made sure to stay feminine, and true to myself. It was a bit awkward at times. I remember clearly how some groups of men didn't know how to interact with me around. There were times when some of my mentors felt the need to say, "We probably shouldn't say this around a girl." In both my production jobs and news jobs, I would wear a dress or skirt and someone would always freak out.  
Nevertheless, these same men taught me everything I know, have opened many doors for me, and always have their arms open to help.  
What truly was an obstacle is my quiet, shy demeanor. If I were to have been more talkative, more expressive, I know I could avoid so many awkward situations. If I were more willing to go out to social events, maybe I would have made more connections. It was never because someone heard me speak Spanish and said, "Oh my gosh you aren't White??" it was always, "We thought you hated us and didn't like parties, so we didn't invite you to this super cool event where you could have made nice connections."  
7. Do you have defining "aha" moments where you finally felt like you could officially call yourself a filmmaker? It is so easy for creatives to feel that "imposter syndrome!" 
I have two of those moments! The first time was when I won my first film festival award in high school. It was for a short three minute film that I made with my friend for fun. We sat at the event room and watched all these awesome films by people in the industry. Then those same filmmakers had a segment where they talked to us, "Future Filmmakers" and made all of us repeat back to them that we are already filmmakers. My parents, always skeptical of what I was doing, were proudly holding the award my friend and I won.  
The second time was after "Supernatural" played at the Wildwood Film Festival, and I found out we won first place. As I was going home that night because I was too awkward to stay at the after party, Greg stopped me to congratulate me. I felt that I did belong there.  
8. Do you have favorite memories of your childhood? Does your childhood play a role in your artistic vision? 
All of my adventures in Huitzila, Zacatecas, Mexico are my favorite. There is no doubt in my mind that those memories play a role in my artistic vision. Taking trips up the mountains and having a picnic, or picking guavas next to a flowing river. Seeing the turtles wash up on your yard, or the giant snakes curl up in the streets during the rainy season. All of these in combination with the stories from my family and mother, really helped keep my vision fresh.
9. Do you consider your films and photos empowering? To those who see them, to those who are in them, and/or to you who creates them? 
I want people on the other side of the lens to feel empowered and beautiful. It is a future goal to create more powerful work. I am grateful for the clients I have had and their willingness to let me express it. I don't think I am there yet, but it is certainly a goal.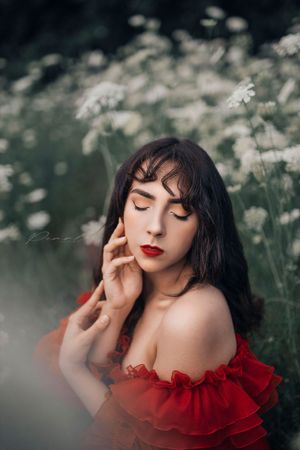 10. You have recently delved into self-portraiture and modeling. How does it feel to be on the other side of the lens? 
I would have never imagined myself in front of the lens as much as I have been doing. I blame COVID. I have always been extremely self-critical and hated seeing myself in photos, but because others have been so kind and supportive I have been nicer to myself. It feels empowering. I picked up how to pose because of how much I direct others, but it also helped me fine tune my directing.  
At this point, so many people have asked me, "Are you a model or a photographer?" I reply, "A director!" It's pretty comical. I also had a photographer once invite me to a collaboration with her. I assumed I was a photographer, but comes the day she asks what I will be wearing and I go, "OH. I am the MODEL??"  
11. COVID has impacted the creation and experience of the arts in so many ways. How has it impacted you as a photographer and film maker? 
The Pandemic has unfortunately caused the cancellation and delay of many projects. This year I had so many music videos, and art films planned. I was also forced to stay in my house for a few weeks, and created a lot of self-portraits. Even as an introvert, this was breaking me. The optimistic in me fought through it though. I sat down and wrote a lot. I was able to master taking portraits using only my 90mm to stay far from models. I made many friends online within the creative community. Still, I long for the days I get to do large productions for musicians and artists. Hopefully soon.  
12. Can you name a few individuals or mentors that are inspirational to you? Current and past, acquaintances or public persona are all fair game! Who else shares the light? 
My friends think this is weird, but Catherine the Great is a huge inspiration. I read a book on how people use seduction to gain power, The Art of Seduction by Robert Greene,  and her story was one that stuck out to me the most. I really recommend looking up the history of how she became queen of Russia without even being Russian.  
The Mexican film director Guillermo Del Torro is another inspiration. His work and his story make me so proud to be Mexican. I would love to be able to meet him and have a conversation with him about the vivid stories he writes.  
There are so many people I work with personally that it is so hard to choose. Everyone I have met on this path is worthy of a shout out! 
13. Do you have any closing "words of inspiration" for us during this pandemic or anything else you would like to share with our readers? 
Everyone is having a hard time right now. Reach out, through text, through a call. It really does help. Collaboration is huge, make good lasting friendships with those you work with. Be genuine with them. It goes a long way. Also, something I had to learn during this time: Be patient with yourself. I became so eager to do creative work again that I overbooked myself to the point of not being able to wrestle all the projects in time. Taking a break is a good thing. It is okay to stand back and breathe. There is no doubt that good things come to those who are patient. Wish I could extend a hug out to everyone! 
Just for fun : 
Do you have a nickname? 
Everyone calls me Jocy, my close friends call me Ocy. 
Do you like to sing? Do you have a favorite song that you love to belt? 
I LOVE singing. Can I sing well? No. I love belting out to songs by Natalia Lafourcade.  
Do you binge watch any shows?? 
I try really hard not to, but recently I have been sucked in by Outlander! I also binged The Witcher, and The Mandalorian. 
Do you prefer fiction of non-fiction?  Favorite book? 
I prefer to read non-fiction books such as The Power of Seduction by Robert Greene, and Shooting to Kill by indie film producer Christine Vachon 
Clean freak or messy-bessie? 
Both… When I stress out, I clean non-stop. When I am busy… Everything's a mess.  
What did your 16-year-old self see yourself doing at this point? Is there a "close second' career you would do today if not for writing? 
I always wanted to be a director, since I was in 5th grade. I would tell all my teachers that my dream job was being a director. When I got older though, an interest for world history grew.  I think a close second career would have been some sort of anthropology study.  
What is your favorite way to chill and restore? 
Sitting down and watching a good show with some hot chocolate, or going out to a cafe and writing in my planner.  
Are there any foods you simply can't eat?  (not health-wise but they just gross you out-) 
Pickles. I can not with Pickles.  
Connect with Jocelyne:
Website: https://www.cyclopsgirl.com
Facebook: https://www.facebook.com/cyclopsgirl
Instagram: https://www.instagram.com/jocelyne.berumen, https://www.instagram.com/cyclops.girl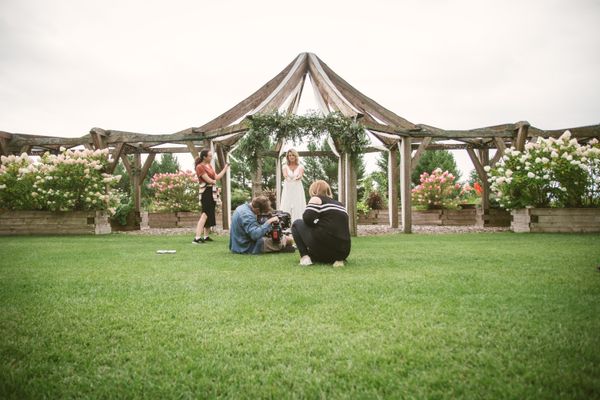 Jocelyne Berumen is a born American raised Mexican creative professional who is split evenly between a business mindset and an artistic portfolio. Carrying a shy demeanor has yet to stop her from producing and directing award-winning projects in the Green Bay, WI, area. Most recently, the music video, "Lone Wolf", by Rändi Fay, was submitted and accepted at many film festivals around the globe, collecting a few awards along the way. Occasionally, she'll take on event projects, such as a local fashion show, as a means to help the growing creative community. Jocelyne was mentored by accomplished local company Creative Edge Productions, and L.A. based screenwriter Tom Mccurrie. Now, she spends her free time line producing and script doctoring, while maintaining a full-time job and a part-time photography business. Jocelyne believes that every project and task handed to her deserves full passion and commitment, and the only time for a break is when it is time to reflect on all that has been accomplished as a result. She hopes to continue being a part of the filmmaking community, and to one day produce her own features to share her dedication for storytelling with the world.   
Photo credit: Irma Varela, Alexia Castro & Laura Anne Henderson,