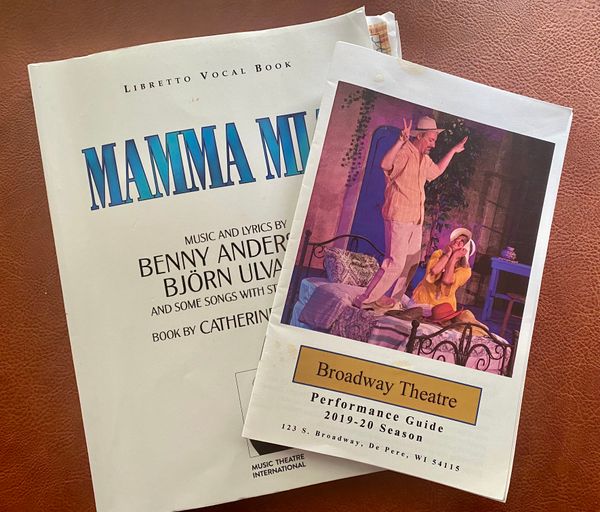 Mamma Mia! Here we go again! 
Being in the play "Mamma Mia" is once again one of the most wonderful and fulfilling experiences of my performing life. We did our first run of "Mamma Mia" in February, 2019 and it was fantastic! I was so fortunate to have a supporting cast who were so kind and generous in their support, and overflowing with talent. And guess what?? We were scheduled to run it again in 2020, but then, you know... COVID...!! Grrr.... However, never fear! Our leader and director Alicia Birder persisted and we are putting on this incredible show once again this month, two and a half years later. Almost all of the principles have been able to return, while we are also freshening the show up with some new ideas. All in all, our motto is the same: LET'S HAVE FUN! Music theater is a blast- 
If you are in the Northeast Wisconsin area, please come cheer us on! You will leave with a huge smile and a heart full of music! 
The show are at 7:30 pm Sept. 29, 30, Oct. 1, 2, 5, 13, 14, and 15 with matinee shows Oct. 16 (2:00 pm) and 17 (4:00 pm). 
As of right now, due to complex licensing issues, we are not able to live stream a performance.  Apparently a touring group from New York is bringing the show to the vicinity in the future and is intimidated by the intensely amazing competition!  Haha ;)
There is a lot of craziness in the world, but also much love- For your soul's sake, grab the best and get rid of the rest!!! 
Much love,
Rändi ♥ 🎶