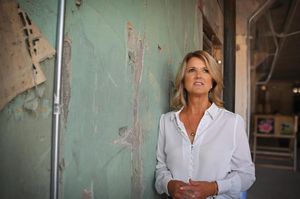 Voice is such a cool word- it has so many meanings! The timbre of the sound that comes from vibrating vocal cords, the ability to speak or sing, the crazy dialogue we hear in our heads, the distinctive tone of an artist or author... and the right to express an opinion, to share a personal truth that is utterly of our own making, based in dreams and experiences unique to yourself. To have a mind and the right to speak it, to carve out your presence in the material world with the the gift of being you. To use your voice and establish your essence: I think therefore I am, I dream therefore I am human, I speak therefore I am here.
I am suddenly thrust into vivid images of Horton Hears a Who:  "We're here, we're here, we're here!" To establish our place in the world, we must use our voice.
It isn't always easy. There are so many ways voices can be silenced, our own insecurity being a top offender. Regrettably, self-doubt is fed by laws, social norms, authoritative expectations, haters, bullies, personal history, physical threats, emotional manipulation and abuse. I have been there, and felt the shame of the empty, nullifying experience of total disregard. So why bother? No one listens. No one cares.
It is amazing the lengths that humankind will go to silence the dreams of others when they are perceived as different and therefore a threat. That psychological warfare is directed right at the heart of our self-image, eating away at our awareness of our own value, destroying the initiative to dream, to create, to speak and in effect to stand up for ourselves. This insidious poison destroys beautiful people from the inside out. 
March is Women's History Month, commemorating the contributions of notable and ordinary women to events in history and contemporary society. This year, we are celebrating the 100th anniversary of the ratification of the 19th Amendment, granting women the right to vote. Having the right to vote legitimizes the value of a person's potential contribution to home and society. It is the official way of paving the avenue to be heard. The suffragettes fought vehemently with their lives for us, the nameless women of the future, with inspiring belief in the collective wisdom we possess. I am so grateful! Our voices have been validated in an official sense, but one hundred years later, we must continue to meet the challenge of validating our unique value inwardly so that we have the courage to express it outwardly. 
Each of us must continue to dream dreams, to steel ourselves against pressure to be something that is popular, easy, predictable, malleable, a stereotype, agreeable, invisible. This is not about being loud or obnoxious. Often the least words said barely above a whisper will have the greatest impact! People of all gender hold a unique spot in our world, and it is up to each of us to internalize the belief that within each of us lies the infinite value of an individual. Remember the self-evident truths, those unalienable rights of "life, liberty and the pursuit of happiness?" Though they have taken a beating over the years, they are still worth fighting for. By nature, we each create our own gloriously unique dream for happiness worthy of effort and pursuit. Men, women, non-binary individuals, regardless of race, religion, creed, nationality and sexual orientation make up a ginormous and tasty soup of ideas and opinions and lifestyles that all deserve to be a part of the "happiness" mix. Women have not been the only demographic impacted by political and social disenfranchisement, so it is important to be leaders and respect that others have the right to their carrot or piece of beef while holding your own self dear and vibrant. Each voice brings so much color and flavor to the broth! Don't fear using your own ferociously while giving others their due space!
We can no more comprehend another person's suffering than we can understand the fingerprint of their dreams. That is exactly why any dream will NOT do- it is YOUR dream that matters. Though women are still in many ways conditioned to be the "gentler" of the sexes, avoid the temptation to adopt the dream of another because of pressure or convenience. Be brave. Be kind. Be strong. Find your voice. 
"In order to be irreplaceable, one must always be different" -CoCo Chanel
With love and tons of encouragement!
Rändi 🖤✨
Awesome photo by awesome photographers Jocelyne Berumen and Megan Johnson
p.s. I have attached our intense song "Uncaged" to ignite your ambition to let go and be you! Please download and be inspired! Also there are a few links- It's a great tune to sing your heart out to!