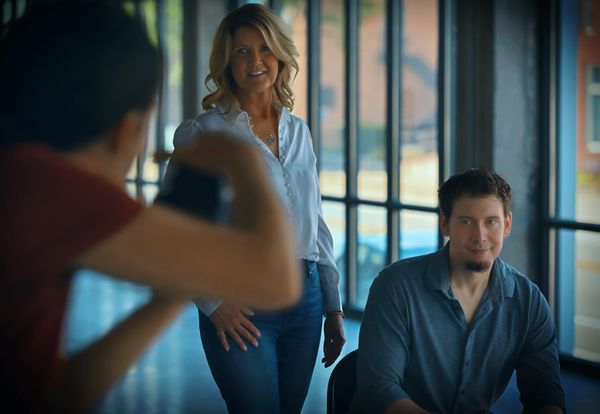 ...a fellow ambitious songwriter and I decided in this age of singles and three-minute songs to go for broke and create a full length concept CD. "Intuition" is the result of our cumulative effort, and reviews have supported the success of our attempts to create a new world experience in music listening: 
"...the album creates a mystical otherworld, is abundant sensuality, has word pictures blended with mindscapes, is deceptive in being deep think with sensuality, is diary-like, a bit beyond and in a different league." Warren Gerds, 5.22.20 WeAreGreenBay.com
Co-writer, orchestrator and producer Aaron Zinsmeister and I had a two year epic adventure creating "Intuition." And in the end, it all fit together... at least we think so!! Here is a quick background of each of the songs and exactly how they fit into the whole of the contemporary fairy tale of "Intuition." Check it out, and then click on the link to listen to the songs. And check out Warren Gerds' review to see if your experience is similar to his- Varied, explosive, otherworldly... Kinda crazy as well!!
"Firefly" is an explosive song that kicks off our album "Intuition." It's about the difficulty in setting aside all of the distractions in contemporary society that draw our attention away from our inner value. Initially entitled "Augmented Reality," it highlights the unrealistic expectations that shiny, photo-shopped and filtered media messages have set for us. We've become convinced that our natural selves, who we are at our cores, are undesirable and not enough. There's always something better, even if artificial. This frustrated and emotionally distant state of being sets the stage for the love story that unfolds in "Intuition." 
Affectionately referred to as "Jez," this song was a hard one to write! It took a bunch of re-writes to avoid more direct sexual innuendo while carving out a song that would show the dark, enthralling side of temptation and its threat to a moral code that is fueled more by shifting boundaries than by an actual sense of right or wrong.  As a society, it's become the norm to shy from emotional connection, but diving into an anonymous physical relationship often happens with barely a second thought. We wanted to depict the "slippery slope" that strong chemistry creates where even the most disciplined person can "fall in lust." 
In the story-line of "Intuition," our lead is anxious, frustrated, and detached. Despite misgivings, she takes on a bold emotional alias to protect herself from her own doubt as she feverishly gives into her intense attraction to an unknown man, hoping to find the release she is looking for. It's a really cool song and has become one of my faves! 
Uh-oh. Guess what? Our lead finds her release, but she finds something more… "Mystified" opens with a gorgeous sunrise depicted in incredible sonic hues, as our lead wakes up next to the anonymous guy she brought home the night before. But to her surprise, she actually LIKES him. And even more surprising, he likes HER. We can think we have everything in control, but often control is a masquerade for loneliness and insecurity. It's especially threatening to have our thin veneers of control challenged, because of the fear: "what if he doesn't like me once all of my veils are swept aside?" Perhaps even more frightening is what if he DOES? A settled but lonely life can suddenly become complicated, and how do you trust the potential? I love this song. I think Aaron's production is stunning. We had to re-record vocals because I was so dissatisfied with my original performance. AHHH! But I love it now! 
"Uncaged" is one of the first lyrics I wrote for this album. I started thinking about it back when "Let It Go" was so huge, and I told Aaron I would love to write a "Disney Princess" song. Well here it is, on steroids!! 
"Uncaged" is about the struggle to release restrictive expectations from the past that hold us back from fulfilling our own identity. "Defined and measured by those I served…" We all have had experiences in our lives that impact us uniquely, and sometime negatively. Conditioning can be overt but is often covert and very hard to identify! "Uncaged" was written from my perspective, i.e. that of a woman, but the emotion is universal, and Aaron seriously exploded on the music and production. Do we all share that desire to burst out of the cage created by the assumptions and intentions of others? I believe the contemporary term is "limiting beliefs," created by voices both internal and external. "Uncaged" is an anthem to empower escape. 
As it fits in the storyline, our lead is figuring out that she has more to offer than the controlled, protected but inauthentic world she constructed around herself, and it is time for her to let herself go! 
Oh man, especially now, we need a breather. Serenity is exactly that: a moment to step back and breathe. It is the very first song I wrote for this album, and was really key in locking in how we were going to approach the entire vibe for our album, as Aaron experimented with different instrumentation and we honed in on the sound. I love the vertical breadth of the soundscape he created. It suits an underlying theme of this album: letting go. Forgiving ourselves, forgiving our past, releasing useless emotional junk to create space for peace and awareness and true connection. 
The title track furthers our over-arching theme of the album. We can exercise "letting go" in theory, but to actually DO it is another thing, especially in matters of love. Our head is always going to battle for control, to protect our vulnerable hearts. But honestly, when you don't risk taking a chance on love, you risk missing all of the human joys of that most intimate and natural connection with another human being. What an argument we can have in our heads! You'll never know the "right" answer, but following your gut, your intuition, is giving yourself the best chance! And that is basically a turning point in our album story, where our lead decides to go with her gut and give love a chance. 
Moving from chemistry to commitment, letting someone "in," sacrificing emotional distance to connect- that is what "Lone Wolf" is about. When I started writing "Lone Wolf" the focus was more on ME being the lone (or lonely) wolf. "Distant, dignified, preoccupied, not here or there…" I can do that- completely check out, and I know how frustrating that feels because I have been on the other side of this emotional blockade.  It may be pride, insecurity, or simply being overwhelmed with other responsibilities. I picture the alpha wolf staring at the horizon watching over his pack's territory, preoccupied with potential danger on his own. 
For the album, our lead has done her emotional work, digging into her own issues that have held her back, ready to give herself fully. But now she sees that her affection isn't being as readily received as she had hoped. Have you been there, having so much to offer, yet someone hesitates to accept your love? It can feel devastating. That's the conflict in this song, and another chapter in a story about love.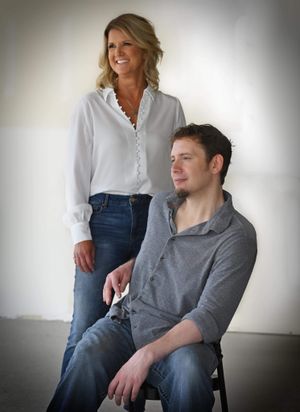 Depression. Dark, deep, and consuming. But also alluring- we are human beings and often most comfortable in what we know, even when it's not a good place to be. The moods of melancholia are very familiar to me. Have you heard the song "Good Morning Heartache," an old bluesy standard? Sometimes when those moods descend it's like greeting an old, hypnotic friend. It takes courage to fight depression, and an enormous amount of self-discipline, sometimes even to simply get out of bed. But for most of us, there is the important realization that we CAN recognize it and CAN fight it- "I am so much more than you!" 
In the album setting, this song represents how hard and unpredictable relationships can be. We think we have it figured out, but there are two people involved and we only know what is going on in our own heads. In love you can be flying on top of the world then suddenly diving into the pits of despair, and that is part of the risk, and part of the ride. 
When completely immersed in love, there's a thin line that separates the ecstasy from pain. If you want to experience those peaks of connection, of passion, of intimacy, you will find yourself on the brink of pain as well. I am speaking emotionally- I suppose this applies physically but that is not the point of this song at all. It's about riding on this passionate roller coaster at high speed and suddenly derailing. How do you get back on track? 
In "Intuition" we have been following this developing relationship over the course of several songs, seeing it from one side, and now that side basically has been hit with armageddon. And the questions remains- is our love and commitment strong enough to get past this? 
I LOVE Aaron's production on this one. Haha- I could say that about every one of our songs. He captured the emotions and literally painted each song in Technicolor electronica, What a gift! 
The lyric for "River of Time" originally rose from what my family calls "trip-depression." Also known as "post-travel blues," it's that huge let down as a vacation or any event that has been long-planned draws to an end. I'm often so emotional and wish we could start the trip over and replay every event. It's hard to describe, that feeling that just minutes or hours ago you and I were breathing the same air, and now you're gone. That feeling is the foundation for "River of Time." 
It's a popular mantra these days to be mindful, to be present, to appreciate each moment. But how many of us really do that all the time? Our heads, our plans, our schedules, our obsessions often get in the way. Many times it's not until we reflect back do we realize opportunities have been missed. And then the regret that seeps in can be punishing. In the context of "Intuition," a sub-theme has been the passage of time- listen carefully and you will hear many references. Don't wait for "the right moment" because time won't stop. Regret is a great teacher! 
"Rise in Love" is the empowering finale of "Intuition." I began to write this lyric while dealing with my son's leukemia diagnosis in January 2019. "I caught a glimpse of the abyss…". Oh boy, did I ever… I didn't intend for this lyric to lead to this song for this album, but my muse had a different plan! And in the end, the inspiration was spot on. 
I've learned we can build incredible courage and strength by loving together. Don't wait to set aside barriers to love, be it romantic, filial or friend-based. Allow yourself to be vulnerable and truly give into deep connection in your relationships. Even in a romance, mature love moves beyond the fickle ties of chemistry. The algorithmic potential of enduring love is far greater than anything we can accomplish alone. Aaron kicked into high gear with the incredible Celtic "call to arms" orchestration and production, creating the celebration of "Rise in Love," and clearly highlighting the encompassing the culmination of "Intuition."
With tons of love-
Rändi 🖤✨
📸: Jocelyne Berumen, Cyclops Girl Photography 
INSPIRATION 🖤 PASSION 🖤NOSTALGIA